Sales of licensed merchandise increased in 2016, while e-commerce continues to affect retail.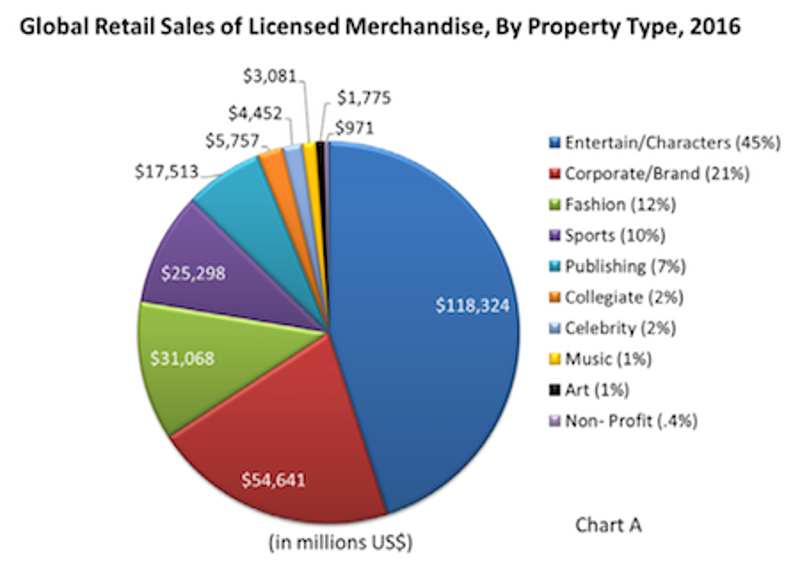 In addition to a look at the market globally, the report also highlights licensing product retail revenue and royalty data from 50 countries, which combined account for 98 percent of the licensing activity in the world. The survey was conducted by Brandar Consulting.
LIMA members can view the full report on the LIMA website.
Global sales of licensed merchandise and services increased 4.4 percent to $262.9 billion in 2016 with Entertainment/Character remaining the largest category, accounting for 45 percent ($118.3 billion) of the total global licensing market. The results are in line with what was a record year at the global box office.
Corporate and brand trademarks were the next biggest property type, generating $54.6 billion (21 percent) of total revenues. Fashion ($31.1 billion,
12 percent), sports ($25.3 billion, 10 percent) and publishing ($17.5 billion, 7 percent) round out the Top 5 categories.
Royalty revenue from sales of licensed products and service rose a modest 1.3 percent to $14.1 billion in 2016, due primarily to change in the weighted average industry royalty rate from 8.5 percent to 8.2 percent.
Average retail gross margins also decreased by 2.8 percent in the past year as the era of e-commerce continued to drive a shift in control over margin from the retailer to the consumer. This trend was likely also responsible for the downward pressure on royalty rates.
In fact, the growth of e-commerce continues to be a major factor in the sale of licensed goods and services. The LIMA survey shows that online sales now account for 21 percent of all licensed retail sales worldwide, up from 18 percent in 2015. In the U.S., e-commerce accounts for 28 percent of licensed product sales and that number jumps even higher in China, where online sales of licensed products make up 41 percent of the total.
Stay tuned next week for a deeper look at the retail findings in the report.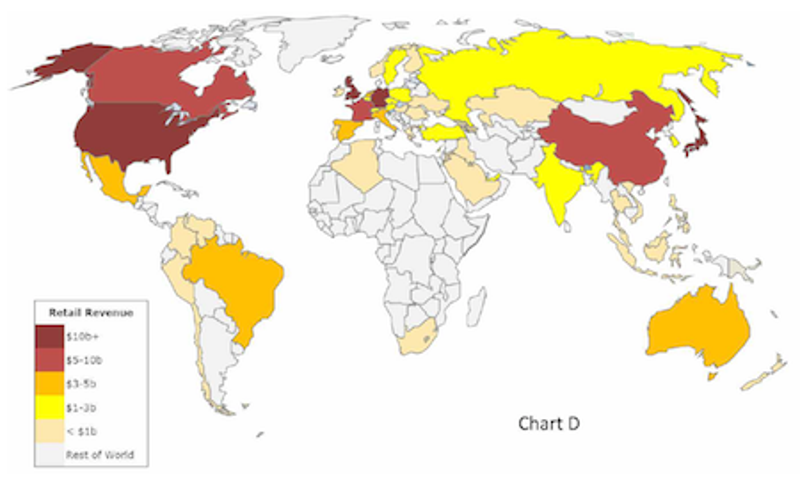 The North Asia market (including China and Korea) remained unchanged at 9.3 percent of the global total.
Western Europe's slow economic recovery resulted in a slower growth rate of 3.6 percent, with the region's share of the global market declining from 20.1 percent to 19.9 percent.
Among product categories, apparel was the top performer with 14.9 percent of total global licensed sales, followed by toys (13.3 percent) and fashion accessories (11.3 percent). The fastest-growing categories were infant and pet products (
stay tuned this week for a deeper look at the growth in the pet toy vertical
).
Other strong performing categories include home décor, which grew by 8.2 percent and video games/software/apps, which grew 8.1 percent and is now the fifth largest segment, accounting for 6.9 percent of revenue.
Read more about:
Subscribe and receive the latest news from the industry.
Join 62,000+ members. Yes, it's completely free.
You May Also Like
Loading..