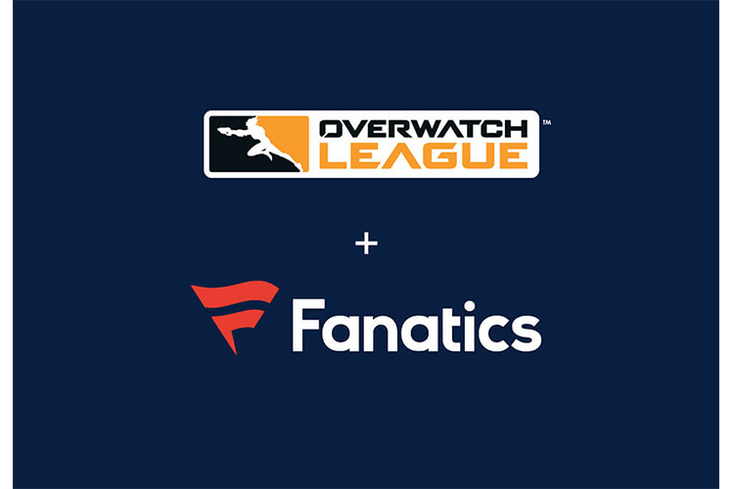 The Overwatch League has signed a multi-year deal with sports retailer Fanatics to bring its fans an omnichannel retail experience and a new assortment of branded merchandise. The partnership is Fanatics' first deal with an eSports entity.
Through the deal, Fanatics has obtained the U.S. and international rights to produce Overwatch League fan gear, jerseys, headwear and hard goods across all wholesale and retail points, leveraging its on-demand manufacturing capabilities and supply chain. The deal will see the debut of gear for Overwatch League's new expansion teams–Atlanta Reign, Chengdu Hunters, Guangzhou Charge, Hangzhou Spark, Paris Eternal, Toronto Defiant, Vancouver Titans and the Washington Justice.
The two companies will also come together to identify new opportunities for the brand in the consumer products space. Fanatics will set up a new worldwide e-commerce and mobile shopping platform and oversee all on-site retail operations for all league events. Fanatics will also operate
on-site stores for all Overwatch League regular-season matches at Blizzard Arena Los Angeles and other league events.
License Globa
l sat down with Daniel Siegel, head, licensing, Overwatch League to learn more about the deal.
Why is this deal important to the e-sports community?
This is the first partnership between the first ever global city-based e-sports league and the global leader in licensed sports merchandise, so we couldn't be any happier.
How does the deal with Fanatics benefit Overwatch League?
Fanatics will allow us to broaden our access to our Overwatch League fan-base and to deliver high-quality merchandise to fans in the United States and internationally. We think that Fanatics can do this for us because they are an omnichannel solution. They have retail capabilities that are best in class wherever our fans want to shop: online, on their phones, or attending our league events.
What should the licensing industry know about e-sports and its fans?
Everyone has heard about e-sports. It's not just a fad. It's a trend that is here to stay. E-sports to me represents a generational shift from traditional sports. Our consumer is that ever-elusive millennial and gen-z customer. We know that licensees are eager to market to that fan base, so it's important for the licensing community to understand this. In addition, at this point in time, the Overwatch League license includes the league rights, the rights to use all 20 teams and the players. This is an IP portfolio that is untraditional in the sports space, as it is rare to have all of those rights under one umbrella.
Is the Overwatch merchandise only for fans of Overwatch League?
Not only will our core Overwatch fans be coming to the site, Shop.OvertachLeague.com, which debuts before the start of our regular season, we will also be attracting other types of sports fans because of Fanatics relationships with the other sports leagues. We feel that there are a lot of cross-marketing opportunities.
What does the release of official Overwatch League gear mean to the fans?
The idea of Overwatch League is to give our fans something they couldn't get anywhere else. For a lot of our fans this is going to be the first time they've ever bought a jersey. So the fact that that first jersey can be an Overwatch League jersey is super important to us. We're working hard with Fanatics on fan gear as well and we want to make our fan gear distinct from what Fanatics has been doing with the traditional sports leagues."
What is the plan for Overwatch licensing program in the next 5 years?
Global expansion is a huge part of what we hope to accomplish with Fanatics. They have international rights so we'll be able to service our teams in international territories. To have that kind of global coverage is certainly very exciting for us. We also look forward to partnering with Fanatics to bring other companies into our ecosystem. Such as companies can produce goods in partnership with both Overwatch League and Fanatics to create categories of merchandise that Fanatics won't do on its own.
The partnership will be finalized before the start of the 2019 Overwatch League season, which is set to begin Feb. 14. Additional details will roll out soon.
Subscribe and receive the latest news from the industry.
Join 62,000+ members. Yes, it's completely free.
You May Also Like
Loading..