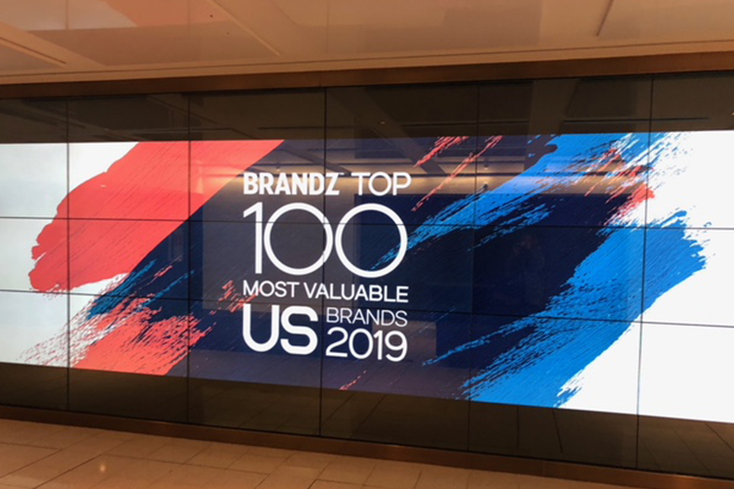 BrandZ unveiled the Top 100 Most Valuable U.S. Brands of 2019 ranking at the New York Stock Exchange yesterday afternoon in New York City.
BrandZ's Top Ten U.S Brands of 2019 are Apple, Google, Amazon, Microsoft, Visa, Facebook, McDonald's, AT&T, IBM and MasterCard.
The Top Ten Risers are Netflix, PayPal, Amazon, Instagram, Adobe, MasterCard, Whole Foods, CenturyLink, Salesforce and LinkedIn.
Newcomers to the BrandZ list are Uber, Dell, NBC, XBox, ESPN, CBS, Newport, Fox, HBO, Pinterest and Twitter.
Senior WPP and Kantar leaders and industry veterans shared insights on the brands' success driven by innovation and customer experience. The companies that earned a spot on BrandZ's list have outperformed their competitors by executing well-received customer experiences.
"The amount of value created by the companies is extraordinary," says David Roth, chief executive officer, WPP EMEA and Asia chairman, BAV Group.
According to BrandZ, a focus on both innovation and brand experience helped these brands
grow 200 percent faster than brands who are not able to deliver on either metric.
"Building a brand remains extremely important," says Adam Caplan, partner and global ROI practice lead, Kantar Consulting.
The study also found that smaller companies have made strides in overlooked niches while larger brands are making significant data, digital, and marketing technology investments to get ahead of a growing consumer landscape.
"Technology enabled, human-centric brands will win," says Doreen Wang, global head of BrandZ, Kantar Millard Brown.
Later, a panel (comprised of Anita Watkins, global head of Qualitative, Kantar Craig Dubinsky, founder, Hello Brands; Bradley Kay, chief brand officer, Convene; Ricardo Marques, marketing, care and value brands, Anheuser Busch InBev and Liz Walton, Vice President, marketing, Yext) shared insights from this year's research and discussed the challenges and opportunities facing today's market from experts on influential trends and growth essentials.
"It's humanizing the whole experience," says Dubinsky. "It's not business as usual. It's business for everyone."
One of the takeaways from the BrandZ Top 100 study is that traditional companies are challenged by newer brands from Silicon Valley.
"We have a challenging growth environment," says Victoria Sakal, associate director, Kantar Consulting. "It's anyone's game. What will your role be?"
For the full list, log onto www.brandz.com
Read more about:
Subscribe and receive the latest news from the industry.
Join 62,000+ members. Yes, it's completely free.
You May Also Like
Loading..