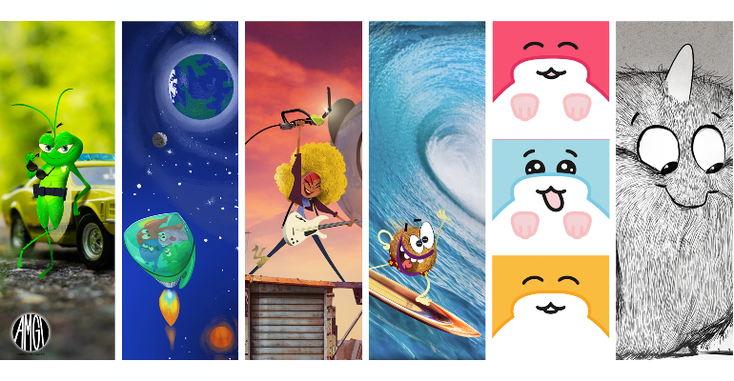 Things move quickly at 
. The animation "IP factory" prides itself on moving swiftly and meeting consumer demand as it happens in real time. From its use of the Unreal Engine to produce cartoon-styled animations to its ability to quickly ramp-up production at home, the studio has made a name for itself because of the speed it can churn out content for a media-hungry world. Today, AMGI's ability to quickly create IP is a trait that is more important than ever before.
As the COVID-19 pandemic brought people home to flatten the curve, it also potentially expedited digital ecosystems in content and retail. The pandemic led movies like Universal's "Trolls World Tour" to be released simultaneously on VOD and in theaters. On the retail front, many businesses also leveraged e-commerce to navigate shop closures during the pandemic shutdown for non-essential services. AMGI believes it is well-suited to navigate the world as these digital and at-home initiatives are leading to new strategies across industries.
"We're
in a new era of entertainment, and we're definitely positioned in the right place for it," says Luke Paglia, chief operating officer, AMGI.
To leverage its ability to work quickly, the animation studio has launched a slate of initiatives to uncover new partnerships. AMGI plans to move to a new larger space in the fall that it believes will help the studio grow while meeting proper social distancing protocols that will keep staff safe. Moving from Pasadena, Calif. to Burbank, Calif., the new studio will be much larger than AMGI's old workspace.
The studio has also recently inked a deal with talent management, production advisory and investment company Fourward. AMGI's new partnership follows growing discussions with major streamers and distributors in the entertainment space. Fourward's team-up with the animation house leverages AMGI's fast-paced working style with the talent and resources available at the agency.  
"It's really hit the gas pedal in a big way," adds Paglia. "Getting us building our momentum with them and with their resources, it's really exciting to have Fourward as our partner. They really believe in what we're doing."
Along with the partnership and discussions with streamers and distributors, AMGI is also looking at the high-level impact that popular social media platforms such as TikTok can provide for its IP. The short-form videos on the platform may be a good fit for its properties, such as Hamsta. Colin Brady, co-founder, AMGI, imagines the colorful animated hamster characters from the IP making an excellent fit for the short music-centered clips popular on the platform.
"We're well suited [for TikTok] because our studio is so fast, and we can pivot quickly," reports Brady. "We can make these 15-to-30-second little clips that kind of make up Tik Tok. So, if something really hits on there, you can follow it up quickly with more content."
On the licensing side, AMGI is looking to ramp-up its status as a licensor in the coming months. The company recently became a Matchmaking Premier sponsor for the upcoming Licensing Week Virtual, taking place June 15-19, and plans to leverage the digital licensing event to meet with potential new partners. 
AMGI will be showcasing seven of its properties to those who meet with the studio at the event. IP including Hamsta, Zeppelin Reign and Little Kaiju will be showcased on the Amgistudios.com screening room that will accompany the company's attendance at Licensing Week Virtual.
"We're really going to jump in and use Licensing Week Virtual to launch our licensing program," says Brad Bushell, brand manager, AMGI. "We'll be setting up meetings, and we'll have clips that people can screen. It's quite a task with all of these properties to launch them at once, but this event really gives us a perfect opportunity to do that."
AMGI thinks its agile production abilities are well-suited for the licensing world and sees the potential to work with partners to develop marketing campaigns that align with new product drops. Tony Diioia, co-founder, AMGI, says the studio is optimistic that it can leverage media platforms such as TikTok and YouTube to bring licensed products to digital content platforms in near real-time.
"We're in a very shifting marketplace," adds Diioia. "Our expectation with some of our licensing partners is that we could quickly work in tandem with them – and maybe even work together collaboratively. That would make good sense in terms of getting product out the door and putting clips up on YouTube and TikTok very quickly, and rapidly into the market so that it hits for back-to-school or Christmas. Especially since many of us are still going to be working from home and social distancing."
Subscribe and receive the latest news from the industry.
Join 62,000+ members. Yes, it's completely free.
You May Also Like
Loading..