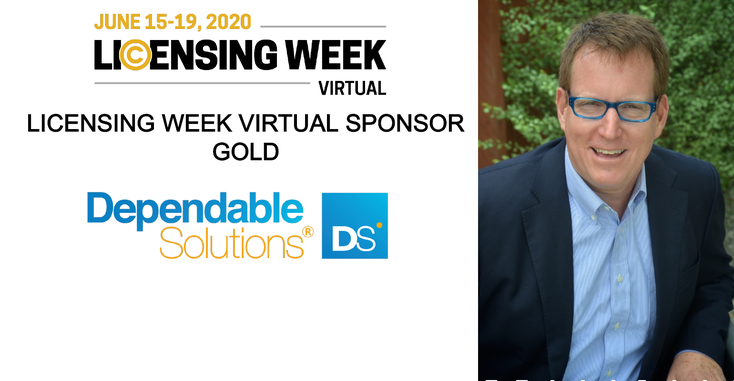 Licensing trade secrets can come from all over the industry. Whether it's from licensees, licensors or technological solutions, an endless amount of knowledge is available. With Licensing Week Virtual coming up to spread that knowledge, Marty Malysz, president, Dependable Solutions, spoke to
License Global
about the upcoming virtual trade show, technology in licensing and more.
License Global:
Technological advancements continue to change the way the licensing industry operates. How do services like yours continue to evolve the licensing industry, and why are services like these important for licensing success?
Malysz: Well, if you were not operating online before, you are now. We provide a web-based licensing platform to licensors, agents and licensees. We see many more changes coming to keep up with more detailed sales transactions, ever-changing forecasts, reduced retail outlets and a trove of products needing approval. All this is online today, so we fit right into the online branding
business processes.
How do you see the licensing industry changing in the next five years?
This year, we have found that the traditional brands held court with loyal consumers who had extra time with family and friends locked up in their homes and neighborhoods. Our major suppliers of consumer goods, food and game companies, have continued to thrive. The events business has dropped off the cliff including concerts, sports and universities.  We anticipate that event-based companies will take longer to stabilize until better screening for COVID-19 comes out. I sure would love to go see P!nk or Bruno Mars with my family, but need to chill-lax until it is safe.
Film companies have been rocked with Netflix, Hulu and Disney plus product available for at-home viewing.  With the recent release of "Sonic the Hedgehog," Sega had the largest video game-based film release right in the middle of the COVID-19 season. With theaters out of business right now, movies released to VOD and streaming will challenge the traditional retail development cycles, which take months of preparation.
What would you say is the next biggest trend in brand licensing, and how can licensees and licensors prepare for that trend?
Esports is coming on quickly and will endear game fans to their favorite brands, which we are well positioned to help. Apparel businesses represent the largest category and have been the slowest to adopt the detailed licensing requirement, and we expect that they will need the licensees to forecast and reports at a much more detailed level. We also like to see new brands come up online to help build strong audiences through social engagement. Collins Key is a 24-year-old internet celebrity actor and magician with 20 million subscribers on YouTube and 4.2 billion lifetime impressions. We all need to be aware that brands with huge audiences exist, especially with the Millennial and Gen-Z audiences.
What do you see as the most beneficial habit those in the licensing industry should implement while working from home?
We do need to give grace to all the families with young children forced into home schooling instantly. I know most calls have pooches barking, men with extra facial hair and everyone embracing casual wear. We hope to be back in our offices by June 1, and I believe only blue jeans and casual wear will be the new standard. We have a 35-member workforce across three continents and are built for work-from-home for many years now. We have learned to expect office hours to vary in order to get projects completed and implement tighter security since all work is done online. Lastly, we need to take some time off.  Everyone has been working weekends and extra hours. Amen to vacations even as we ease restrictions just to trade around our neighborhoods.
How do you think Licensing Week Virtual will help those in the licensing industry during the COVID-19 pandemic?
Well the good news is that we do not need to travel past our bedroom offices this year. Feels very funny, but hey, it is how we operate. We are proud to sponsor Licensing Week Virtual and host a panel on "What Do Licensees Want?" We are optimistic that the online trade event will help us all connect now that physical distancing is in place. I think many more companies will take advantage of the "virtual" nature of the show since we can all afford to dial in to learn the latest strategy to navigate the pandemic-related recession around the world. 
What role have trade shows played in your strategy for licensees/licensors?
Trade shows have been our main forum over the past 15 years along with the licensing awards show and licensing summits to meet with our 70-plus clients. We found that in-person meetings were effective when companies consider changes to implement automated licensing processes. Most of our new accounts require many months of analysis prior to committing to changes in their organizations, so we commit to several trade show and industry organized events throughout the year. This is the first year, we have postponed our customer conference in March (Marina Del Rey), missed the New York licensing summit as a sponsor and London shows such as Licensing international Manchester and the International Sports conference.   With Licensing Expo pushed to May 2021, we have embraced the remote meetings to help us bring on new clients and service existing ones across 11 countries. We would love to get back in front of our clients and prospects once we are allowed to with safe distancing.
To hear more from Marty Malysz and Dependable Solutions be sure to meet him during Virtual Licensing Week. All those in attendance are encouraged to meet with him for virtual drop-in sessions or schedule time through the event's
.
Read more about:
Subscribe and receive the latest news from the industry.
Join 62,000+ members. Yes, it's completely free.
You May Also Like
Loading..