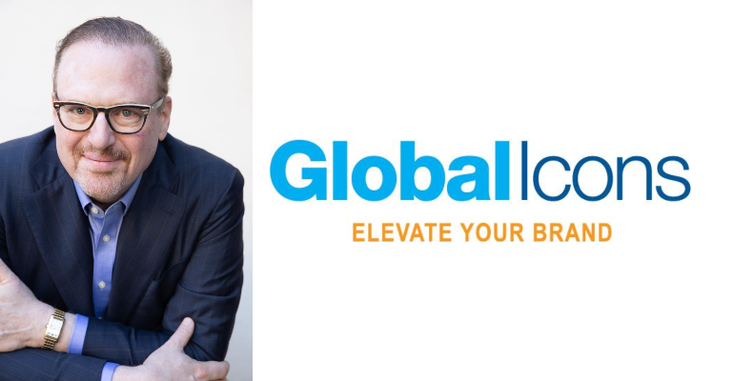 With Licensing Week Virtual launching on Monday, June 15, sponsors are sharing their expert tips for keeping the licensing industry afloat and thriving during the global pandemic.  
Global Icons has signed on as a Gold sponsor for the event, bringing its years of experience and expertise to the virtual show floor. Jeff Lotman, chief executive officer, Global Icons, had a chat with
License Global
about the upcoming event, the panel he is hosting and the industry as a whole.
License Global
: Tell us about your keynote. You're planning on talking about your new book
Invisible Marketing
. Why is it valuable for people to listen in?
Lotman:
Licensing is the most misunderstood industry there is, but at the same time, it's also the most powerful. This book specifically will help CMO's, brand managers and anybody that's trying to help to grow market share, awareness and, of course, revenue in today's world. This is a must-attend session for all brand owners needing an education on why licensing is
critical for a brand's marketing success as well as for companies seeking licenses to sell more products and experiences.    
Can you share a little bit about the topic of your chat?
Sure, it is a panel with Matt Bonaccorso of Discovery and Michael Carlisle of The Wildflower Group that specifically is addressing e-commerce and how to develop your strategy or plans for what's going to be happening in the future to really try to make sure that your satisfying the customer. Let's face it, with what's been going on, e-commerce is going to continue to be a very strong part of our business. So, being able to really satisfy the customer is a really unique opportunity because in e-commerce, compared to any other place, you really control every experience. You know, in the store, occasionally, you may have an employee that's not 100 percent doing everything right – or, if someone else is selling your product, you clearly don't control that story – but in e-commerce, you control every part of it. So, when you have your own dedicated store, you really have a chance to create an experience that is truly reflective of who you are.
What do you think is the most important aspect of making a licensing match at events like Licensing Week Virtual, and what qualities do you look for to begin a partnership?
The licensing matches are really just the beginning because you got to look at both sides of the coin from a buyer standpoint or a licensee's standpoint. So, they may be thinking, "I make widgets or chairs," and I should be thinking to myself, "what brands can I use on this chair? What market can I really go after?" And then you look for a chance to really see that, so you have the ability to immediately plug in a meeting. For example, maybe you think Fred Segal is great for a chair. The ability to hop in for a quick 15-minute intro meeting or a longer conversation meeting with a brand will really be great. [They'd] love [there] to be more opportunities as the plant owner or licensing agent and be there for you as the manufacturer. You want to check out more people, get a sense of it, so, very quickly, you can get a much-better lay of the land, and I think matchmaking services [like the one at Licensing Week Virtual] are great and will become much more valuable to both sides of the equation.
What would you say is the next biggest trend in brand licensing, and how can licensees and licensors prepare for that trend?
I think what really is going to matter is partner selection will become more and more challenging and onerous for everybody because it's really important that you do find the right person, the right partner, and to make sure you just don't settle. Companies that have brands tend to be a little less focused on dollars, a little more focused on long-term relationships. At the end of the day, the royalties we generate are really just a part of what we do. Because we really create connections with people. Every other form of advertising, PR, radio, television, print, online, always has what I call this third wall – they can't touch a person. But when you create a licensed product, you're creating a physical product that can get into the hands of a consumer, and you attempt to build a very close relationship. I think once people realize that the money that we make from royalties on these companies don't matter. What matters are these relationships. Then, people will really see what licensing is. It's the most misunderstood industry. It's crazy. I have a book coming out next week called
Invisible Marketing
, and it's all about that people don't understand what we do, and it's frustrating that people don't understand.
What do you see is the most beneficial habit the licensing industry should implement while working from home right now?
I mean, honestly, I know that for me, and talking to an awful lot of people, I've worked harder  at home than I have in my office. [It's] just crazy, working harder, working longer, but at the same time, a lot of things are getting done. Now mind you, a lot of this was what I call "putting fires out." At first, you know, we're all dealing with a lot of problems and it took a while to get our systems in place. I think I know from us we've definitely gotten better because of it. We're definitely going to be working smarter as we come out of this, and have definitely done things that, like this whole Zoom-thing or Teams, we've all gotten comfortable with it. [Before] people never really trusted it. But now, I'd rather be on a Zoom call than a phone call. That's a habit that I am not willing to give up. I like looking at somebody, and candidly, if I'm on a Zoom call, you're looking at me, I'm looking at you, and I know if you're paying attention.
Anything else you want to add?
I'll tell you one thing. I think you're going to see virtual reality play a bigger part of this, too, in the future. I did it two weeks ago. It's incredible. It's not photo-real yet, but I can see how you could use it to be sitting in this virtual conference table, and you'd be looking directly at me and not just my face; then I could actually get up and give you a presentation, and we could be fully interacting and you would swear that we're in that office, but we're not. It's going to change the way we do business as humans. The virtual reality type of experiences are definitely going to change what we're doing. It just blew me away. You can just see the possibility of what's going to happen in a of couple years. It gives you a full 360-immersive experience, and all of a sudden, you really feel like you're in that room. It's very surreal. You know, in a couple of years given speed of technology, all the kinds of stuff that's going to happen, that this is going to become the new norm and that the ability to go to a conference [will be] just put that thing on and walk through a tradeshow floor, walk onto a virtual booth and have a virtual meeting, and I'm still sitting at home, but it feels like I'm sitting there talking with you and you then take a presentation on your virtual laptop and you start playing it in front of me, and I can look at it. It's all going to happen.
Read more about:
Subscribe and receive the latest news from the industry.
Join 62,000+ members. Yes, it's completely free.
You May Also Like
Loading..