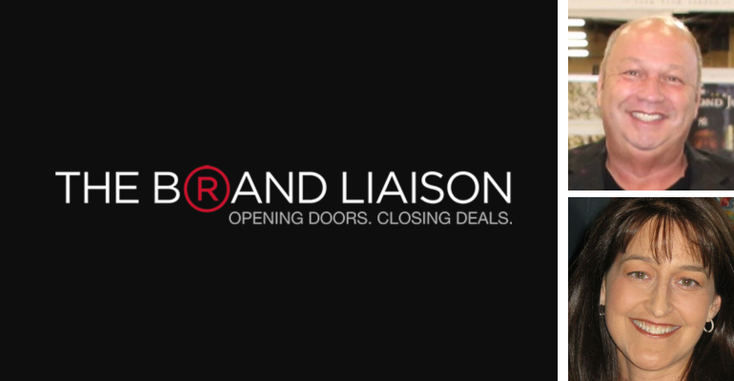 Despite all of the changes in today's retail environment, recognized brand names remain an important factor driving sales of products – especially when it comes to fashion and apparel.  From the highest couture brands, all the way down to mass and even dollar channels, consumers continue to purchase brands that they know and appreciate.   
Fashion brand licensing remains the leading licensing sector for adults, teen and children's manufacturers looking for an alternative to character licensing. The Brand Liaison is a leading licensing agency for popular fashion brands including Gloria Vanderbilt, Laura Ashley, Bill Blass,
FUBU
from Daymond John, Lauren Moshi, BUM Equipment,
and now, The Comfy brand. 
License Global
caught up with The Brand Liaison's Steven Heller and Karen Diamond to discuss what they are doing in fashion and corporate brand licensing.
License Global:
Could you share a little bit of background on The Brand Liaison's approach to licensing?
Steven Heller
: The cornerstone to almost
all successful licensing programs is apparel. So, we focus on licensing of famous apparel brands. On both the brand side and the manufacturer side, we have created a strong niche in the licensing industry for licensing fashion and apparel brands.
What makes a successful fashion or corporate brand for licensing?
Heller:
For us, and for most licensees, it's generally a three-prong approach: First and foremost, we need to look at brand recognition. Is it a recognized name, either nationally recognized or, at least, within the niche of its target market segment? We really look for some level of quality and a deep-seeded trust with its consumers. Second, we look at the brand-DNA and consider how that brand would translate into other apparel items and other consumer products. Some unique personality and voice to the brand always helps. And the third consideration is, "does the brand have a logical retail home, maybe even already have a strong retail anchor?" And that could be higher-end like Neiman Marcus, Nordstrom or Macy's, or could be a Kohls, Target or Walmart, or one or more of the off-price or specialty retailers. The expression we often use  and licensee's first question is, "where does the brand live at retail?"
Can you explain that retail home concept and give us a few examples of brands with 'retail homes'?
Karen Diamond
: In today's marketplace, manufacturers and retailers are looking for an edge. Recognizable fashion brand names provide that unique edge. Whether we are representing the brand and speaking with a potential licensing partner, or working on behalf of a manufacturer to acquire a fashion brand license, the conversation inevitably comes down to, "where does the brand live at retail?"  So, we are always looking to match the brand, product and retail home – whether it's departments store, specialty, off-price, mass or even clubs.
For example, take our Gloria Vanderbilt. The iconic denim brand remains very strong today at retailers including Kohls, Costco and many regional department stores. So, it has a very strong retail support in those key channels. On the higher end of the spectrum, we have very trendy contemporary brand Lauren Moshi, found at better department channels and their own stores in LA and Miami, and also Laura Ashley continues to be strong in both apparel and home fashions including a recent collaboration with Urban Outfitters. And on the lower end of the spectrum, we have the juniors denim brand l.e.i., which has enjoyed huge success at Walmart and now even Family Dollar. So, it's the lower end of the spectrum, but still has retailer support.
Steven, you also mentioned recognition and deep-seeded trust, at least within the niche of the target market segment. What did you mean by that?
Heller
:  Well, sometimes you have world-famous or nationally-famous brands. Of course, Calvin Klein, Ralph Lauren, and when we represent manufacturers, we've done licensing with famous brands like those, and we work with the licensing people at other major fashion brands, say Steve Madden or Betsey Johnson, Nicole Miller, BCBG or Juicy Couture, but sometimes you might have a brand that has a much-smaller niche but super-strong brand loyalty in that segment.  
For example, look at Lauren Moshi, our contemporary brand that Karen mentioned earlier.  Much less recognizable than the brands I just referenced, but the people who know this brand are extremely brand loyal and support the brand in such a way that makes licensing very viable.   Same with FUBU. Very strong brand DNA and a message that resonates with its target customers. The followers and customers of the FUBU brand support the brand cross category.
Speaking of cross-category, how do successful fashion brands expand into new categories while staying relevant to their brand identity?
Diamond
: That's what we mentioned earlier about "brand DNA." In fact, we just had this conversation with the FUBU team. Brands have to be clear on their brand vision and mission and seamlessly weave it throughout all product extensions to ensure brand authenticity at every turn. Even though the messaging can change over the years, FUBU has very clear brand messaging, and that's why it has remained so relevant. 
What advice do you have for
licensees
looking to most effectively work with fashion and corporate licensors?
Diamond
: This is a very important part of our business. We are on the licensee/manufacturer side of deals just as often as we are on the brand side. And we do the same three-part analysis Steven described earlier, just from the licensee perspective. The right licensed brand should offer strong recognition, brand DNA and point of view and distribution – that retail home with existing channels of distribution is a key.
Heller
: And I would add in today's world, having a strong coordinated marketing plan in place.  If I can compliment another one of my competitors, Marquee Brands does this so well. Every one of their brands has a strong coordinated marketing plan. To be honest, that's why we love doing deals with them when we represent the licensee. They are a licensor that supports their brands.
Steven, you mentioned "in today's world." How has the fashion vertical evolved over the years? What trends do you see on the horizon for the sector?
Heller
: First off, even long before COVID-19, we had witnessed a steady shrinking of the number of brick and mortar retailers. First, independents losing ground to big box. And within the big box world, whether its mergers and acquisitions, like Federated buying regional department stores and rebranding them all Macy's, or reduction in number of doors, like we saw repeatedly with the likes of JC Penney and Sears, or complete bankruptcy and cessation of business (i.e., Sports Authority, Bonton, TRU).  
So, the shrinking number of retail doors leads to a simple conclusion: Brands become vitally important.  Why? Two very compelling reasons. First, brands can help you get into and stay in these retailers. We discussed that we look to brands that have that "retail home." And second, maybe even more importantly, brands help tremendously with building your e-commerce. The search placement, marketing engines, coordinated brand sites and just the comfort of a recognition becomes paramount. 
Diamond:
Having a brand is essential in building e-commerce sales, especially when the brand owner runs coordinated e-commerce sites for all of their licensees and when the licensees can take advantage of that brand following on Amazon and other searches.
We have a company we work with whose expertise is Amazon and digital retail. They streamline this whole process, and we have seen incredible results. We love working with this company because they know exactly how to build a brand on Amazon. It really is a science, and you need an expert to do that. 
Heller
: Speaking of bringing on help, another trend we see is outsourcing of some basic services and consolidation for efficiencies. Karen mentioned the Amazon group, and we also have other companies we work with that handle logistics, warehousing and shipping, and we even have a source that provides financing. If any companies need financing or need to get lean and efficient, it makes sense to simply outsource these functions and make that a variable expense rather than fixed overhead. We have an entire section of our website listing resources who can help our clients. In this economy, we are here to help our clients. We have built great relationships over our career, and we aren't slowing down now. We all can help each other. That's why we added that resources section of our website – just to do our part to help.
One final question, how do you think Licensing Week Virtual will help those in the licensing industry during the COVID-19 pandemic?
Heller:
The timing is good as we reinitiate business and can start to plan and look forward rather than be reactionary and in salvage mode.
Read more about:
Subscribe and receive the latest news from the industry.
Join 62,000+ members. Yes, it's completely free.
You May Also Like
Loading..