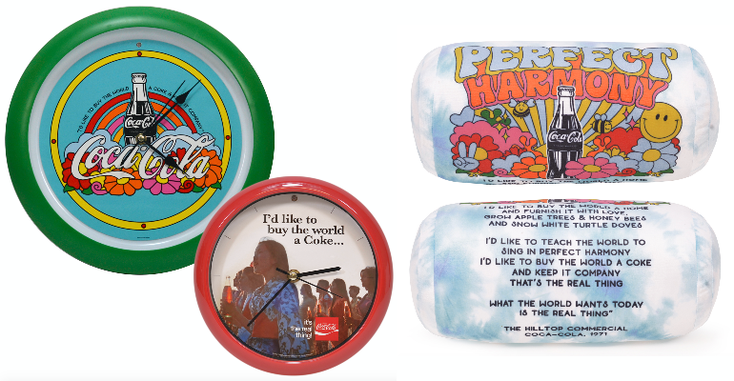 Mark Feldstein & Associates, a product development company and importer of home décor, seasonal décor and giftware has announced the release of a series of licensed Coca-Cola "1971 Unity Collection" sound clocks and plush pillows to commemorate the 50th anniversary of the beverage brand's Hilltop commercial.
The commercial featured a multicultural collection of young people on a hilltop in Italy singing the jingle, "I'd Like to Buy the World a Coke," which was later released as the song "I'd like To Teach the World to Sing" performed by the Hillside Singers. The Coca-Cola 1971 Unity Collection symbolizes that same optimistic voice for today.
MFA will be offering an 8-inch clock with an image of the Hilltop commercial on its dial, and a 13-inch clock with an illustrated re-imagining of the Coca-Cola Hilltop story for today. Both clocks will play the jingle from the commercial at the top of each hour.
In addition, MFA will be releasing a 14.5-inch plush pillow in the shape of a 1970s van and
a 13.5-inch rectangular plush pillow.
"Coca-Cola is an iconic brand that has always been an influential part of our culture," says Mark Feldstein, president, Mark Feldstein & Associates. "Our series of 1971 Unity Collection clocks and pillows look at the past and hopefully provide a glimpse into the future with the positive vibe that this commercial conveys."
MFA's Coca-Cola 1971 Unity Collection clocks and plush pillows are the latest in a line of products from MFA, including other themed-sound clocks licensed by a variety of companies and properties including Audubon, Bob Ross, Freightliner Trucks, Peanuts, Thomas Kinkade and more.
Read more about:
Subscribe and receive the latest news from the industry.
Join 62,000+ members. Yes, it's completely free.
You May Also Like
Loading..