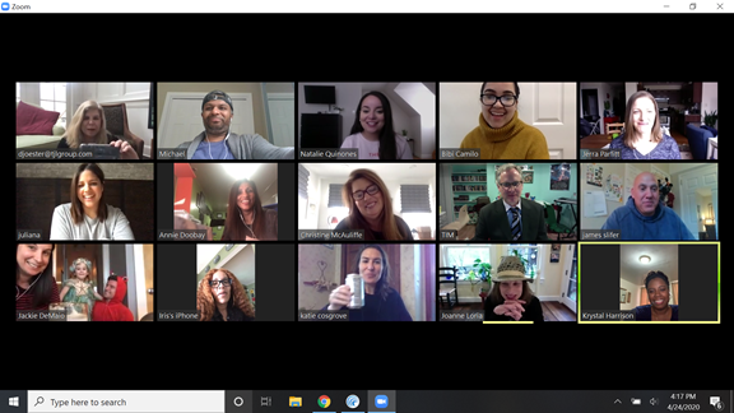 The Joester Loria Group is one of many companies adjusting to stay-at-home orders put in place by governments aiming to stop the spread of the COVID-19 pandemic. Like many of its licensing industry colleagues, the Joester Loria Group has turned to a work-from-home model to do its part to flatten the curve of COVID-19. 
Starting in early March, New York-based Joester Loria Group put in place plans for its teams to work from home. The company worked with staff to ensure they had proper Wi-Fi service, access to servers and remote-ready computers. Originally, Joester Loria Group had hoped to offer staff living in the city the option to work from the office and have the team carpool or Uber in every Wednesday. However, those plans quickly changed as the state of New York issued guidelines requiring non-essential employees to work from home. 
"That plan lasted 48 hours," says Debra Joester, president and chief executive officer, Joester Loria Group. "By Wednesday, March 11, the entire team was
transitioned to working remotely. Since that day, every week has brought unexpected news that changed how we view our situation, near term and long term. Experiencing the COVID-19 pandemic in the New York City metro area has certainly amplified our recognition that we are living through a very serious and deadly crisis."
With a swift change of plans, Joester Loria Group quickly adjust to its new normal. The company has been able to adapt to the present while preparing for an uncertain future post-pandemic. JLG reports that the company has invested resources and established priorities to keep it connected while preparing for 2021.
The Joester Loria Group's daily priorities include connecting with team members on regularly scheduled calls and Zoom meetings and working with clients on weekly calls. Both internally and with external clients, these calls serve as a way to discuss the challenges of today while planning for 2021. JLG sees calls and Zoom meetings as a vital part of everyday business now more than ever before. 
"With staff working from home, some with infants and toddlers and others in tight quarters, our calls can veer from business to wellness tips to therapy," adds Chris McAuliffe, senior vice president, Joester Loria Group.
Along with daily calls and increased communication with clients, the Joester Loria Group has a slate of initiatives ongoing today, including the following.
Supporting teachers and families:

 Joester Loria Group is providing World of Eric Carle content and activities such as educational materials, free app downloads, weekly arts and crafts.

Retail partnerships:

 The company has worked to support ongoing retail initiatives with direct-to-consumer marketing campaigns for clients such as the World of Eric Carle Magna Tiles and Books endcaps at Target stores. Plans for retail programs for the third quarter of 2020 through 2021 are also being finalized across the agency's portfolio. 

Collaborations:

 Joester Loria Group and its clients have worked closely with collaboration partners to reschedule high-impact partnerships, including launch events and retail initiatives that were planned for 2020. The reshuffle will make 2021 a very robust year of collaborations for McDonald's, Corona, Modelo, Pepsi, Eric Carle, Miffy and other clients.

Amazon initiatives:

 The agency is working with Amazon to promote products that are sought after in the current environment including games, puzzles and educational product. Simultaneously, the company is updating Joester Loria Group-managed Amazon Stores for clients World of Eric Carle, Miffy, Corona and Kellogg's. It's also developing a new dedicated Amazon shop for Modelo. 

Developing new creative assets:

Style guides are in final development and scheduled for release beginning in June for McDonald's, Corona, Pacifico, The World of Eric Carle, Pepsi, Mountain Dew, Cheetos, Doritos and other clients.  
While the challenges stemming from COVID-19 are very real for everyone, Joester Loria Group's initiatives and adjustments show that work is still carrying on for many in the licensing community. The industry will be asked to adapt to the fast-moving pace of change in the months ahead, but the agency is hopeful that its commendable efforts today will help it navigate whatever comes next.
"There is no escaping or minimizing the challenges we will face over the next year, but JLG is looking forward, working as a team and committed to finding solutions to many of those challenges," says JLG. 
Subscribe and receive the latest news from the industry.
Join 62,000+ members. Yes, it's completely free.
You May Also Like
Loading..