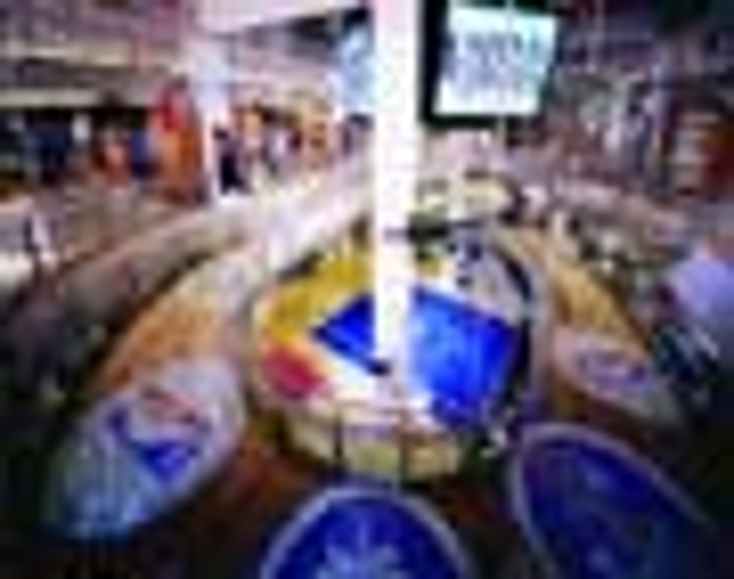 ]>Licensed collections from landmarks give home décor monumental appeal.
A renewed consumer interest in history, mainly Americana, will spark much-needed sales growth in the home furnishings industry. Likely to further their place in history are licensed collections from famous landmarks, including The Plaza in New York and the Colonial Williamsburg Foundation in Virginia. On the international scene, licensed collections from landmarks such as the Ritz Paris Hotel in France have a heightened appeal for the consumer who is traveling less and desires to transform the home into a place of comfort and luxury.
"People are going back to their roots," says Cindy Sheaffer of the American Furniture Manufacturers Association (AFMA). "In previous years, people wanted a more European look. Now we have a more eclectic mix with an increased focus on American style." This renewed interest in home furnishings looks to inject life into a market that declined in 2001. The AFMA expects retail sales in furniture alone to total $63.4 billion by year-end, which would mark a $1.2 billion increase over last year's figures. Though the home furnishings market is fairly new to licensing, sales from licensed merchandise represent a growing percentage of all retail sales in the category. "Licensing became a trend over the last four to five years when there were not many recognizable brand names in the furniture industry," says Sheaffer. "Licensing a well-known name lends instant credibility-but the key is to have good product that can stand by itself."Vision of Grandeur"Our furniture line with Historic Charleston has an international sophisticated flair, and that is what consumers are looking for," says Julie Hershey of Arlington, VA based Colony House, a high-end retailer specializing in traditional furniture and home accessories, including collections from the Historic Natchez Foundation and the Historic Charleston Foundation.
"Consumers
also love the great size and design of the Historic Natchez collection from Henredon," adds Hershey. Henredon's newest Natchez furniture collection incorporates the lavish decorating style associated with mid-19th century American Greek and Rococo Revival-a period of tremendous wealth and prosperity for the cotton aristocracy of Natchez.
As for 18th century style, there is a heightened consumer focus on comfort and practicality. Beverly Addington, product and licensing director for the Mount Vernon Ladies' Association, notes that Hickory, NC-based Hickory Chair successfully adapted George Washington's swivel chair-originally on bone rollers-to create a more comfortable and salable piece. "We began to notice success of furniture that had a more casual use," says Mary Ellen Kettelhut, vice president of marketing for Baker Furniture, a licensee of the Historic Charleston Foundation for more than 20 years. In the last two years, Grand Rapids, MI-based Baker has transitioned its Historic Charleston furniture collection into a more casual look, while remaining true to the eclectic craftsmanship associated with the Charleston seaport, once a focal point for international trade. Baker Furniture produces a combination of reproduction, adaptation, and inspiration pieces for the Historic Charleston Foundation, distributing to interior designers, independent retailers, and its own Baker stores.
"Consumers are more likely to decorate their front rooms-such as the dining and living areas-with traditional pieces while maintaining a casual look in the back and bedroom areas," says Carolyn Gomez, vice president of merchandising at Mastercraft Interiors, a retail store in Beltsville, MD, that features product from the Mount Vernon Collection (the home of George Washington) and Colonial Williamsburg.
"Our furniture from Colonial Williamsburg is selling very well," says Dee Dee Tileston, owner of Them Furniture, a Charleston, SC, retailer that features product from the Colonial Williamsburg, Historic Charleston, and Mount Vernon collections. She notes that in a recent in-store promotion with L.& J.G. Stickley, the furniture licensee for the Colonial Williamsburg Reserve Collection, customers bought furniture on the spot, including the famous Williamsburg Cart's Grove bed, a $5,000 purchase. "We got orders for the collection even before we began making the furniture," adds Rod McLean, vice president, sales and marketing, L.& J.G. Stickley in Manlius, NY.
The Reserve collection consists of high-end reproduction and adaptation pieces from Williamsburg historical sites, while the Pure Simple Today line offers interpretive 18th century pieces at more moderate price points. Colonial Williamsburg also features decorative fabrics in the Reserve collection (with licensee Greeff) and the Pure Simple Today collection (by licensee Waverly). "Consumers are surprised to see the fresh, fun colors and patterns in our Willamsburg fabrics," says Beth Moore, brand promotions manager for the Colonial Williamsburg Foundation. "But the colonialists used a broad array of color." At Mount Vernon, fabric and wallpaper by licensee Brunschwig & Fils, New York, represent a growing category.
Bringing Luxury Home
International landmark collections likewise can add color and splendor to a home. This year, New York-based Fabricut debuted its Ritz Paris home fabrics collection in decorative and designer showrooms across the U.S., Canada, and Mexico. "The history and name recognition resonate with consumers not only in Paris, but around the world," says Michelle Alfandari, president of Moda International, New York, exclusive licensing agent for the Ritz Paris brand. Haviland USA, a porcelain manufacturer based in Limoges, France, recently launched a line of dinnerware featuring authentic designs from L'Espadon, the Ritz's gourmet dining room, and the Ritz Club restaurant. Both lines are available in limited distribution at select upscale stores nationwide.
A newcomer to licensing is The Plaza Hotel, New York. East Rutherford, NJ-based Habersham, The Plaza's first licensee, debuts its 15-piece Plaza Collection at this month's International Home Furnishings Market in High Point, NC. "Everyone would like to stay at The Plaza. This furniture gives them something to talk about," says Joyce Eddy, founder and owner of Habersham. The collection includes bedroom, dining, and occasional pieces with hand-painted designs and finishes. Product will be available at high-end retail stores by third quarter this year.
Growth Opportunities
Going forward, Colonial Williamsburg seeks to strengthen its Pure Simple Today collection by expanding product categories with current licensees and engaging new licensing partners, especially in the textile category.
The Historic Charleston Foundation is looking to expand the brand into building accessories, including decorative moldings and hardware, while Mount Vernon is seeking licensees for less structured, casual furniture.
Moda wants to develop a line of furniture, bed, and bath accessories mirroring the opulent style associated with the Ritz Paris Hotel. The National Trust for Historic Preservation (also represented by Moda) seeks licensing partners for all things associated with renovating, restoring, and remodeling homes, including decorative molding.
The Plaza is seeking additional licensees for home furnishings, including tabletop, wall coverings, floor coverings, and fabrics.
Subscribe and receive the latest news from the industry.
Join 62,000+ members. Yes, it's completely free.
You May Also Like
Loading..