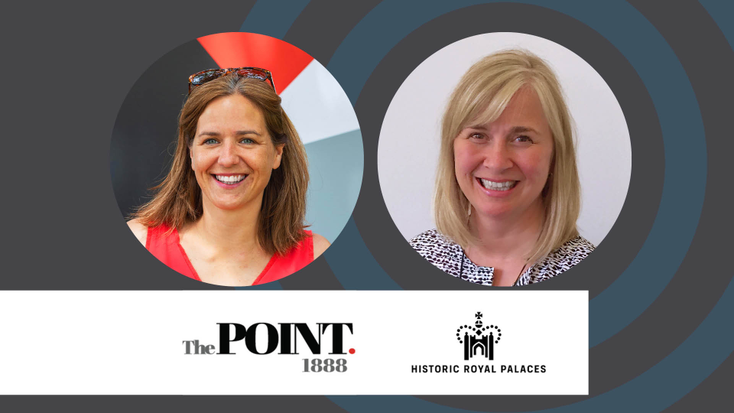 Janine Richmond and Emma Saunders.
The Point.1888, Historic Royal Palaces.
Heritage licensing propels art licensing, celebrity licensing and more forward by hosting historic pieces that consumers love for generations. The Point.1888 recently inked a deal with Historic Royal Palaces for exactly this reason. Emma Saunders, senior licensing manager, Historic Royal Palaces and Janine Richmond, head, product and brand,
, sat down with License Global to discuss the new partnership between The Point and HRP, what they're looking for in licensing and more. 
How does Historic Royal Palaces fit into the licensing industry? 
Emma Saunders: Historic Royal Palaces has gone from strength to strength within the licensing industry, working with current licensing partners for many, many years.  
We offer an inspired design licensing program and a unique, constantly evolving heritage brand with authentic provenance, distinction and style. Historic Royal Palaces used the best master craftsmen and designers of the day, spanning over a thousand years, and HRP Licensees have direct access through our extensive asset library containing
unique imagery, patterns, prints, grand architecture, magnificent interiors, collections of fine art, furniture, fashion, beautiful gardens and much more.   
What makes Historic Royal Palaces a good fit for licensing? 
Janine Richmond: Licensing for us is about telling brand stories and Historic Royal Palaces is a brand with over 1,000 years of royal history, and an infinite number of incredible stories to reveal. Whether it's within the walls of the six palaces, the pristine gardens and awe-inspiring collections. All six palaces have their own personality, with an abundance of striking architecture, art, and artefacts to inspire commercial product ranges and a British Royal Brand to reach global markets.  
Why did you choose The Point.1888 to represent you? 
Saunders: The Point.1888 has been brought onboard to grow the existing and successful licensing program, alongside the experienced Historic Royal Palaces licensing team, to secure new licensing partners across many categories including direct to retail and the digital market and experiential licensing. We chose to work with The Point.1888 as they have a very talented and experienced team across many disciplines, including Retail, Buying, Licensing, Marketing and Creative and we look forward to growing together our licensing business even further with this agency appointment. Their retail first approach to licensing has led them to become an industry leading agency with a huge amount of success, and we are looking forward to seeing that continue.  
What role does heritage licensing play in today's licensing industry? 
Richmond: Heritage licensing still plays a huge role in today's world. It is an endorsement of quality and authenticity, leaning into the brands history and timelessness. Licensing also allows brands to evolve iconic and unique designs, giving them a way to fit into the contemporary world whilst introducing them to new audiences and consumers. Over the past few years, heritage licensing has been growing hugely as brands like Historic Royal Palaces diversify their product offering and become truly accessible.   
What are your licensing plans in 2023? 
Saunders: We and The Point.1888 have had a fantastic response to the Historic Royal Palaces Brand at Brand Licensing Europe (BLE). We have a list of targeted companies and categories in fashion, jewelry, stationery, toys and games, health and beauty, publishing, homewares, tabletop and garden who we wish to work with and are already having meetings and about to sign-up these potential licensees, wanting to grow our successful licensing program further in the U.K. and Internationally.  
We also have a momentous occasion to celebrate with the Coronation of King Charles III on May 6 and a blockbuster fashion exhibition at Kensington Palace in spring 2023. We will be bringing out new licensed collections inspired by these key events with our current licensees and new licensing partners. 
Richmond: The Point.1888 has been brought onboard by Historic Royal Palaces to secure new licensing partners across many categories. These include fashion, jewelry, stationery, toys and games, health and beauty, publishing, homewares, garden and food and drink. We are also looking at direct to retail and new business opportunities including the digital market and experiential licensing. It's an incredibly exciting opportunity to showcase a historic and British brand across the globe.  
What makes a good licensing partner for you? Who are your current licensees? 
Saunders: We choose companies who are considered the "best in their field" and have similar brand values and a synergy with our brand. We also like to work with companies in partnership where we can bring our expertise, authenticity and provenance as well as adding a Royal Brand with a wealth of assets for our licensees to be inspired by. We work with licensees who bring their expertise and knowledge and have a successful business and good reputation within the industry, as well as an established distribution network, worldwide. 
The Historic Royal Palaces' current licensees have worked in collaboration with Historic Royal Palaces for many years, renewing their partnerships with us. This includes The Royal Mint, Harney & Sons, Spey, Clogau, GP & J Baker,
and many more across the U.K. and international markets.  
Is there anything else you'd want our readers to know that hasn't been covered in these questions? 
Saunders: We had a brand refresh in 2020 creating a more open and colorful approach. We have a very loyal customer and an audience that loves our traditional heritage brand, but we are also appealing to a new and contemporary audience and our partnership with The Point.1888 will help support this renaissance further. We are creating new Style and Packaging Guidelines to appeal to both these audiences by designing innovative and sustainable product and expand our brand reach to new markets globally. 
Richmond: Historic Royal Palaces is a hugely collaborative partner, with infectious enthusiasm about the brand and the assets they own. They truly take time to guide licensees and retailers through their vast asset library, allowing partners to be inspired by the palaces, gardens, and collections. We know this firsthand as they have opened their doors to our team to allow them to be immersed with behind-the-scenes tours by the curators, historians and specialist teams.  
Read more about:
Subscribe and receive the latest news from the industry.
Join 62,000+ members. Yes, it's completely free.
You May Also Like
Loading..