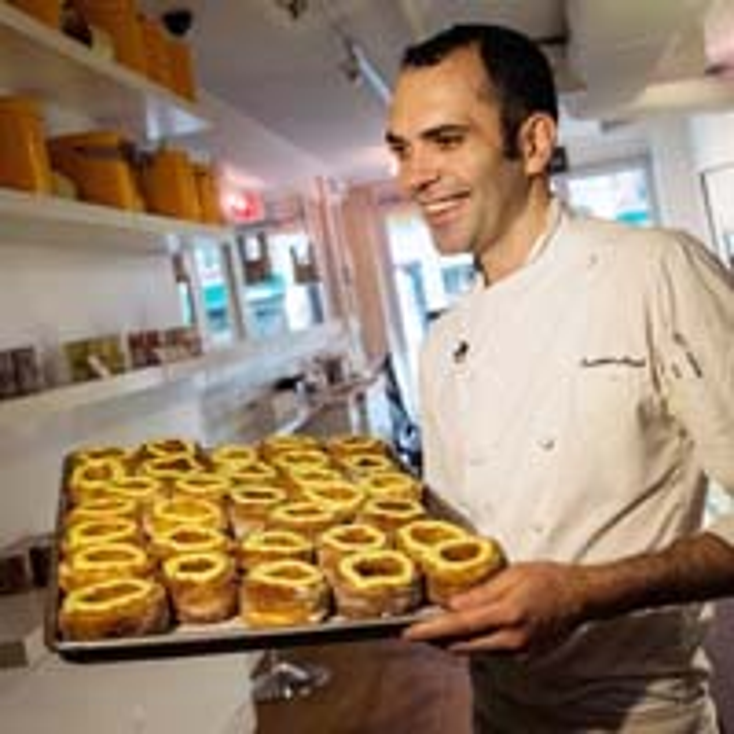 A collection of new celebrity chefs are taking the licensing world by storm with their dynamic personalities and unique product extensions.
Trust is an important factor in any successful brand licensing program, but perhaps no more so than for products that relate directly to consumers' food and family.
For that very reason, the licensing of celebrity chef brands has become a genre in its own right.
"Food lovers have long recognized that they can learn to prepare better meals by following recipes from great chefs. Julia Child taught Americans to appreciate and cook French cuisine, and was quickly followed by other famous chefs that elevated our ability to cook great meals at home," says Debra Joester, president and chief executive officer, The Joester Loria Group, which represents chef Fabio Viviani. "Today's food lovers watch cooking shows for entertainment and to search for new and exciting taste experiences when dining out. With chefs recognized as experts and artists, it is no wonder consumers trust established chefs to deliver superior products in their supermarket aisles as well as in their restaurants."
Who
better to buy cookware and food from than a professional you know and like? Even better if what you're cooking is a recipe from the same person that has already been road tested on national television. Combine these winning ingredients and you have the recipe for a perfect family meal–and a successful licensing program.
"We believe that one of our main products is our recipes," says Delia Annette Leon, manager and vice president of operations and creative development, Chica Worldwide, chef Ingrid Hoffman's company. "If consumers take the time to consider one of your recipes, buy all the ingredients, spend the time to make it and they are successful at it, they will trust you and trust in your brand in general."
Joining the likes of Wolfgang Puck, Emeril and Rachel Ray is a new crop of celebrity chefs, each of whom is putting their own unique spin on the culinary crafts of cooking and baking.
While the chefs featured here each have licensing programs in different stages of development, there is one thing they all bring to the table–distinctive, memorable personalities (an absolute necessity in a field that is growing increasingly crowded).
But personality alone won't build an empire–celebrity chefs not only have to be incredibly talented and innovative, they must also be able to translate that genius into something that feels attainable for everyday cooks.
That combination of trustworthiness, accessibility and charisma is what drives the most successful personality-based licensing programs, and the chefs featured here have all the right ingredients.
Buddy Valastro–The Global Cake Boss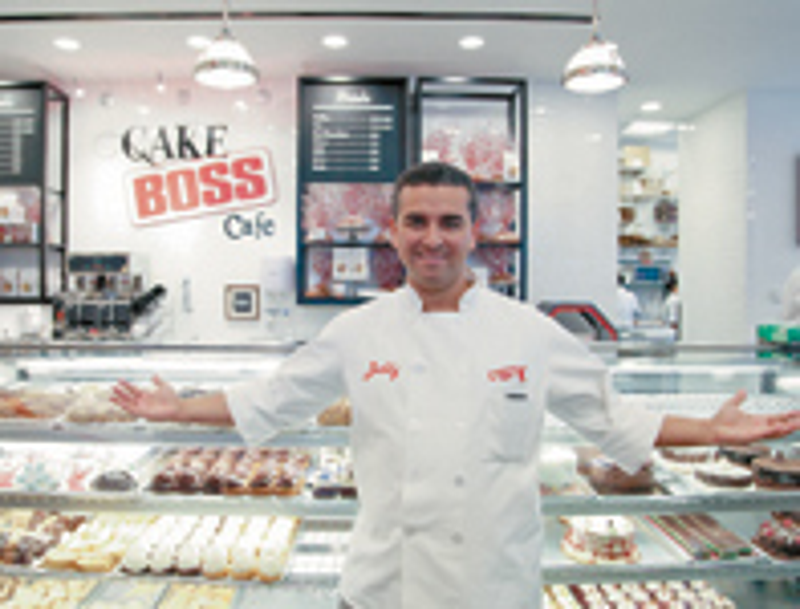 Now, as the star of TLC's "Cake Boss," Valastro has taken the family business to a whole new level and launched an international licensing brand in the process.
Valastro also hosts the reality competition series "Next Great Baker" which offers the winner a job at his family's bakery in Hoboken, N.J., Carlo's Bakery, where Valastro still serves as head baker.
In recent years, the Cake Boss brand, which is managed by Discovery Communications, has taken off, with product on shelves in North America, EMEA and Asia-Pacific.
In North America, the brand features a line of bakeware, serveware, decorating tools and kids' bakeware from Meyer Corporation; cake decorations, ready-to-eat cakes and more from Dawn foods; and even a line of Keurig-compatible single-serve coffee brews from Single Cup Coffee. The coffee line features flavors inspired by Valastro's favorite bakery creations such as chocolate cannoli and dulce de leche, as well as an Italian roast called Buddy's Blend.
Since launching in the U.S., the Cake Boss line of bakeware has rolled out in the U.K. as well, and will arrive in South Africa, Italy, the Middle East, Germany and Scandinavia before year end. In partnership with Meyer Cookware Australia, an extension of the bakeware range has also launched in Australia and New Zealand, and will arrive in China, Taiwan, Hong Kong and Singapore this year.
Dominique Ansel–The Cronut Craftsman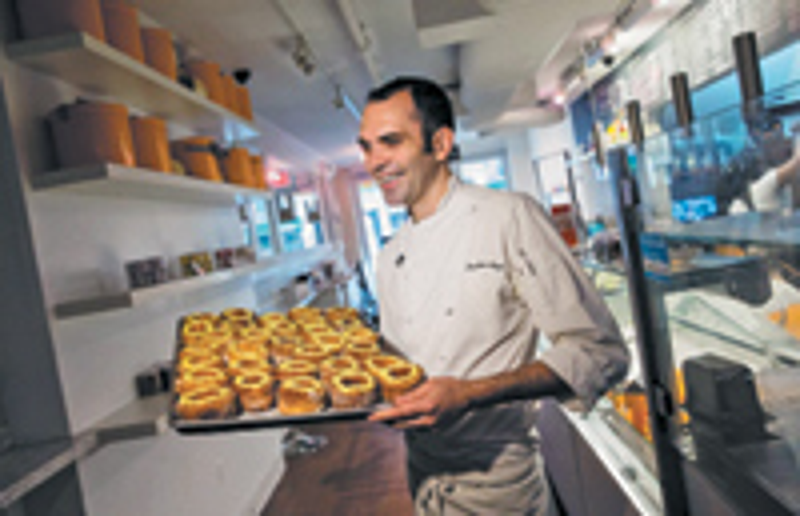 Working since he was 16-years-old, Ansel served for six years as the executive pastry chef at Daniel Boulard's French restaurant Daniel in New York, before opening his namesake bakery in the Big Apple in 2011.
"Dominique is not the typical celebrity chef," says Jodi Bogdanoff, director of licensing, Brand Central, which signed on to represent both Ansel and the Cronut brand last fall. "He is at his bakery daily, opening up the doors for customers at 8 a.m. Not only does this make him appealing to customers, but it has won the respect of other chefs and colleagues across the industry. His story is a real rags-to-riches tale of someone who came to the U.S. with only two suitcases and then through hard work and creativity, became one of the most feted pastry chefs in the country."
Ansel's most well known creation, the Cronut, took two months and 10 different recipes before it was perfected and subsequently launched him to stardom.
"Unlike many celebrity chefs, it was not a TV show that garnered Ansel fame, but actual news that eventually made him a household name," says Bogdanoff. "He's a real chef's chef, self-made and sticking to his integrity and passion. He is always innovating and coming up with new products that become the next big thing."
While the Cronut may be Ansel's most renowned creation, he has also developed such signature treats as the Frozen S'more, the Magic Souffle and the Cookie Shot.
Brand Central will manage the Cronut licensing program separately from that of its creator, with Bogdanoff saying that the two brands, while interconnected, have very different audiences and messages.
Ansel's first cookbook,
Dominique Ansel: The Secret Recipes
(working title) will be released by Simon & Schuster this October, and that is only the beginning of Brand Central's plans for the brand.
Describing the Ansel brand as "French tastes, with New York attitude," Brand Central is looking at housewares, dry mixes, ingredients, chocolate, frozen food, beverages and yogurt as potential areas for expansion, all of which will embody Ansel's whimsical yet modern style.
"Innovation is at the core of everything Dominique does," says Bogdanoff. "He doesn't recreate the wheel every time, but he does have a very distinct signature that is authentic that we hope to share with the world."
Jason Santos–The Blue-Haired Virtuoso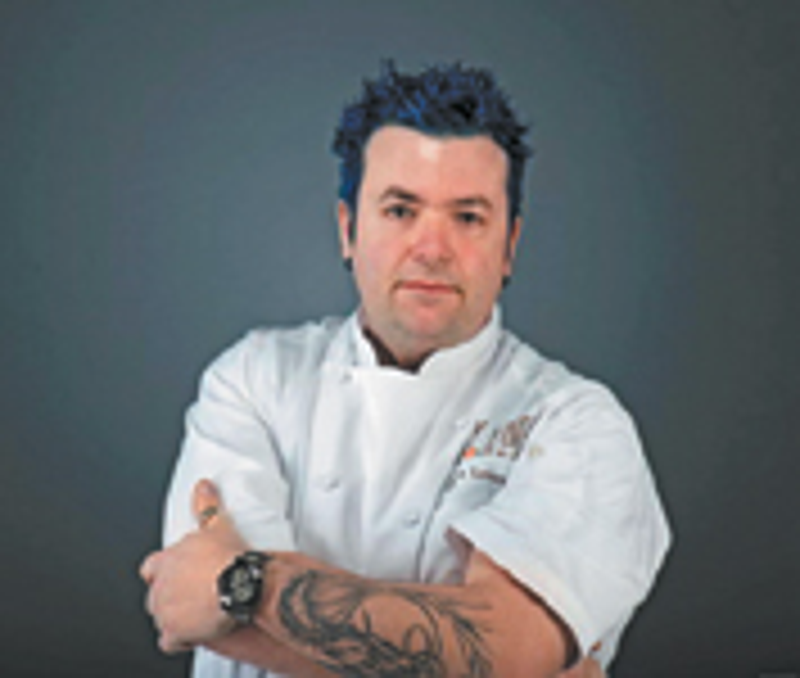 A New England staple for years, Santos first entered the national scene as a contestant on "Hell's Kitchen" in 2010. He now makes frequent appearances on CBS' "The Talk" and "The Early Show," "The Today Show" on NBC and a variety of local New England TV stations.
Known for his attention to visual detail and his creativity when it comes to both food and beverages, Santos currently has three restaurants in the Boston area–Blue Inc., Back Bay Harry's and Abbey Lane–offering a range of cuisines with a Santos twist.
Earlier this year, C3 Entertainment was appointed to represent Santos for licensing and merchandising worldwide.
"What we're going to do is elevate the brand," says Pablo Velez, director of licensing, C3. "Jason is a very successful restaurateur and is all over the TV circuit. The table is set, so it's just a matter of building on that. Our strategy is two-fold–one, to get him a more regular TV presence and two, to elevate the brand through a true licensing program."
Santos' unique image–the blue hair and his tattoos–mirror his approach to cooking.
"All of his products will always have an edge," says Velez. "If it's mayonnaise, it's not going to be your typical mayo. It will be infused with something that's maybe not so traditional. Nothing about Jason is cookie-cutter, so that will be reflected in his products."
C3 plans to launch Santos' licensing program with publishing, followed by a roster of cooking and food items.
"Jason has accrued over 22,000 recipes that he's created over the years, so publishing is No. 1 on our list," says Ani Khachoian, executive president of licensing and consumer products, C3. "These won't just be your normal, everyday cookbooks though. Jason is not an ordinary chef, he's very eccentric, so the cookbooks will be different as well. I'd also like to work with some of the companies he's done sponsorships with like Idaho Potato, Hood and Heluva Good to come up with products under those brands. For instance, Jason makes his own dips, so that is something we'll definitely want to package. And it's not just the food. He makes these amazing drinks to complement his food, so beverages are definitely a target as well."
Other categories that C3 is considering for expansion include cookware, sauces, dressings, apparel and hair products.
Ingrid Hoffman–The Latina Tycoon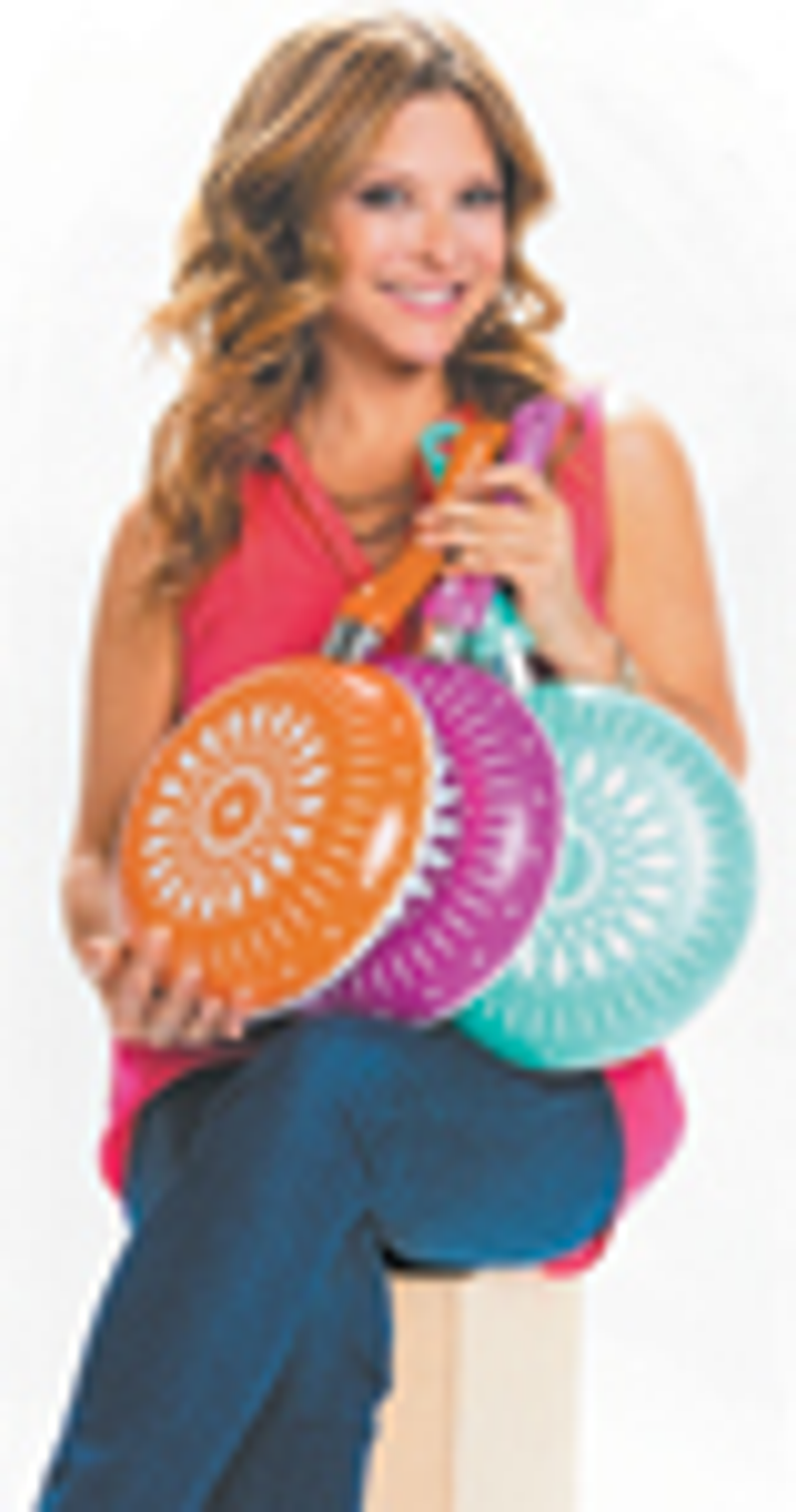 After getting her start in the Latin American market, Hoffman transitioned to English-language television with her show "Simply Delicioso," which first aired on the Food Network and then the Cooking Channel.
In doing so, Hoffman has been able to not only attract the attention of the increasingly important Hispanic market, but also appeal to a general audience as well.
That cross-cultural appeal has led to a burgeoning lifestyle empire, complete with a range of cooking and entertaining products, a dual-language publishing line and continuing television content.
"For the Hispanic consumer, our line provides them with items that have a bit of nostalgia and allows them to cook dishes from home but with a modern approach. With Hispanic cuisine becoming so mainstream, the line also gives the general market kitchen solutions at affordable prices to be able to create the Hispanic dishes they love at home," says Delia Annette Leon, manager and vice president of operations and creative development at Hoffman's company, Chica Worldwide.
In 2010, Hoffman partnered with Spanish media company Univision to launch the Simplemente Delicioso brand. Univision and Hoffman co-own the brand, for which Hoffman also serves as creative director. Hoffman's personal licensing is managed by CAA.
Last year, Hoffman teamed up with Gibson for a collection of Simplemente Delicioso cookware, tabletop items, kitchen tools and accessories that launched on HSN in August 2013.
"Ingrid's brand is the essence of the modern Latin spirit, personified with lively colors and multi-cultural influences, affordable and functional," says Leon. "Her brand has always been about more than just food. It's about living the delicioso lifestyle: fashion, design, art and music."
Leon says the ultimate goal is to build a full lifestyle brand centered on Hoffman, beginning with additions in the homewares category such as kitchen textiles, bedding and bath offerings and eventually fashion and food.
Fabio Viviani–The Digital Maestro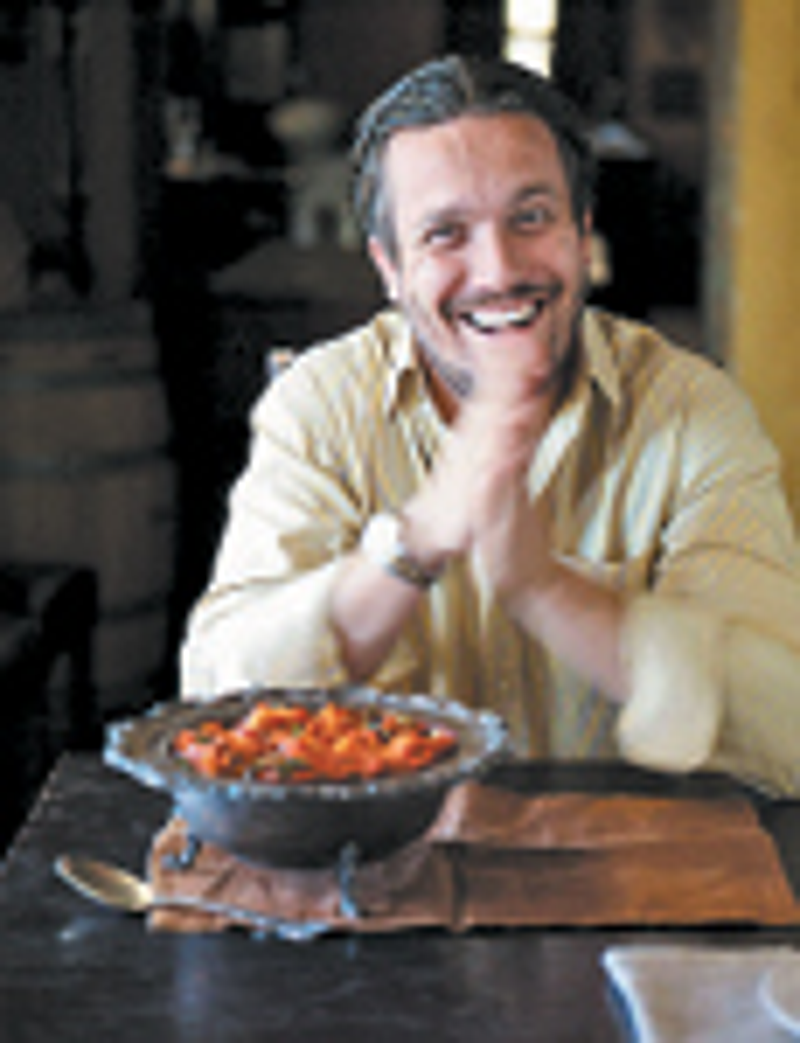 The chef, restaurateur, TV personality and
New York Times
best-selling author now boasts a portfolio that includes three successful restaurants (with more on the way), an Internet food show, a full range of cookware products and several cookbooks.
"It is impossible to talk about Fabio without mentioning his infectious charm and open, friendly demeanor," says Joester, which began representing Viviani's licensing last year. "People naturally gravitate to his warmth and playful personality."
That charm has won him hundreds of thousands of followers on social media and appearances on three different iterations of the Bravo series "Top Chef." On his first appearance on the reality show in 2008, in which he was a final four contestant, Viviani earned the "Fan Favorite" title.
Viviani has taken that charisma and the national profile he's earned from his TV appearances and translated it into a flourishing digital presence. His online series "Chow Ciao" garners as many as 15 million views per month and is the No. 1 food and lifestyle show online. Now in its third season, "Chow Ciao" features Viviani's unique teaching style, offering simple tricks and kitchen secrets as well as recipes for simple-to-prepare meals. He was also named by Likeable.com as the No. 1 Food Personality/Chef on social media.
"Social media is very important and particularly effective for Fabio," says Joester. "He truly enjoys engaging with his fans and even publishes a digital magazine with tips and recipes."
Viviani also has a well-established print publishing program, with a third cookbook on the way from Hachette in October.
Among the partners currently included in Viviani's licensing portfolio are Bialetti for cookware, PicnicTime for serveware and Smartstep for comfort mats. He also endorses Bertolli Olive Oil.
Looking ahead, Joester says that food and wine will be key categories for the brand, with partners set to be announced shortly. JLG is finalizing new deals for cooking tools and kitchen accessories, as well.
"With a number of new restaurants opening next year, including Sienna Tavern Miami, Fabio's star continues to rise," says Joester. "Additionally, retailers know Fabio. He has made numerous appearances on behalf of Bertolli and Bialetti, attracting large crowds. The launch of Fabio's branded food and wines, the continued expansion of his restaurants and other ventures will introduce him to more and more fans."
Read more about:
Subscribe and receive the latest news from the industry.
Join 62,000+ members. Yes, it's completely free.
You May Also Like
Loading..