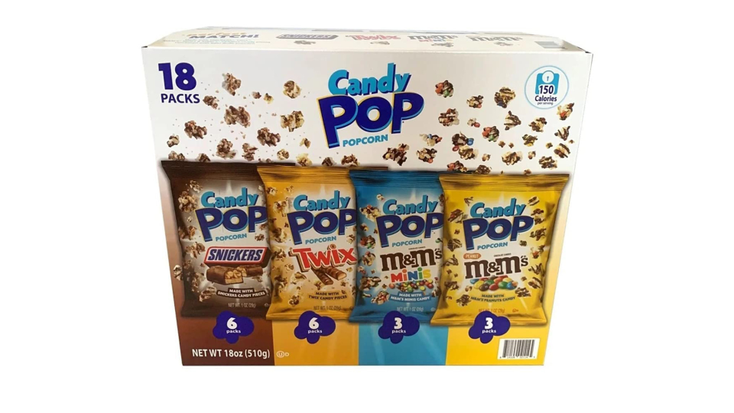 Candy Pop popcorn, featuring Twix. Snickers and M&M flavors.
Snax-Sational
LICENSED CONSUMER PRODUCTS in the food and beverage space are nothing new. There has been branded cookware from chefs and celebrities for decades. Martha Stewart, Emeril Lagasse and Rachael Ray have built empires from their respective licensed products and given newcomers in the cooking space like Molly Yeh, The Pioneer Chef and Magnolia a blueprint.
Licensed products in the food and beverage space have expanded considerably in the last few years, and adding each licensed food and beverage product in the past five years would take up much of this issue. This special report focuses on the essential but perhaps overlooked items on your shopping list, like spices and hot sauces and branded snacks at market that are attention grabbing with inventive flavor combinations. 
Spices are essential to a kitchen pantry. But even the ol' standards can get a refresh with licensed collaborations.
Spiceology, a spice and flavor company, has announced its collaboration with Marley Kitchen,
the food-driven brand created by members of Bob Marley's family. Available for purchase,
the line of Caribbean-inspired seasonings
was developed with the support of his daughter, Cedella Marley, and the Marley Family. 
Merchandising firm,
, teamed up with culinary creator and restaurateur, Sam the Cooking Guy, for a line of seasoning,
. The combination of salt, pepper and garlic will be available through Sam's website, Shopstcg.com. Social media influencer, Tabitha Brown, whose vegan recipes gained popularity during the pandemic, partnered with seasoning company, McCormick, for Sunshine by Tabitha Brown seasoning. The first limited-edition line of Brown branded seasoning sold out online in 39 minutes last year. The spice line has been at supermarkets since June.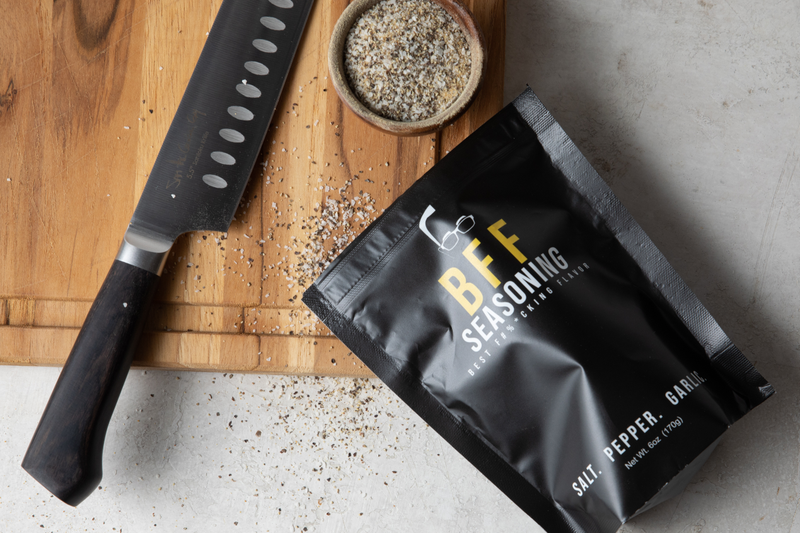 BFF ("Best F#%*cking Flavor") seasoning.
McCormick George's Beverage Company has partnered with Old Bay, a brand of McCormick & Company, to launch Old Bay Vodka. Crafted at McClintock Distilling in Frederick, Md., Old Bay Vodka is made from corn and distilled six times, highlighting the flavor of the Old Bay spice blend.
Hot and BBQ sauces might do the trick for those looking for a more intense flavor. 
Complex's "Hot Ones" YouTube series is fueled by hot sauce. The show, where celebrities are interviewed as they eat Buffalo wings with hot sauce varying in intensity, has launched its line of hot sauce with Heatonist, where hot sauces are offered by show season in 10- or 3-packs. There is a
, a frozen boneless chicken line from John Souley Foods featuring five hot sauces featured on the show and Pringles chips. 
Several hot sauces are finding their way into the snack aisle. There is
peanut and pretzel mixes from convenience store, Casey's, and
from Pip Snacks. 
Tabasco also has a line of BBQ sauces. So does Guinness, Diageo's Irish Stout brand, which has
expanded its partnership with The Flava People
to include new sauces, the Guinness Smoky BBQ Sauce and Guinness Smoky Tomato Ketchup, available at Tesco. This is a follow-up to the Guinness cooking paste, a blend of Guinness beer, honey and soy, launched in 2021.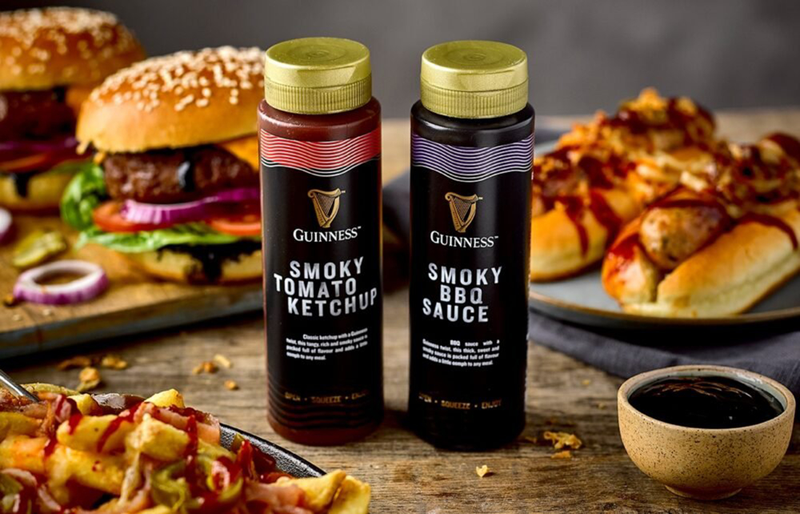 Guinness Smoky Tomato Ketchup and Guinness Smoky BBQ Sauce.
For
, the agency representing Guinness, the brand's partnerships must have a shared culture.
"A partner needs to have the same ethos as Guinness with a focus on the highest-quality ingredients to make remarkable products that bring people together, creating a sense of communion," says Katie Hall, director, brand management, Beanstalk. "There has always been a special partnership with Guinness and food and this year, we will be focusing on growing the licensing program further by looking for extraordinary new food partners to bring to life the iconic flavor and experience of Guinness in new and exciting ways." 
has worked on several food and beverage collaborations in the past few years. Perhaps the most viral was its collaboration with ice cream brand, Van Leeuwen, which released ice cream with flavors such as
, Grey Poupon and Tapatio. Yoplait, a General Mills brand, partnered with Kraft Heinz to release an
and Skittles Flavored yogurt,
, hard tea and Slush pouches, Keurig's The Original Donut Shop K-Cups in Snickers and Twix, plus much more. The agency shared its strategies on how their food collaborations catch the shoppers' eye by combining their favorite brands.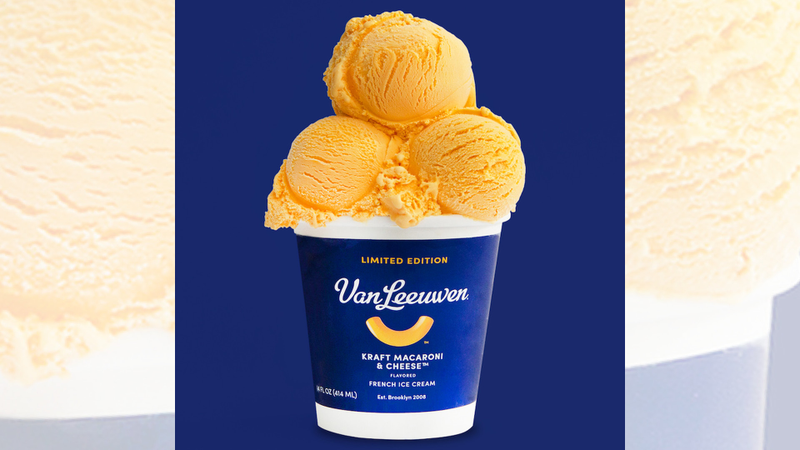 Van Leeuwen Kraft Mac & Cheese ice cream.
"Food licensing and collaborations have become a great way for food companies to expand their innovation pipeline, enhance brand love and stay relevant in culture," says Ross Misher, chief executive officer, Brand Central. "We have seen brand extensions fall into three overall strategies in the food category. The first is strategic licensing programs that build on the IP's equity, flavor and ingredients to create a full collection of long-term products. These licensing programs expand a brand's footprint into new aisles in the store and generate significant revenue over time. The second strategy is collaborations that may be shorter term, six to 12 months, and bring two great brands together. The last strategy is marketing activations that bring surprise and delight to consumers with an unexpected mash-up with the intent to drive lots of cultural conversation and social media buzz."
Snack Attacks of a Different Kind 
The phrase, "You got chocolate in my peanut butter!" is not only a pop culture reference but also an apt metaphor of food licensing. The aforementioned catchphrase stems from a Reese's Peanut Butter Cups commercial from the 1970s, introducing two flavors that go together well. In January, a
with Unilever launched in the U.S. featuring the chocolate peanut butter flavor. Reese's Puffs, a breakfast cereal, is now part of Reese's Big Cup line of candy.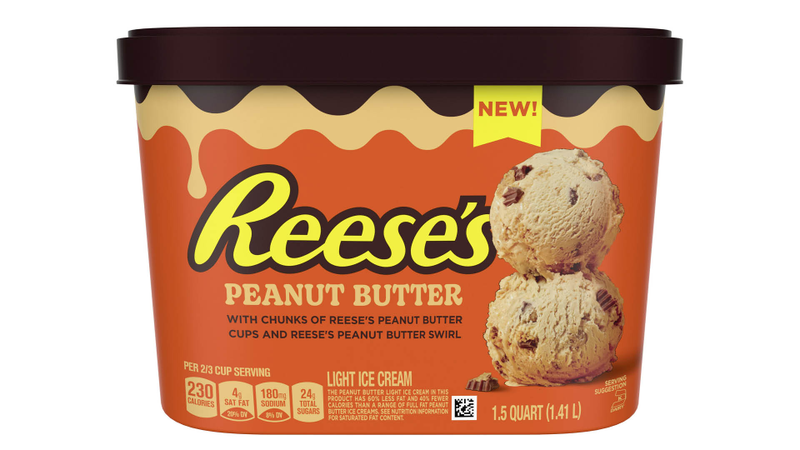 Reese's Peanut Butter light ice cream.
"This category is a place the Reese's Brand does not need permission to play," says Ernie Savo, president, The
. "It's a natural fit, a consumer-loved combination of chocolate and peanut butter, which pairs perfectly with ice cream and frozen novelties. Our Unilever relationship is a long-standing and treasured partnership, and I believe this is the best work we've ever done together."
The combination of branded food collaborations is not spontaneous and involves a lot of planning. 
Recently, MorningStar Farms released its plant-based protein, Chik'n Fries, in Pringles-inspired flavors Original and Scorchin' Cheddar Cheeze. ICEE frozen drinks may be the go-to on a hot summer day, but through food and beverage licensing, it has become a year-round treat. The brand, represented by Design Plus Licensing in the U.S., recently signed deals for the ICEE flavor in cotton candy and Axe & Sledge for protein powder.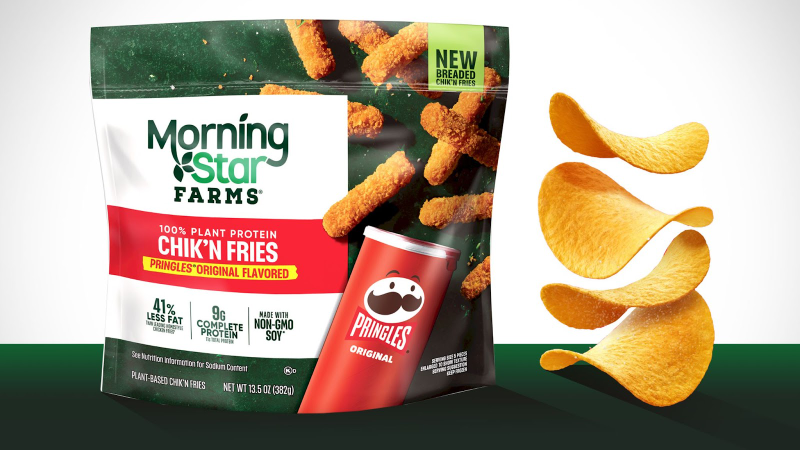 MorningStar Farms Chik'n Fries Pringles flavors.
"As licensing agents for the ICEE brand, we have a duty to protect the brand and its equity in the marketplace," says Carol Janet, chief executive officer, Design Plus Licensing. "We look for a collaboration with the requisite brand awareness with our targeted demographic and shares the same values and passion for their brand as ours. Cotton candy lives best in a carnival/theme park environment and, as such, usually is part of food service. However, fans have had an amazing demand for packaged goods, allowing them to continue the ICEE experience at home. Supplements and protein powders have proven to be a surprise in creating brand awareness. Although not an obvious category for ICEE, it has succeeded because of the fitness culture colliding with retro flavors, causing ICEE fans to crave the taste and share memories while working out." 
While some food collaborations may get people talking, it's all about taste – as in flavor – that will take the theme from novelty to an established category.
Subscribe and receive the latest news from the industry.
Join 62,000+ members. Yes, it's completely free.
You May Also Like
Loading..