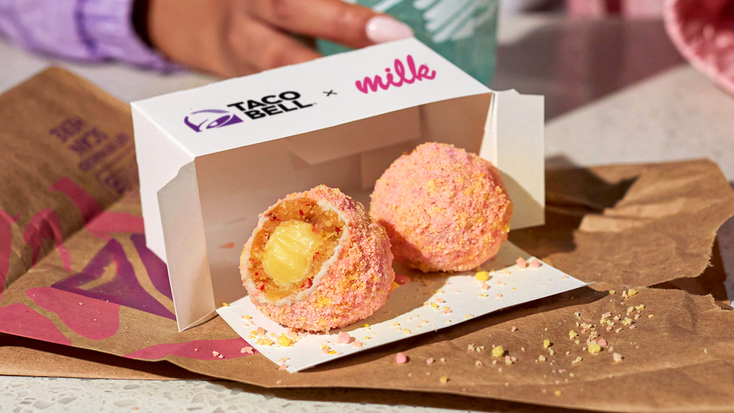 Taco Bell and Milk Bar Strawberry Bell Truffle.
Taco Bell
Taco Bell's Crunchy Taco shell and New York-based dessert company, Milk Bar's truffles are fusing together to form the new Strawberry Bell Truffle. Bringing both brands together , the dessert aims to bring the best of both brands' innovations to life. In a first-of-its-kind collaboration for the brands, the truffle will be testing at
and Milk Bar outposts in two major markets. 
A slice of cake morphed into a convenient bite, the Strawberry Bell Truffle's vanilla cake is studded with strawberry pieces and soaked in strawberry milk. The cake is then filled with a sweet corn fudge center. The outside is coated with a sweet and slightly salty strawberry and sweet corn cake coating, studded with tiny pieces of Taco Bell's Crunchy Taco Shell.  
"A collab with our brilliant friends at Taco Bell has been on my bucket list for some time," says Christina Tosi, chef and founder, Milk Bar. "We white-boarded ideas and R&D'ed to seemingly no end, but then the masterminds of our culinary team,
led by vice president, Anna McGorman, struck sweet gold with this unique dessert that packs such delicious flavor and is a true meeting of minds who love to color outside the lines. We're pumped for you to take a bite!" 
The sweet and salty treat will be available in-stores as a two-truffle package until Aug. 16, or while supplies last, at one Taco Bell restaurant in Orange County, Calif., and at two of Milk Bar's flagship locations in the Nomad neighborhood of New York, NY and on Melrose in Los Angeles, Calif. 
"The Strawberry Bell Truffle is the first mashup of its kind to be served to consumers on a large, test scale from our brands," says Rene Pisciotti, executive chef, Taco Bell. "This one-of-a-kind truffle is the friendship-fueled fruition of a concept made possible by a mutual dedication to innovation. Christina Tosi and her culinary team worked closely with experts within Taco Bell's very own test kitchen on this collaboration, and we couldn't think of better partners to learn from and team up with." 
The duo's first mashup, "Dessert Nachos," was introduced at Taco Bell's annual Friendsgiving event at Taco Bell headquarters in November 2018. The "Dessert Nachos" featured all of Milk Bar's signature cookies cut into triangle "chips" and coated with dark chocolate fudge and vanilla cream "nacho cheese sauce," and then topped with sprinkles, chocolate chips, almond brittle chunks and sweet and salty crunchies. The nachos were a big hit and sparked the desire for additional test kitchen creations that would end Taco Bell meals with a little something sweet – and thus, the Strawberry Bell Truffle was born. 
Subscribe and receive the latest news from the industry.
Join 62,000+ members. Yes, it's completely free.
You May Also Like
Loading..