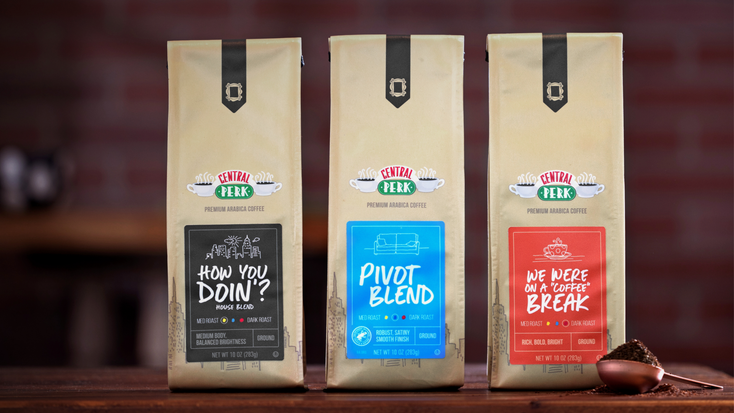 "Friends" coffee.
Warner Bros. Discovery
Coffee is one of the most widely consumed beverages worldwide. Untold millions of consumers across the U.S. simply cannot imagine starting their day – every day – without their hot cup of joe.
According to the National Coffee Association, Americans down 517 million cups of coffee every day, making it the second most-popular drink, behind only water. Statista reports U.S. coffee consumption amounted to nearly 26 million 60-kilogram bags in the 2020/2021 fiscal year … that's a whole lotta java love.
In 2021, roasted coffee generated the highest revenue in the coffee market in the U.S. with a value of approximately $66.6 billion. According to estimates in the Statista Market Outlook, this value is expected to increase to approximately $83.6 billion in 2025.
Tantalizing Coffee Go-Withs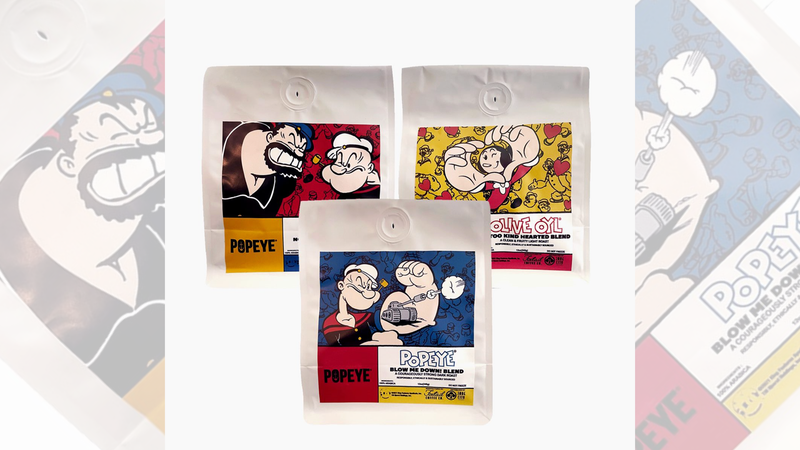 So, we clearly love our brew. And when we love something, we want to spread the joy. Coffee and coffee creamer collaborations allow consumers to enjoy favorite flavors and brands in new and interesting ways. We've seen several
brand collabs in this segment over the past few years. License Global spoke with several brand owners about their coffee and hot drink partnerships and the continued growth in this space.
Typically, when we think of Popeye and consumables, spinach comes to mind. But
has engaged in several coffee collaborations, including deals with
coffees and hot chocolate and
coffees.
"We have a wonderful partnership with the team at
in Canada who, having previously collaborated on a project with Jade City Foods for Jay and Silent Bob, helped facilitate the deals for Popeye and 'The Cuphead Show!'" says Jarred Goro, vice president, licensing, North America, King Features. "The Jade City Foods team not only understands fandom, but they are passionate about creating great food and sourcing the best ingredients for their products, making them the ideal consumables partner for these brands."
Goro cites the global popularity of coffee and growing licensing opportunities.
"One of the positive elements of the pandemic was people finding a deeper connection with their home environment; picking a new hobby, making your own bread, discovering a new cocktail and of course brewing coffee. One of the most thrilling and rewarding parts of brand licensing is being able to offer customers top-quality products that allow for innovative ways to display their fandoms. Most importantly, it was imperative to partner with a company that truly understood the complexities of the coffee industry to create a dynamic and delicious product. Jade City are true enthusiasts who work tirelessly to create unique blends that complement our brands. The coffee industry is a $100 billion global business, and we will continue to see many more great brand collaborations in the future."
Leave Room for Cream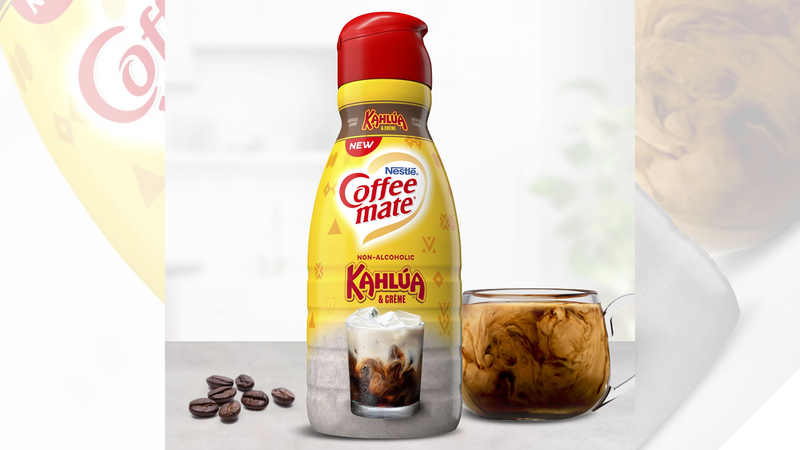 Kahlúa & Crème flavor Coffee mate.
While basic black is always in style, cream is an essential adjunct for legions of coffee drinkers. And while flavored creamers are nothing new, there are lots of opportunities for interesting brand collaborations for the creamer shelves. Coffee mate has introduced numerous collaborations, including a Kahlúa & Crème flavor. Teri Niadna, managing director,
, explains how that deal came about.
"When we started working on the brand, our client shared that adding Kahlua to coffee was an important usage occasion, so we identified coffee creamers as a key opportunity," says Niadna. "At the same time, Coffeemate was starting to think about using flavors from the spirits category to create excitement in their range, so teaming up with them was a no-brainer. Kahlúa & Crème is Coffee mate's first extension with a spirit brand."
Niadna sees coffee and coffee-related collaborations as a growing trend.
"The coffee market overall is growing at about 3.5% annually, and consumers are embracing the flavor in all sorts of new formats," she says. "Brands like Starbucks have carved out big businesses in ready-to-drink beverages. Here in the U.K., Costa Coffee has welcomed licensed brands into their holiday drinks menu, featuring festive drinks like a Toblerone latte. The espresso martini, which features Kahlua as the lead ingredient, was the most in-demand cocktail of 2022, and White Russian and Mudslide are also trending."
Kellogg's has also done several Coffee mate collaborations. David Lee, senior director, global licensing and cultural marketing,
, tells License Global that when he came to Kellogg's to build a new licensing program for the organization, the company had just started food licensing efforts. One of the company's first relationships was with Nestle.
"
at the time was interested in developing innovation for their nutrition and health science shakes," says Lee. "We launched these delicious, nutritious
, Frosted Flakes, Krave shakes. They did extremely well, and then we added Rice Krispie Treats to the lineup. With such great successes, we opened up conversations in other categories. Chilled milk and coffee creamers specifically were strong strategic fits for our brands. But it was the wonderful working relationships that we started around nutritious shakes that spring-boarded new relationships into other categories like chilled milk and coffee creamers."
Citing U.S. data that shows at-home coffee consumption has been growing in the last five years, Lee says, "I'm not sure if coffee collaborations are growing in kind, but anecdotally there seems to be plenty of collaborations around the beans themselves to flavored creamers, especially in the United States. The growth of flavored creamers specifically seems to be more of a U.S. phenomenon."
Two of the coffee creamer collaborations between Nestle and Kellogg's are Rice Krispie Treats Coffee mate and Pop Tarts Coffeemate. Lee believes nostalgia plays into popularity of some of these collaborations.
"Our nostalgic, iconic brands like Rice Krispie Treats and Pop Tarts bring an emotional connection," he says. "Feel-good memories often get conjured around growing up as a family enjoying our foods. Some have said it brings them to a happy place. The team worked hard on authentically delivering on the flavor expectations and even the look of the brand on the packaging to help make that emotional connection. As a result, there has been a huge amount of buzz and consumer excitement around these nostalgic coffee creamer flavors of Rice Krispie Treats and Pop Tarts."
Getting into Character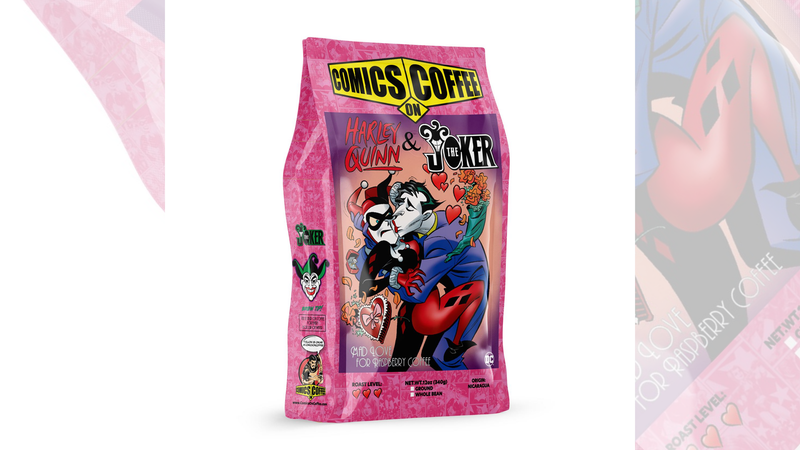 Joker & Harley Quinn Comics Coffee
has been very active in both the coffee and creamer space. The company has done several collaborations with International Delight for coffee creamers, including a seasonal line of creamers inspired by Buddy the Elf, a Willy Wonka-inspired creamer and most recently the "
" Manhattan Hazelnut Mocha creamer.
Warner Bros. Discovery has a huge portfolio and the company was looking to find a partner that would truly embrace its IP and help create multiple programs that would also fit into its business model.
"Several years ago, our partnership formed with International Delight, one of the country's leading coffee creamer brands synonymous with bold and delicious flavors," says Carolann Dunn, vice president, consumer products licensing, Warner Bros. Discovery. "Since then, we've released five limited-edition and pop-culture offerings featuring beloved franchises:
, Willy Wonka, Fruity Pebbles, and most recently, 'Friends.' Not only are the creamers delicious and tasty, but we love that International Delight always captures the essence of each IP in the flavor itself and the packaging. It's a joint venture that is creative and fun, especially as you see the end result come to life."
"'Friends' is one of the most iconic and most-watched TV shows of all time," says Kallie Goodwin, vice president, marketing, International Delight. "On a mission to deliver collaborations our consumers will love, the choice to create a creamer flavor inspired by 'Friends' couldn't have been any clearer. As Americans are looking to recreate their favorite coffeehouse experiences at home more and more, International Delight Hazelnut Mocha creamer is Central Perk-approved."
"Coffee is one of the most widely popular beverages that is enjoyed around the world," adds Dunn. "More and more, we find people experimenting with different flavors and brewing methods and with the increasing availability of specialty coffee drinks, people are more willing to explore different varieties and complements to coffee, making collaborations more appealing. Additionally, many of these collaborations bring together different communities and create a shared experience that can be appreciated by all."
"Friends" has been entertaining fans for over 25 years and continues to expand its fandom. So, in addition to the "Friends" coffee creamer, last August, Warner Bros. launched Central Perk Coffee. Warner Bros. Discovery Global Themed Entertainment partnered with CenPer Holdings, comprising industry experts from the coffee, specialty food and beverage, hospitality and entertainment worlds – including "Top Chef" and multiple James Beard Foundation Award Winner, Tom Colicchio.
"Our goal with this partnership and the Central Perk brand, like all of my food and beverage enterprises, is to secure the best ingredients and then deliver superior products and services for a great customer experience," says Colicchio. "With Central Perk, we can't wait to offer friends old and new a really enjoyable premium cup of coffee and hope they settle in with us for the next chapter of this beloved story."
Dunn says the reception has been great so far.
"It's fun to see the fans light up especially when they see the packaging and names of the blends: 'How You Doin'?' (medium roast), 'Pivot Blend' (medium/dark roast) and 'We Were on a Coffee Break' (dark roast). Our team at Warner Bros. Discovery Global Themed Entertainment wanted to carry on the legacy of the series and bring to life Central Perk Coffee inspired by the beloved hit TV series, allowing our fans to experience not only a delicious cup of premium coffee, but also relive the nostalgia in the comfort of their own homes."
The company has also announced plans to open a physical Central Perk shop this year.
"Central Perk is such an iconic setting in the series and the goal for our team at Warner Bros. Discovery Global Themed Entertainment is to create a space that imbued the same heart and soul as Central Perk coffeehouse from the series but with a modern, fresh twist allowing fans to come together over great coffee and eats, and most importantly, making new memories," says Dunn. "Everyone here at Warner Bros Discovery is excited for the plans and can't wait to reveal more details soon! Stay tuned!"
Along with the company's partners at International Delight and Central Perk, Warner Bros. also has coffee collaborations with Comics on Coffee (
) and Dead Sled Coffee (mainly for its horror titles).
"It's definitely a space that we're excited to be in and have plans to expand in the future, along with our team at Warner Bros. Discovery Global Themed Entertainment who are managing the Central Perk Coffee and upcoming physical Central Perk Coffeehouse," says Dunn.
Read more about:
Subscribe and receive the latest news from the industry.
Join 62,000+ members. Yes, it's completely free.
You May Also Like
Loading..