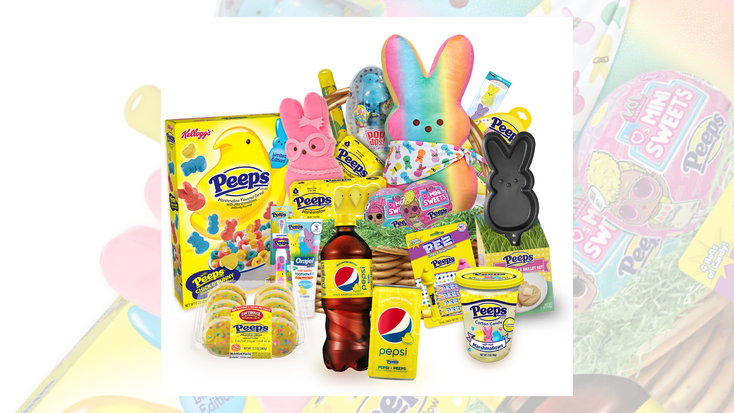 PEEPS products.
Just Born Quality Confections
At A Glance
Keith Domalewski, director, marketing and consumer engagement, Just Born Quality Confections, speaks exclusively with LG.

How PEEPS became a North American icon for the Easter season, and how it expanded into the licensed consumer product market.

PEEPS' latest collaborations: PEPSI, Crocs, OREO and more.
Not only is the Just Born Quality Confections business turning 100 years in 2023, but its marshmallow chicks and bunnies' brand,
, has been growing in popularity for seven decades.
PEEPS, the signature brand of marshmallow chicks and bunnies by Just Born Quality Confections, has been snowballing in popularity for 70 years. This brand is now so synonymous with Easter that 57% of American consumers consider the arrival of PEEPS candy on shelves as the first sign of spring. Furthermore, 81% of consumers say that this one brand reminds them of Easter, according to PEEPS' consumer survey with Wakefield Research.
So, how did a tradition of marshmallow chicks and bunnies become so integrated in American culture? License Global goes behind the scenes of the 70-year brand and the 100-year business of Just Born Quality Confections to uncover the spark that led to a fantastic seasonal phenomenon.
How Marshmallow Chicks and Bunnies Took Over Springtime in North America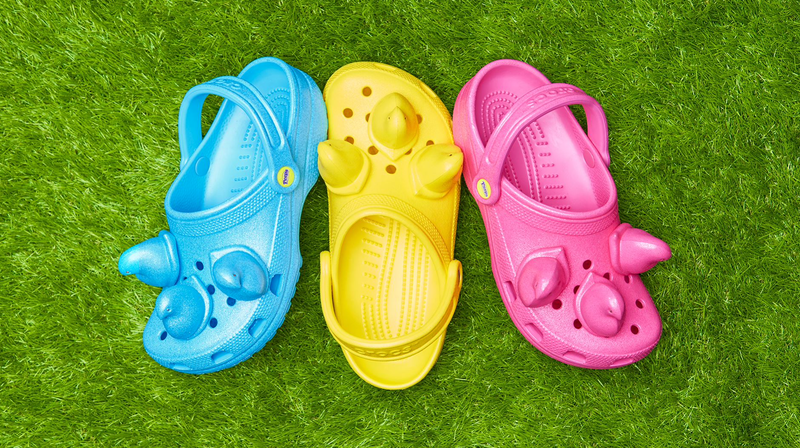 "PEEPS Marshmallow Candies were officially created in 1953," says Keith Domalewski, director,
marketing and consumer engagement, Just Born Quality Confections. "The PEEPS brand's parent company, Just Born Quality Confections, acquired the Rodda Candy Company of Lancaster, Pa., that same year for their jellybean manufacturing technology. However, in a back room they found what would be a life-changing part of the acquisition, adorable marshmallow treats being made laboriously by hand – PEEPS! Our founder's son, Bob Born, realized the potential this product had, and one year later he automated the production process. What once took 27 hours to make by hand, now only takes six minutes thanks to the automation. Without the innovation of our production process, there is simply no way PEEPS would be what it is today."
With mass production and increased transportation and retail distribution, PEEPS has become a household item every year. In the early 2000s, the Just Born team saw the potential of the brand. Where PEEPS were once simply just chicks, Just Born brought the bunnies and other marshmallow shapes under the PEEPS brand name umbrella to build clearer brand recognition. Building on that potential, the team then harnessed the power of PEEPS online by collecting the world of people expressing their love for the brand under the banner of what Domalewski calls "PEEPSONALITY."
"We found fans of PEEPS making crafts, recipes, dioramas, telling stories and even conducting experiments with PEEPS," says Domalewski. "Organically, PEEPS took on a life of their own! We continue to nurture this strong bond consumers have with the PEEPS brand and encourage our fans to incorporate PEEPS into their lives in new and entertaining ways!"
The PEEPS brand balances a 100-year tradition of confectionery creation from Just Born, 70 years of heritage with consumers, and a brand's constant innovation in motion. After all, with a growing Easter market of consumer spending across gifts, candy, clothing and decorations, the natural expansion program for PEEPS comes in partnership, licensing and brand extension.
"Our growing portfolio of flavors and novelty items, as well as licensed items and partnerships, allow loyalists and new fans to experience the magic of the PEEPS Brand. There is truly nothing else like PEEPS. We take that same approach to balancing tradition and innovation with our licensing program."
The Power of PEEPS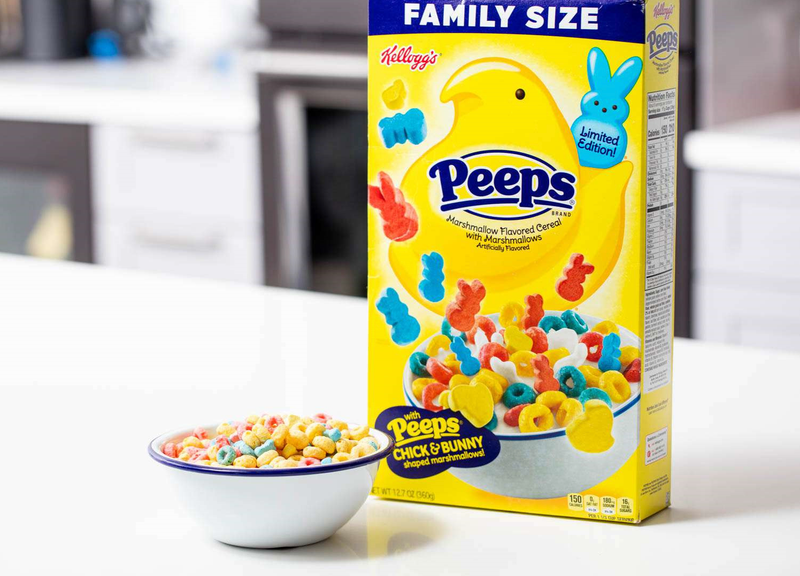 In 2022, the $20.8 billion business of consumers celebrating Easter placed the holiday second only to Christmas in North America, according to the N
. Today, PEEPS is the heart of the holiday. With 42 billion organic media impressions in the 10 weeks leading to Easter 2022, pop-culture moments on national television and countless social media user-generated content pieces place these colorful characters in the spotlight each year. Sales of PEEPS grew more than 27% in 2022, making it the number one non-chocolate brand across Easter in the U.S. with the second highest household penetration among all Easter candy brands.
"We are anticipating another record-setting Easter in 2023," says Domalewski. "As recently as this past Easter 2022, PEEPS Marshmallow Candy grew 27% vs. Easter 2021, over double the rate of the total Easter candy category. In addition, the PEEPS brand has a massive footprint in popular culture as evidenced by the 30 to 50 billion earned media impressions the brand generates every spring. Those impressions come primarily in just the 10 weeks leading up to Easter. In the spring of 2022, our PEEPS licensing program generated nearly $100 million in retail sales here in the USA; keep in mind that these sales were done in 10 to 12 weeks. We'll add significantly to this total in 2023. Our licensed retail sales would place us within the top 100 global licensors."
PEEPS Consumer Products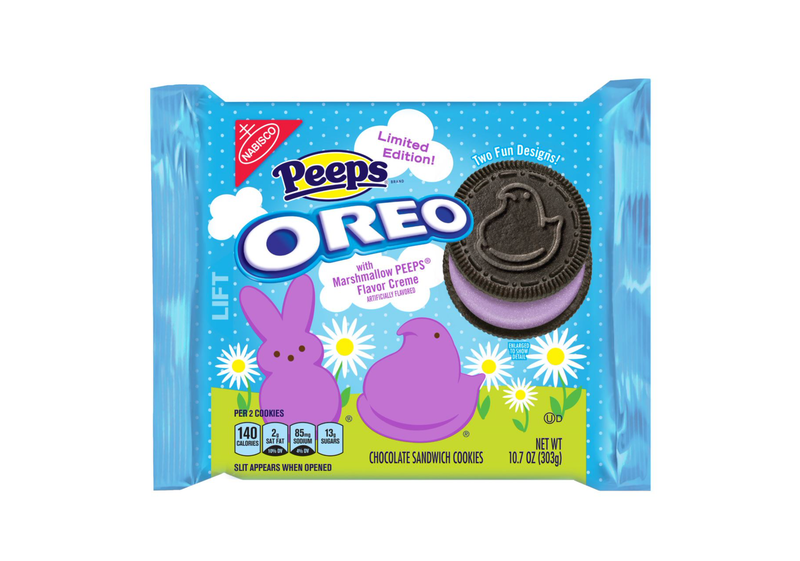 Like any licensing program, the power of a brand can only work in a market if the extension is authentic, and the brand truly understands its audience. The primary purchasers of PEEPS are by mothers with children ages 6-11, followed closely by grandparents. PEEPS, after all, is about tradition and a huge part of family time each Easter. In fact, two-out-of-three Americans had their first experience with PEEPS by the time they were 9 years old. In recent years, PEEPS has broadened its purchasing base to include young adults and teens through flavor and product innovation.
"Consumers view our PEEPS Chick and Bunny shapes as more than just marshmallow; they see them as PEEPS Chick and Bunny characters," says Domalewski. "This is something that makes the PEEPS brand unique amongst most brands in the world of food and beverage. Having bona fide and beloved characters allows us to leverage the brand in ways that many food and beverage brands simply can't. With that in mind, we developed a consumer products strategy that likens Easter to a hit Hollywood movie franchise release every year starring the PEEPS Chick and Bunny characters. Using this approach, in partnership with our licensing agent, Brand Activation Consulting, we've been able to grow sales of our consumer products program by an average of 34% annually since 2016. This strategy has resonated with major retailers across mass, grocery, drug and value customers where the PEEPS general merchandise program enjoys broad distribution and dedicated brand sections. The brand also has strong specialty/premier décor retail placements in over 7,000 doors nationally."
In 2022, the key growth markets for PEEPS included collectible toys (growing 944%), publishing (83%), specialty collabs (63%), plush (47%), novelty toys (46%), apparel (32%), pet (28%), seasonal (25%) and specialty beauty (16%). Collaborations across 2022 with brands such as
,
,
,
and
, made way for new premium collaborations in 2023 to match the brand's significant growth as a pop-culture icon. New product lines with L.O.L. Surprise!, Church & Dwight's Orajel and Spinbrush brands, and a premium footwear collaboration with celebrity,
, alongside renewed long-standing collaborations with High Street Gift Shop Collections, are defining the growth of the
PEEPS brand and cementing its fun, colorful pop-culture personality with audiences across North America.
"Plush is our anchor category; we sell millions of units every Easter," adds Domalewski. "We've been able to leverage our strength in plush to expand and create PEEPS dedicated sections at major retailers to include everything from bubbles and putty to scented grass and many other
Easter basket filler items. We've also had success moving beyond the seasonal aisle with beauty program collaborations including Sally Hansen nail polishes and cosmetics like ColourPop. We have major apparel partners that have gained strong traction at retail, and we are expanding with sleepwear, headwear, cold weather and accessories. In footwear, we had a successful recent collaboration with
and now have a partnership with the one and only Katy Perry for a PEEPS footwear launch this Easter with more footwear products to come in 2024. Additionally, we are partnering with major toy brands such as L.O.L. Surprise! X PEEPS and ZURU Five Surprise. These are just a small sampling of the key consumer products that are a part of the PEEPS brand roster."
Expanding Across Food and Beverage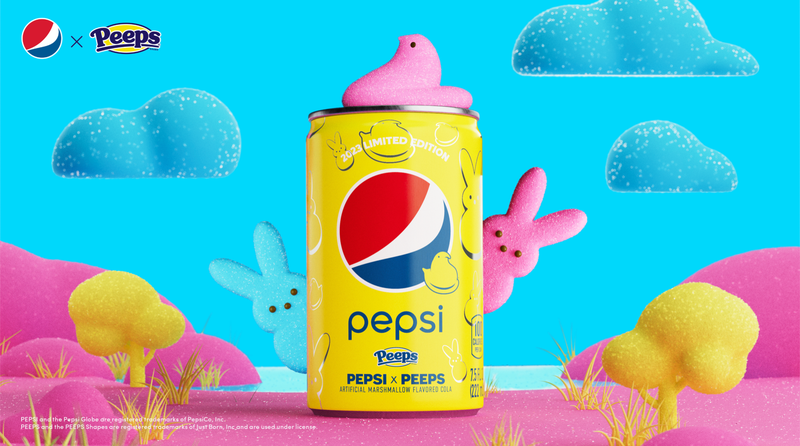 Looking to match the creativity already on display across the households who buy PEEPS, the Just Born team began to expand the brand's footprint by developing collaborations in the food and beverage (F&B) space, broadening the reach of the brand to new and complimentary markets."
"In recent years, we've had a number of extensions in the F&B market, partnering with some of the world's leading brands," says Domalewski. "From PEEPS
s and International Delight PEEPS coffee creamer, to Kellogg's PEEPS cereal, PEEPS Dunkin and Cold Stone Creamery PEEPS ice cream, we've been able to bring the magic of PEEPS into new categories for our fans. The ʻsecret' to our success in extending PEEPS into other food and beverages isn't really a secret at all. We bring PEEPSONALITY to new and relevant categories while staying true to the brand's whimsical, sweet, and colorful nature during our key springtime season. We focus on bringing the PEEPS brand equity to life authentically with our partners."
The trend of food and beverage brands branching out to more categories on the shelves has helped PEEPS become even more ubiquitous by moving out of the seasonal candy aisle.
"Over the last five years, we've seen more and more food brands move outside of their native categories into adjacent categories via licensing," says Domalewski. "Brand mashups have become a way to take limited-time offers to the next level to drive heightened consumer and customer interest. Borrowing equity, and the corresponding consumer base, from another well-known F&B brand has proven to be a way to limit risk in Frankford PEEPS plush gift sets.
"F&B brands have moved aggressively into seasons, often via licensing," concludes Domalewski. "It seems like seasonal aisles were once the near-exclusive terrain of candy. Numerous brands from other categories have compelling co-branded offerings, taking advantage of the natural demand periods that seasons present."
The latest launch in food and beverage is the PEEPS Brand's most high-profile and anticipated partnership yet. Partnering with PepsiCo to launch PEPSI X PEEPS at retail, which is available across the U.S. at retail now, brings two iconic brands together and delivers the unique and delicious flavor of PEEPS marshmallow to life in the form of a refreshing cola.
X PEEPS first came to life in 2021 as a social media promotion, and aft er both brands' legions of followers drove such solid cultural resonance, a collaboration was born. Yet another PEEPS product that has mass appeal while resonating with young adults and teens.
The Future of PEEPS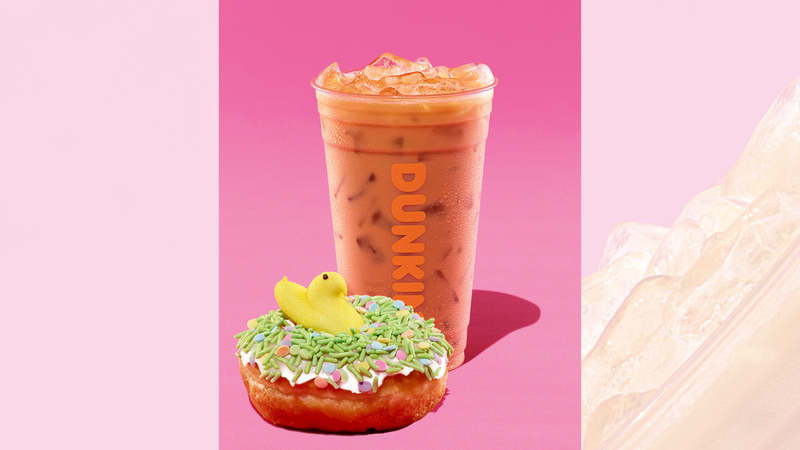 With 70 years of fast-paced growth, innovation, expansion and consumer engagement, the future of PEEPS is now built on the foundations of the last seven decades. Taking that unrivaled consumer engagement and bringing the experience of PEEPS to consumers by continuing to tap into PEEPSONALITY in expected and unexpected ways will guide the brand's growth in the years ahead.
"Much like the past few years, we will have no shortage of exciting activations and partnership announcements leading up to the Easter holiday," says Domalewski. "We will continue to extend the PEEPS brand into relevant categories within food & beverage as we know our consumers want to experience PEEPS in new and unique ways. We also plan to keep driving the success of our consumer products business to even greater heights. Interest in the PEEPS brand in international markets grows stronger every year, and we are working on expanding our F&B and consumer product offerings into new markets. In addition, we are especially excited to bring the PEEPS brand and characters to life in new and bolder ways by expanding into entertainment, such as film and TV, gaming, live stage and location-based experiences."
Matching the nationwide renown and love for the PEEPS brand with the cult, mainstream, burgeoning and future followings of new, nostalgic and blockbuster brands across numerous licensing categories, these seemingly innocent marshmallow chicks and bunnies are destined to dominate the F&B market in North America and become more significant and more relevant than ever. As Just Born finds new ways to excite and entertain its fans each year, PEEPS will be bringing Just Born – a business entering its second century this year – new challenges and opportunities as it navigates an increasingly exciting F&B market.
Subscribe and receive the latest news from the industry.
Join 62,000+ members. Yes, it's completely free.
You May Also Like
Loading..