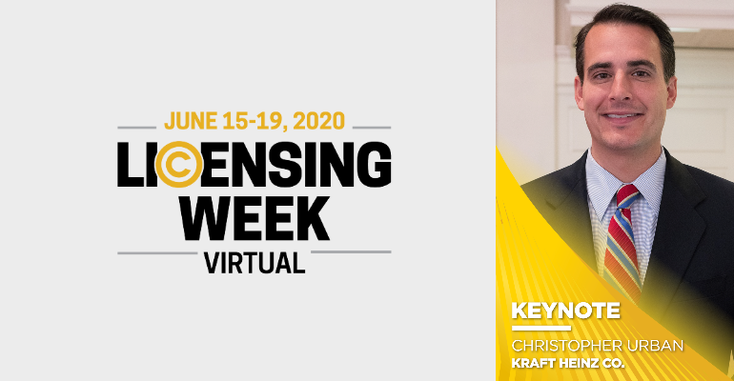 With the trends of nostalgia hitting the food and beverage sector in waves, the experts at The Kraft Heinz Company – responsible for grocery icons such as Kool-Aid, Planters, Oscar Mayer, Jell-O, Heinz Ketchup and more – are bringing its iconic brands to the world of licensing.
Speaking during the Licensing Week Virtual Keynote on Monday, June 15, Kraft Heinz's Chris Urban highlighted the group's approach to using brand licensing to build on its existing consumer relationships.
"The biggest challenge for us is furthering the positive connection between brand and consumer," says Chris Urban, vice president, general manager, Mealtime Stories, Kraft Heinz. "It's dangerous if you license out to something that doesn't stay true to the brand equity. Kraft Heinz has very high standards for its products, and we place that emphasis toward our brand as well as we've built some of these brands for over 100 years. At the same time, there is an opportunity for us as our brands have been on consumers' minds for a long time. It's fun starting to think about where we want to go with the brand and where our partners think we should go."
Kraft
Heinz works directly with its internal brand owners and licensees to keep centuries of brand heritage agile, and speaks with its consumers – whether they're loyal, nostalgia buyers or returning customers – via social media to drive new product creativity.
"Today, social media drives a lot, and this is where licensing can really leverage our brands," says Urban. "We just did a launch for National Ketchup Day, and this is the perfect opportunity for our consumers to get involved. We worked on Air Pod cases, watchbands and so much more, and the response from our consumers has been extremely positive."
Stating the group is "busier than ever with licensing opportunities," Kraft Heinz showcased some of its latest brand ideations during the Super Bowl, where a new campaign brought Baby Nut – the successor to Planters' long-loved brand ambassador Mr. Peanut – to screens to restart the conversation of an iconic brand with consumers.
So, especially in such strange times, what foundations does Kraft Heinz lean on to drive such bold strategies and licensing programs forward?
"Everything starts with the consumer; understand their ever-shifting habits," adds Urban. "How has this pandemic changed the consumer behavior? What's here to stay? How much will revert? Everything happens with the consumer. There's also trends in the marketplace, so, nostalgia in the '80s and '90s, where your brands can ride a wave. Yes, this time is unprecedented, but the consumer always remains in control. Understanding their thoughts, feelings and desires is your way to reaching your consumer. Make sure you understand the evolving world of retail. All our behaviors have changed drastically in the last three months. So, the shift in brick-and-mortar. That continues to evolve in the licensing space. How can that work for your brand? Understand the consumer, understand the trends, and see where your brand can sit well."
For more information on the licensing journey of Kraft Heinz, the products underway and the approach the brand takes toward global collaboration with its agency Brand Central, watch the full keynote by
registering for Licensing Week Virtual
.
Read more about:
Subscribe and receive the latest news from the industry.
Join 62,000+ members. Yes, it's completely free.
You May Also Like
Loading..