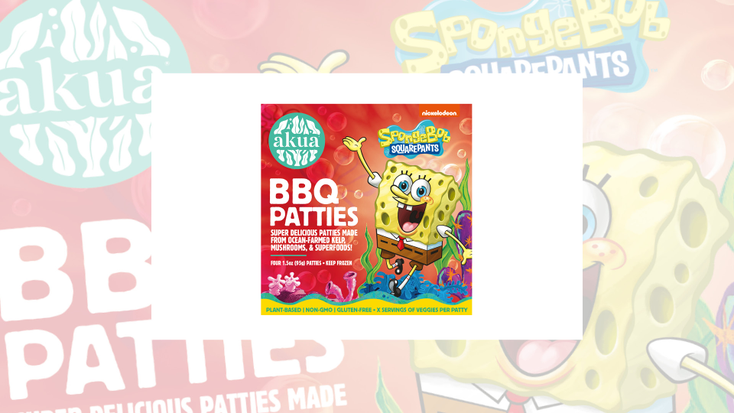 "SpongeBob SquarePants" Akua kelp patties.
Paramount/Akua
FOOD AND BEVERAGE licensing is big business. According to License Global's
Report, published in July 2022, food and beverage (F&B) licensing represents 11.4%, or $6.5 billion, of the entire industry. As seen in this issue and Licenseglobal.com, there are a lot of brand partnerships in the F&B world. A trip to the market can verify many F&B collaborations throughout the aisles. However, one part of the F&B category is ripe for licensing.
One of the fastest-growing trends in F&B licensing is the organic market. In data tracked by
(NHN), which covers the natural consumer products goods (CPG) industry, the natural and organic sector was estimated at $288.36 billion, with 5.9% growth, in 2022. 
Natural and organic food is a category that consumers are gaining interest in. Whether it's due to dietary or lifestyle changes, more shoppers are looking into whole foods and healthier alternatives in the latter half of the past century. Consumers are proactively engaged
in their health, using food to nourish and build.
New Hope Network, also a part of Informa Markets, supports a nourishing high-integrity consumer packaged goods and retail ecosystem that creates overall health for all people while regenerating the planet as a company at the forefront of the healthy lifestyle products industry. NHN produces various events, media and publications. 
NHN creates content focused on education, trends and industry news for both the brand business and retail side (as well as other stakeholders such as investors and suppliers). NHN offers a robust content portfolio, events, data, research and consultative services. Its audience can expect pieces to cover multiple categories across the natural products industry, from food and beverage to personal health and beauty, home products and supplements.
NHN's biggest event of the year,
, March 7-11 in Anaheim, Calif., is where manufacturers, retailers, distributors, service providers, ingredient suppliers, media and investors meet to discover new ways to source and promote a healthier lifestyle starting with food.
Familiar Faces in Natural Foods
There are licensed brands in natural food and beverage. Several celebrities have partnered with and created natural brands, which align with a lifestyle and brand the celebrity supports, and the brand has a recognizable ambassador in return. Some examples of collaborations are Beyoncé and WTRMLN Water, Jennifer Aniston and Vital Proteins, Gal Gadot and Goodles Mac & Cheese and Honest Beauty, owned by Jessica Alba. 
Kids' cartoon characters and other television and films are also popular in the natural products F&B sector. The Republic of Tea released its "Bridgerton" collection of teas and "Memories of a Geisha" tea tins, while "Wakanda Forever" was featured on A Dozen Cousins seasoned rice. Partake cookies featured "
" characters in its line of cookie mix, and "
" is front and center of Akua kelp-based food.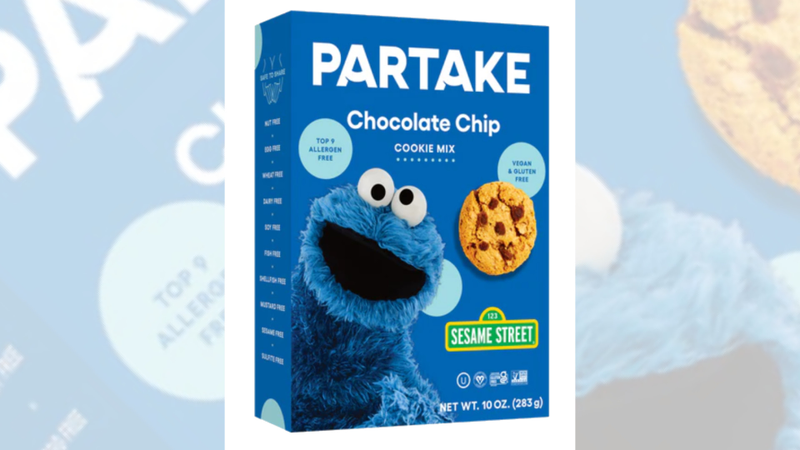 Partake chocolate chip cookie mix featuring the Cookie Monster.
F&B trends in the markets are also happening in the organic food aisle, and continue to bring together two audiences with similar shopping habits. Currently on the market are Hershey's x a2 milk, Miyoko's Creamery x Renewal Mill cookies, Tea Drops x Copper Cow boba tea kit, Purely Elizabeth cereal x Deux cookie dough, Upslope Brewing Company's collaboration with Teatulia organic tea and Field Roast's Just Egg breakfast sandwich.
The Learning Curve
What consumer products licensing and natural products have in common is that sustainability is paramount to the industry. Consumers are looking to support brands that are committed to reducing waste, addressing pollution and waste streams and reusable/recyclable/compostable packaging. In the Natural Products Market Trend report, packaging waste is a signi cant concern, particularly with millennials and Gen Z consumers. For licensors in the natural products F&B category, they will tap into an audience that is supportive but is also researching more about the category. While learning to be more environmentally conscious, the consumer is discovering the di erence between home compostable and compostable by certain facilities, what is biodegradable and where to dispose of products. While the consumer is learning about the natural product categories, licensors should do extensive research before approaching an organic brand for collaboration. Sustainability will not be limited to one vertical like packaging and will touch every part of a brand, from where/how the ingredients are grown to the shipping carbon footprint. Some farms and products are Regenerative Organic Certified, a new certification to ensure food, health and beauty and textiles have met high standards for soil health, animal welfare and farmworker fairness. Before agreeing to a licensing deal, investors will want to know a brand's environmental, social, governance and justice, equity, diversity and inclusivity statuses.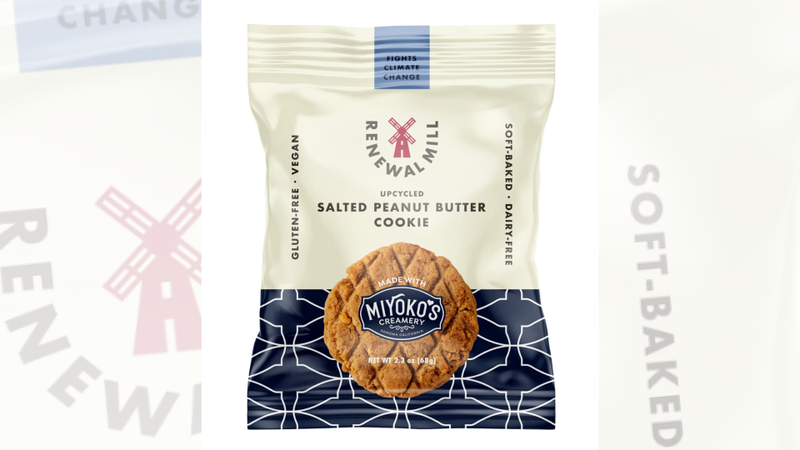 Salted Peanut Butter Cookie from Renewal Farms.
Reading the Labels
In License Global's Top Global Licensors Report, F&B licensing represents about a 10th of the entire industry, and it's one of the four categories that licensors said would be part of their overall strategy in 2023. The natural products category is ripe for meaningful organic F&B collaborations. According to NHN's Natural Products Market Trend report, 55% of consumers would pay more for fresh foods and higher-quality ingredients. A licensor will be introduced to an ingredient standard that will be much di erent than other F&B collaborations to meet those consumers' needs. Most organic food products get a thorough vetting process and transparency around the traceability of ingredients and health claims must be veri ed. There are a lot of compliance and standards requirements to become aware of that, along with gaining certi cations, will cost time and money. Each retailer will have its list of approved and restricted/banned ingredients. Certi cations like USDA Organic, ROC and Non-GMO Veri ed will go a long way in a licensed product. The natural F&B category may be new to licensors and come with di erent checklists. Still, by promoting organic licensed products, licensors may see a newfound interest from a new wave of consumers increasing yearly.
Read more about:
Subscribe and receive the latest news from the industry.
Join 62,000+ members. Yes, it's completely free.
You May Also Like
Loading..