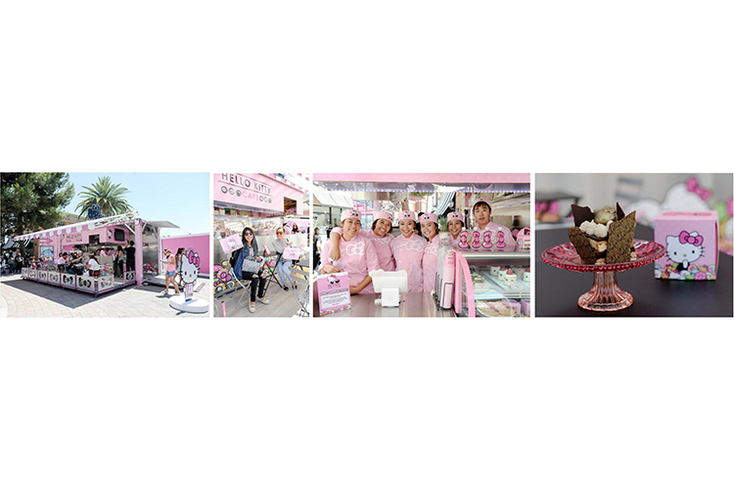 The food and beverage segment amounts to more than $5650 billion globally as of 2017, according to ReportLinker's Food and Beverages Global Market Report 2018. It makes sense, everyone needs to eat, right? There's no work around for food sales. Sure you can go off the grid, grow a vegetable garden, house some chickens... but sooner or later, you'll need to head to the local grocery store for some Goldfish crackers. And thank goodness for that convenience!
It's interesting that within the segment, licensed consumer products make up just 6 percent of total global retail sales. (Source: LIMA Annual Global Licensing Industry Survey.)
But licensors are identifying the space as a key area for growth, thanks in part to the relative stability of food retailers.
The proof is out in the marketplace now–grocery services are being viewed by the big companies as an essential piece to doing business. Like Amazon's $13.7 billion buy of Whole Foods in 2017, Target and Walmart's continued investment in their
food aisles or Kroger's interest to bring more product offerings (such as its branded line of lifestyle gear) onto its store floors, it's clear that big business is paying attention to what's happening at our local markets.
Whether it's through upending the retail model and bringing innovations like online purchasing and same-day delivery or through new product development, companies are finding ways to continue to penetrate the food and beverage space and meet diverse customers at every price point.
Consider Target's December 2017 purchase of same-day grocery delivery service Shipt for $550 million. Over the course of the year, Target has begun rolling out Shipt services in key U.S. cities like Washington D.C., Baltimore, New Orleans and Phoenix, and will open the New York City market this month.
The obvious advantage here for food and beverage brands is having more products in more hands even easier than ever before. Online grocery is also opening up product offerings and diversifying the shelf space, bringing new names and labels into homes.
Amazon, considered the obvious contender to conquer the online grocery space, is likely to capture 31.8 percent of all e-commerce food and beverage sales in the U.S., says eMarketer, with the overall category growing more than 40.1 percent this year.
But the grocery aisle is not the only place where food and beverage brands are finding worthwhile extension points. Brands continue to innovate in the space, and it's becoming more and more important to their extensions in new, non-traditional retailers, as well.
Let's look at island lifestyle brand Tommy Bahama, who is making a splash (get it?!) with its piña colada cake in collaboration with Los Angeles bakery chain Sweet Lady Jane. The cake is a must-order at Tommy Bahama restaurants, and now it is available for overnight delivery.
Tommy Bahama is further taking its brand into additional products like chocolates with Lula's Chocolates, snack mixes with Feridies, hot chocolate coffee and sauces.
Then there are the food brands that see opportunity in experiences, such as Nesquik, which celebrated its 70th anniversary with a pop-up shop in Santa Monica, Calif., or conversely, entertainment brands that see the advantage of the food and beverage space and experiences, as did NBCUniversal with the Saved by the Max pop-up, based on its hit '90s tween series "Saved by the Bell." The pop-up restaurant is making a mini tour of the U.S., with stops in Chicago, Los Angeles and San Diego.
Sanrio is also expanding on food and beverage service, incorporating Hello Kitty into several concepts including the roving Hello Kitty Café Truck (two are on the road, one covering the U.S. East Coast, the other on the West Coast) and two limited-edition concepts–the Hello Kitty Café pop-up container and the mini café. Later this year, a permanent establishment, the Hello Kitty Grand Café, will open its doors in Irvine, Calif. Each of these service concepts serve themed food and drink offerings, but also incorporate merchandise. And of course, there is the extension the other way–onto food items. Hello Kitty can now be found on wine (produced by Torti "L'Eleganza del Vino" Wines), Kikkoman soy sauce, collaborations with Sugarfina and more.
Taking it a step further, food and beverage brands are finding new places to go completely unrelated to food, like fashion.
Historically, nostalgia has always played well for any brand, so it's no wonder that classic logos for properties like Coca-Cola, M&M's, Hershey's and others are finding equal success crossing over from the food aisle to the fashion runway.
Spanish lollipop brand Chupa Chups from Perfetti Van Melle is capitalizing on its 60th anniversary this year with various promotions and activity, but notably is taking its iconic and eye-popping graphics to apparel with a collaboration with designer Maya Hansen. The MayaHansenXChupaChups collection launched in July at Mercedes-Benz Fashion Week with an assortment of looks, from mini dresses to crop tops, leggings, a corset and more.
The point is this: whether a licensor takes its food and beverage brand beyond the grocery aisle, or a food brand finds even more interesting and new ways to stay on shelf, the segment is growing, it's important and it's a safe bet.
Subscribe and receive the latest news from the industry.
Join 62,000+ members. Yes, it's completely free.
You May Also Like
Loading..