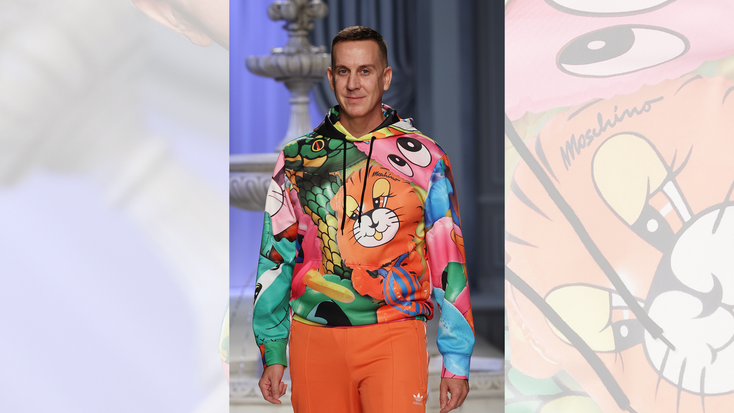 Jeremy Scott
Pietro S. D'Aprano/Getty Images
Pop culture has influenced fashion for decades. Licensed fashion collaborations have become more elevated in the last decade. Consumers have demanded fashionable licensed apparel for quite some time – and a simple logo slap on a white T-shirt isn't enough anymore. Licensors and licensees have made a concerted effort to launch apparel collaborations that are less of a novelty and more of a part of our collective wardrobe.  
While pop-culture fashion is prevalent in everyday apparel, the fantasy of pop-culture fashion is brought to life on the runway during events like Fashion Week, on the red carpet at award shows and The Met Gala. No other designer has bridged the world of fashion and pop culture more than Moschino designer, Jeremy Scott. He has made licensed collections with Barbie, Disney and Universal Monsters that embody the brand while creating attention-grabbing garments on the catwalk.  
In March, Scott left Moschino. While there is no word about what is next for Scott, his contribution
to branded fashion is legendary. But he isn't the only designer who combined elevated style with pop culture. 
Perhaps the most-obvious successor to Scott regarding haute couture licensed fashion is Christian Cowan. He created a line of
in 2019 and, more recently, "Teletubbies" for a 
featuring the characters in signature fashion poses printed on hoodies, T-shirts and denim. 
, based in California, creates retro-inspired licensed fashion collaborations with brands like Cloudco and "Care Bears," Peanuts and DC Comics. The label is also size-inclusive, ranging from XS to XXXL.  
Not every heavy metal fan dresses like Eddie Munson from "Stranger Things."
recognized the demand for elevated streetwear from fans of bands like Trivium and Gojira and worked with apparel brand, Shibori Threads, on an apparel drop.  
Licensed fashion brands are also making a mark in the metaverse. In March, Decentraland's
invited all who have a passion for fashion to look at virtual designs by DKNY, Balenciaga and the late Vivienne Westwood.  
While most licensed fashion is obvious, a fashion trend may affect future licensed apparel. And, like everything else, if the pendulum swings one way, it will swing just as quickly in the opposite direction. "
," a phrase often used by social media and fashion tastemakers, eschews bold, logo-heavy looks made popular with the athleisure trend for more subdued clothing with finer branding. Shows like "Succession" exemplify the movement as the 1% wear seemingly "basic" clothing but, with some research, discover the wardrobe has a hefty price tag. HBO has released a "Succession" merch line with branded drinkware, apparel and accessories. What's missing? A "capacious" tote bag (all the more reason to justify a trip to 
.) 
This year's Licensing Expo theme is
and will have a
dedicated to licensed fashion on the show floor. For details, go to LicensingExpo.com. 
Subscribe and receive the latest news from the industry.
Join 62,000+ members. Yes, it's completely free.
You May Also Like
Loading..