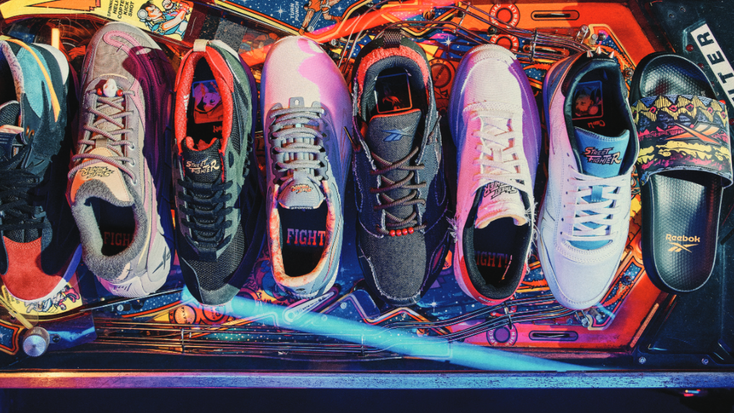 Reebok "Streetfighter" shoes.
Reebok
At A Glance
Reebok's history and future.

How Reebok's global reach continues to increase.

Authentic Brands Group's plans to add more licensed products to the brand.
Like many life-changing inventions, the origins of
International started at home. In 1895, Joseph William Foster designed the earliest version of spiked running shoes in his childhood bedroom. Later, he would launch J.W. Foster and Sons, where his footwear would be popular among athletes in the U.K.
More than 60 years later, the company would add an offshoot to J.W. Foster and Sons when Foster's grandsons, Jeff and Joe Foster, introduced the Reebok running shoe, with the name inspired by the African antelope, rhebok. In 1979, the Fosters signed a deal with another family business, Boston Camping, to license and distribute Reebok in the U.S. Through Boston Camping, three new Reebok shoes were introduced to the U.S. market in 1981. A women's aerobic shoe, the Freestyle, debuted a year later.
The '80s were a pivotal time for Reebok. In 1984, Paul Fireman, who discovered the brand while working at Boston Camping, bought the brand, now an American company on the New York Stock Exchange.
To mark the change, Reebok updated the Union Jack logo on its shoe to mirror the side flashes of the shoe. The debut of The Club C tennis shoe in 1985 helped Reebok's visibility. Consumer product lines in athletic apparel, accessories and children's shoes were added, which helped Reebok grow in sales, according to The Wall Journal, from $3.5 million in 1982 to nearly $1 billion in 1986.
Reebok kept growing to new heights in 1989 with the debut of The Pump, the first shoe to have an internal inflation mechanism in the lower and upper tongue manually controlled by the wearer, to provide locking around the ankle. The company was also a part of the step aerobics craze in the 1990s, creating step footwear accessories at workout centers worldwide.
That was Then. This is Now.
Reebok is a household name and a trusted brand spanning generations. Its presence is not just in sports, but in fashion and technology. Now, as a part of
(the brand management company acquired Reebok from adidas last year), Reebok is poised for world expansion. Authentic signed a long-term strategic partnership with retail enterprise group, SPARC Group (SPARC), to become the core licensee and operating partner for Reebok in the U.S. SPARC will supervise sourcing, manufacturing, branded retail stores, e-commerce operations and wholesale distribution for Reebok in the U.S. for footwear for men, women and children and lifestyle and active apparel for men and women.
With Reebok, SPARC's store count will be 1,600, and its e-commerce platform will increase to more than $1 billion, bringing its total retail sales to approximately $5.5 billion. SPARC will also serve as the global hub for the newly created Reebok Design Group (RDG), which will design, develop, innovate and offer creative services to partners worldwide to ensure the brand's history will remain intact. All of these functions will continue to run out of Reebok's global headquarters in Boston.
A part of Reebok's legacy is now part of Authentic. Matt O'Toole, former president and chief executive officer, Reebok, is now executive vice chairman for Authentic. O'Toole led Reebok's return to its fitness and running roots and reshaped Reebok's performance credibility with key franchises, including Nano, Zigtech and Floatride, as well as many innovative partnerships and collaborations. Recently, O'Toole has led the company's Unleashed strategy, which set a course for a post-adidas Reebok that focuses on the brand's athletic roots and is doubling down on its most iconic styles, which are helping Reebok achieve a 40% U.S. market share gain.
Todd Krinsky, a 30-year veteran at Reebok, will now take the reins. A member of the brand's senior leadership team for more than a decade, Krinsky will lead the team in implementing Reebok's growth strategy.
World-Class, Worldwide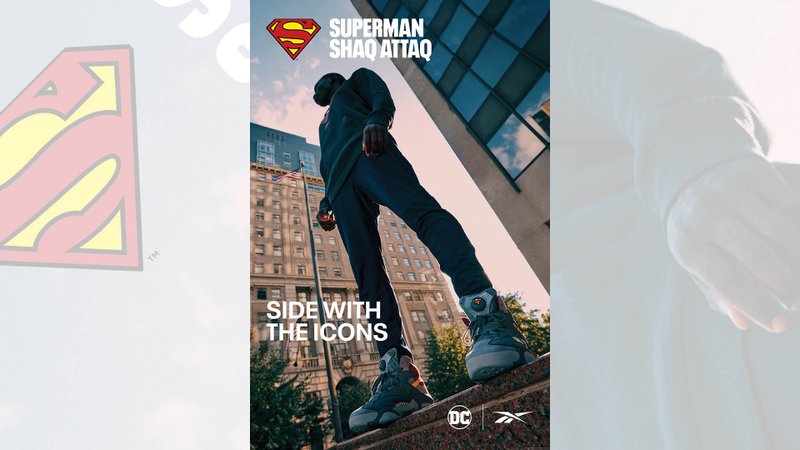 With Authentic, Reebok is expanding its reach all over the world. JD Group, a global multi-channel retailer for the Reebok brand, signed a long-term agreement to carry Reebok apparel and footwear for men, women and children in more than 2,850 of its stores and complementary e-commerce websites in North America and Europe. Reebok and the New Guards Group, a brand platform for luxury design, production and distribution, owned by Farfetch (and the core operating partner for Reebok across Europe) will take on Reebok's branded retail stores and e-commerce operations and drive wholesale distribution for the brand. The agreement includes footwear, sportswear and activewear for men, women and children, and appoints New Guards as the exclusive partner to create, curate and market luxury collaborations and to distribute premium Reebok products to leading fashion and specialty accounts in more than 50 countries, including the U.S., Canada and across Europe.
Authentic has expanded Reebok's presence in Canada with a partnership with Sport Chek, a Canadian multi-channel retailer. Sport Chek will carry Reebok apparel and footwear for men, women and children across 300 of its corporate-owned stores and websites. The long-term agreement covers Sport Chek and Sports Experts banners.
About 70% of Reebok's business comes from outside the U.S. and Canada. Authentic and LF Corp. (LF), a life-style-focused company, signed a long-term agreement, which grants LF exclusive rights to distribute and sell Reebok apparel and footwear for men, women and children through wholesale, e-commerce and Reebok-branded retail stores in South Korea. Reebok currently has more than 30 points of sale throughout South Korea. LF will leverage Reebok's fitness heritage and deploy a head-to-toe strategy that provides consumers with Reebok each season as it engages in the fast-growing sports, activewear and outerwear segments.
Nick Woodhouse, president, chief marketing officer, Authentic Brands Group, shares how Authentic adjusts its retail tactics when faced with different demographics and values in each territory.
"Reebok's DNA and heritage is an essential pillar in our strategy to gain greater retail visibility," says Woodhouse. "RDG is the global brand hub for Reebok's design, development and innovation for footwear and apparel, serving as a centralized source which feeds the brand's ethos to our global network of partners. Our operating partners are the local experts in their respective regions and we work with them to create geo-targeted products that maintain the brand's identity. In certain territories, like China or India, these geo-differences are especially important, and our model allows for the brand to be adapted based on cultural preferences and needs."
The expansion timing couldn't be more perfect for Steve Robaire, executive vice president, Reebok International.
"Our operating partners around the world are incredibly excited and have big plans for Reebok in their respective markets," says Robaire. "They will help us strategize distribution for the Reebok brand and create brand awareness and growth worldwide. In Korea, with our partner, LF, Reebok had a strong presence at Seoul fashion week in Q4 last year and is planning retail store openings in Q1 of this year. In China, with our partner, Tristate, we've started to remodel and open new stores while repositioning the brand toward a more premium consumer. At the same time, we see strong momentum for Reebok in Australia (Brand Collective) and South-east Asia. The LATAM region has been equally fast as our Asia partners re-launch Reebok with global football partnerships and plan to open concept stores in both the Panama and Punta Cana airports with FALIC, as well as the relaunch of the Reebok brand in Brazil with Grupo Aste, a­fter many years of under-investment under adidas."
Retail Reach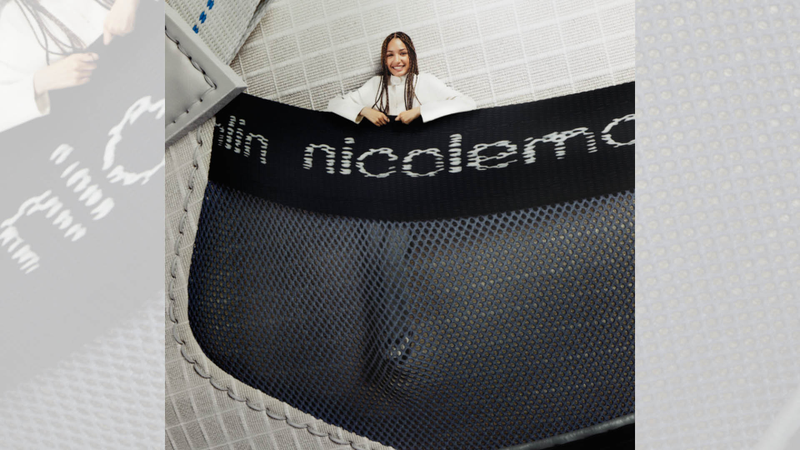 Reebok will continue to have a strong presence in the U.S. and Canada. Reebok's partnership with
for Reebok sportswear and activewear for men, women and kids will deepen its assortment of Reebok apparel on Macys.com, the Macy's app and in stores, plus develop exclusive product offerings."We are excited to take our long-standing Macy's partnership to the next level this year," says Robaire. "Our focus with Macy's is to 'win with her' by delivering a comprehensive head-to-toe range that offers the female consumer everything she needs inside and outside the gym. Our new in-store shop-in-shop concepts, which will launch in Q2 of this year, will offer an immersive shopping experience central to further connecting with the Macy's consumer."
Through Authentic, there is an enhanced partnership with Foot Locker and Reebok within the U.S. The retailer will extend its Reebok selection and will exclusively carry select Reebok footwear models for men, women and children at
's company-owned stores and complementary e-commerce websites.
"Reebok fits in a myriad of categories," says Woodhouse. "There is so much demand for this brand, we see a significant, long-term roadmap for the licensing opportunities that will allow us to meet our consumers where they are. Partnerships with retailers like Foot Locker, JD Sports, Sport Chek and Macy's are concrete examples of Authentic's direct account approach, enabling Reebok to immediately grow visibility and market share. Reebok can be found in more than 4,200 doors globally, which will continue to increase as our partners grow the brand within their respective regions. Going into 2024, our goal is to reach $10 billion in global annual retail sales within the next five years."
Reebok has a robust and vast licensing program at retail. There have been collaborations with
, Universal's "
" and
's "Street Fighter," and exclusive partnerships with celebrities like Jay-Z, 50 Cent and Cardi B. Eames Office reimagined Reebok's Club C as the designer's furniture. What is the common thread of these collaborations?
"Reebok has always been a leader in the collaboration space," says Robaire. "First in music by partnering with the likes of Jay-Z and 50 Cent, as well as in fashion by being one of the first sporting goods brands to partner with an established fashion house like Chanel. The brand has continued to build on this heritage with Maison Margiela and Anuel in 2022, with much more to come in 2023 and beyond. Our unique partnership with Farfetch/NGG will start to develop with new fashion collaborations launching this year in the fashion space that will continue to challenge conventions and disrupt the market in the same way Reebok has done for decades."
Collaborative Full-Court Press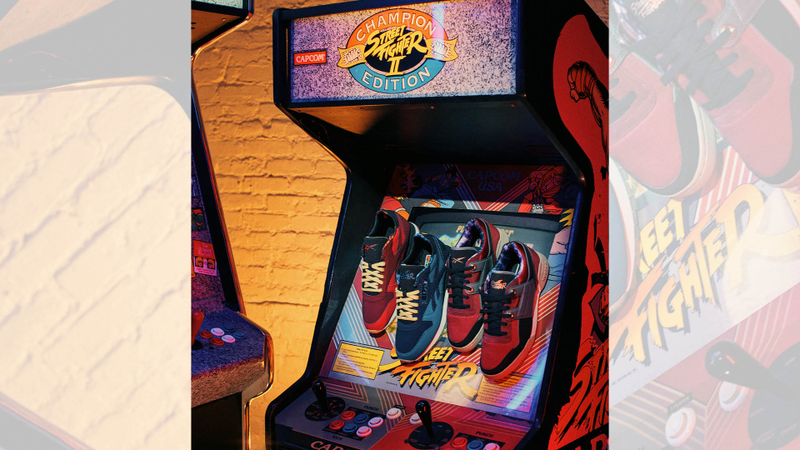 Another area where Reebok has excelled is in fitness. For Woodhouse, Reebok will hold its standing in the ­fitness community through all of the industry's changes via its products. "We continue to drive Reebok's position within ­fitness as the brand has an authentic connection with the health and wellness community," says Woodhouse. "Reebok celebrates its place in ­fitness with the No. 1 training shoe in the market, the Nano. Currently, we are thrilled about the opportunity to play a much broader role in ­fitness as we expand Reebok's relationship with sports through basketball, football (soccer), cricket and more. Reebok's relationship with the ­fitness community is a principal element as we reclaim its rightful place at the intersection of fashion, sports and culture."
Reebok has a history of collaborations with athletes.
(whose brand is now represented by Authentic) was sponsored by Reebok in 1992. Additionally, Authentic recently announced it has partnered with former
player, Allen Iverson, to expand his entertainment business through the new partnership, securing new endorsements and strategic partnerships, including Reebok, which has endorsed Iverson since 1996.
Authentic also assisted in the new partnership with Brazilian football league, Botafogo. It also marks Reebok's return to Brazilian football.
"In less than a year since the Authentic acquisition, we have revived Reebok's leading presence in sports through unleashed strategy, in partnership with the Panama National Football team, the National Basketball league in Australia and most recently, our re-entry into Brazilian football with Botafogo product and fan gear will be available by Q3 '23," says Robaire. "We are thrilled to reclaim Reebok's rightful place in sports and are confident that this is only the beginning, Re-entering sports is a key pillar in our expansion strategy as we feel strongly that it is an essential part of Reebok's unique DNA. This is a result of Authentic investing in Reebok's growth and committing to preserving the brand's authenticity."
"Reinforcing our position in sports is a huge part of Authentic's licensing strategy for Reebok," says Woodhouse. "In 2022, we signed a partnership with Botafogo, the renowned Brazilian football club, where Reebok became the official apparel sponsor for the club. We also signed a kit deal with the national soccer team of Panama where Reebok became the team's exclusive supplier. Reebok has a historic and genuine connection to sports, and we will continue to foster the relationship between sports and culture."
As Reebok's global reach continues to increase, Authentic plans to add more licensed products to the brand.
"Authentic has focused on expanding Reebok's categories and territories, including partnerships within home, travel and eyewear," says Woodhouse."Alongside expanding into new categories, Authentic has strategically partnered with New Guards Group for Reebok's luxury collaborations as well as all distribution throughout Europe. Reebok has already made waves with collaboration with brands like Maison Margiela, Dior and Victoria Beckham. Through the partnership with NGG, we are able to cement and expand on the brand's place within luxury fashion."
With its new reach and revised missions, Reebok will continue to influence the world, step by step, leaving indelible imprints along the way.
Subscribe and receive the latest news from the industry.
Join 62,000+ members. Yes, it's completely free.
You May Also Like
Loading..