Iconic U.K. brand Red or Dead is re-emerging from a period of retrenchment with a cross-category licensing strategy.
"Great design at affordable prices" is the long-standing motto of iconic U.K. brand Red or Dead, which powerhouse Pentland Brands is taking forward across multiple product categories.
Red or Dead started life as an irreverent fashion brand in the 1980s. Creator Wayne Hemingway developed the then catwalk brand into retail with a series of extensions but pulled out of the business gradually from 1996 when Pentland took control. A period of retrenchment ensued, but the brand is now experiencing a renaissance as it re-emerges across fashion, footwear, accessories and optical.
The unique selling point for Red or Dead is that brand president Julia Massey likes to launch new product categories into the market with exclusive retail tie-ins, despite the perception that this could limit the potential for expansion.
"My philosophy is that less is more," Massey says. "You have to ask yourself if widening the distribution contributes to building the brand. Red or Dead is different. We don't look at licensing
simply as a legal contract."
Massy also is proud of the way the brand works with licensees. The quirky but accessible design of Red or Dead product results from a tight brand team that works very closely with licensees.
"We do everything that we can to make it a success. We provide the inspiration and the personality. But the licensees are experts in their product fields. Our designers work closely with licensees, but they know what they are doing and they know how to make products that people want to buy. We add value by giving the product the Red or Dead twist."
Red or Dead's most significant retail deals are with the specialist optical retailer Specsavers, a deal that started in 2003, and the branded fashion footwear multiple Schuh, whose agreement with Red or Dead started in 2004. Both have proved that there is a place for the brand in diverse categories.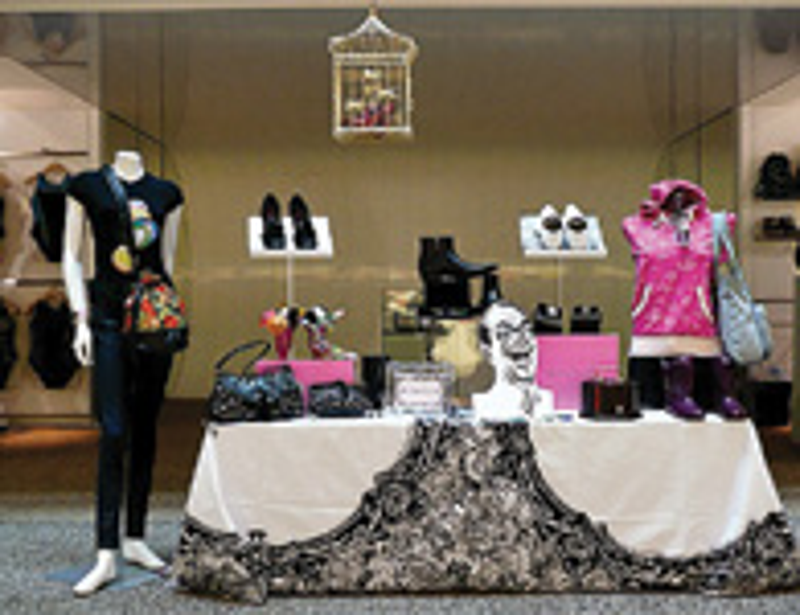 The optical collection, called What a Spectacle, is consistently the best-selling branded line in the 1,000 Specsavers stores, and in 2009, the range is being extended with a new collection for teens. At Schuh, the women's collection was augmented with a men's footwear line last spring.
Although it is one of the most successful specialist footwear retailers in the U.K., Schuh only has some 55 stores and 15 concessions within young fashion retailer Republic.
"People ask why I have not broadened the footwear distribution. But I know that other fashion footwear brands would love to achieve the sales that we do through Schuh. And when you work closely with a strong retailer, you are all part of the same team."
Massey is not in the business of making a quick return on the Red or Dead name. "I don't want a check for a guaranteed minimum royalty—that's not about brand building," she says.
After establishing the brand with Schuh and Specsavers, the extension program has gained momentum in 2008 with launches of sunglasses, bags and watches. And spring 2009 will see the core area of fashion launched with branded young fashion retailer Bank.
Bank, which like Schuh has 50-plus stores, is part of the Pentland family—it is owned by the John David Sports Fashion retail group, itself majority owned by the Pentland Group.
"We have ambitious plans for the fashion line with a full collection of dresses, skirts, tops, denim, T-shirts and sweats," Massey says. Menswear is a possibility further down the line.
The Red or Dead watch collection, About Time from licensee Hana Time, launched in autumn 2008 in 30 branches of jewelry retailer H Samuels and watch departments, run by Fossil, in 10 House of Fraser stores. It followed a soft online launch earlier in the year. Red or Dead's Glare Killers sunglasses from Fabris Lane have been exclusive to some Boots stores during 2008 and move to Specsavers in 2009. A clothing diffusion range Dead Dandy is made and sold exclusively for TKMaxx, and the Brenton collection of Red or Dead bags is the only license not tied into a retail exclusive.
Pentland takes corporate social responsibility seriously and is a founding member of the Ethical Trading Initiative. As a result, Massey herself visits licensee factories across the world. "We've been involved in the movement for more than 10 years. It's not new for us, and it is not just lip service. We actually do want to know about the manufacturing, and that is especially so because we do not have a direct relationship with the factories. [Corporate social responsibility] adds another layer of complexity for licensors, but it is not enough to say that it is the licensees' responsibility. Our partners are all pushing in the same direction."
Of key importance is a consistency across the brand categories. For example, retail price level is carefully structured so that the brand is reliably targeted to the same consumer market. For example, women's footwear sells at the £60 to £70 level, while the watches sell for about £40.
The Red or Dead team is comprised of Massey, creative director Katie Greenyer, designer Anna Tia Ward and administrator Sam Dunning. Massey describes the team as "small but passionate" and Greenyer, who has worked on the brand for a decade, as "adding the magic dust that makes a product Red or Dead with all its brand values and personality."
To an extent, she sees Red or Dead as "a design house that can take the Red or Dead name into any category."
Massey herself worked on licensing across Pentland Brands until she was given sole responsibility for Red or Dead—and the task of making it more commercially viable and more profitable. Without disclosing figures, Massey says that the brand has strong sales and a growing business, with increasing brand awareness as more product gets out on the high street.
For the moment, Red or Dead is concentrating on re-establishing itself in the U.K. market, but Massey does have international ambitions, and the expansion of Specsavers to Holland, Scandinavian Europe and Australia has proved that Red or Dead can sell outside its home market. "The spectacles are performing well in Australia despite having no profile there," she says.
So where next? Discussions are taking place with a hosiery licensee, and perfume is an obvious direction. Lingerie, beauty accessories, color cosmetics and mobile phones all fit the bill. Red or Dead, Massey says, is open to ideas. And, internationally, Red or Dead has done a footwear test with Bakers' Wild Pair stores in the U.S. "We will look at Asia, the U.S. and the Middle East in the future, but we will work in the same way as we have done in the U.K. with retail partners.
"Our three-year plan calls for significant growth and regularly increasing profit. We aim to achieve that by growing and succeeding in the core business we have and by increasing the number of categories for the brand. A measure of our success will never be the number of license agreements we sign but that we create product that performs well and sells out."
Subscribe and receive the latest news from the industry.
Join 62,000+ members. Yes, it's completely free.
You May Also Like
Loading..