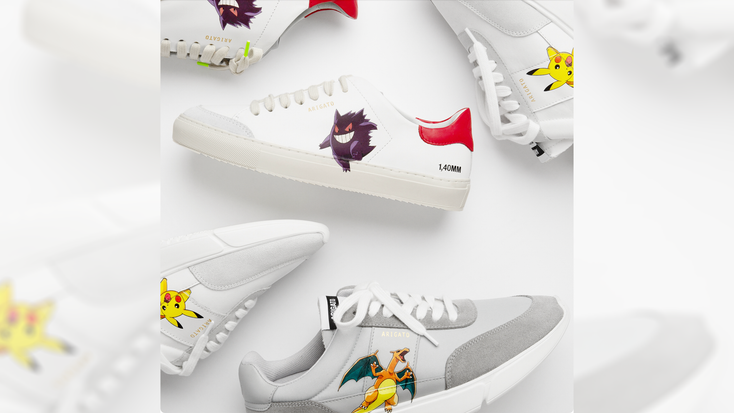 Pokémon shoes.
The Pokémon Company International.
At A Glance
Pokémon's latest and greatest licensing collaborations.

How the company is leaning into the fashion space.

The appeal of Pokémon to its fanbase, and how it stays an evergreen property.
Pokémon
, one of the world's most valuable media franchises and No. 5 in
License Global's Top Global Licensors Report
, has captured the hearts and minds of fans world-wide. More recently, the brand has become synonymous with fashion, streetwear and apparel collaborations leading up to its 25th anniversary in 2021. License Global goes behind the scenes to uncover The Pokémon Company Inter-national's unique approach to beating trends, building rosters of exceptional partners and engaging consumers through style, design and licensing.
From 150 to 900 (and Growing)
The power of the Pokémon brand is in its generational versatility. From the Pokémon Trading Card Game, its 1996 Gameboy counterparts and the first 150 "Pokémon" to augmented-reality revolutions, next-gen video game titles and an expanded roster of 900 Pokémon, the brand has expanded constantly to engage fans everywhere. For those who grew up with the cards and animated series – and can still (somewhat confidently) recite the 1993 "PokéRap" – the bold colors, unmistakable
design, storytelling and deep-rooted nostalgia remain a considerable part of the brand's long-standing appeal. For the scores of new generations joining the global fan base, the Pokémon brand created count-less on-ramps throughout gaming, live experiences, collectibles, toys and entertainment. One of the most recent success stories for The Pokémon Company International is fashion.
"Pokémon has a massive fanbase and broad global appeal, loved across all ages and demographics," says Mathieu Galante, licensing director, EMEA, The Pokémon Company International. "To reflect this, the franchise covers multiple pillars, from video games to mobile apps as well as the Pokémon Trading Card Game, animation/movies, Play! Pokémon competitive events and licensed products. Pokémon is an iconic brand that adapts to stay incredibly relevant without losing its original ethos. It has evolved into new areas such as live-action film, the phenomenally popular 'Pokémon GO' mobile game, entertainment collaborations with the
featuring
, Post Malone and more – digital fashion, too."
For celebrities, designers and influencers who grew up with the first 150 "Pokémon," that appeal has inspired a veritable PokeDex of capsule collections and collaborations with The Pokémon Company International.
"The success of the brand attracts a growing number of high-caliber partners, and the designers and celebrities we work with tend to be fans themselves, so they already love and understand the brand," says Galante. "This synchronicity helps create exceptional and covetable collaborations with huge appeal and great collectability, reflected in consistently strong retail sales. Pokémon' capsule collections frequently sell out almost immediately, and this popularity, in turn, drives exciting new partnerships." This latest licensing foray has become a new synonymous extension for the brand, with retail, e-commerce, runways and more lighting up with cutting-edge collaborations, authentic apparel and fashionable footwear.
"Having celebrated its 25th anniversary, Pokémon offers a huge and rich heritage that designers can tap into for inspiration," says Galante. "It's a constantly evolving world of iconic, playful characters – with more than 900 'Pokémon, including much-loved fan favorite, the cute yellow Pikachu – lends itself well to trend-led collections, while its strong design is colorful, bold and instantly recognizable."
, the Pokémon brand has reached a new era, with one of the world's most comprehensive style guides in tow. Still offering the same wholesome journeys across its distinctive universe for players and fans, but now with a fashion-forward brand extension program that brings each "Pokémon" to life in various and exciting ways.
Innovation and Creativity in Fashion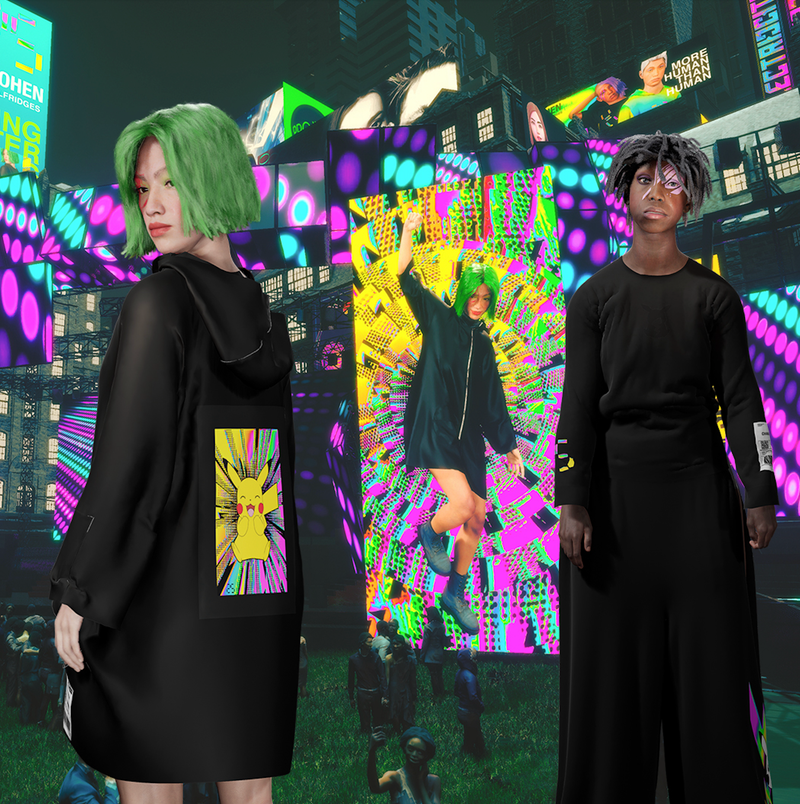 The fashion market is forecast to grow to $2 trillion in global retail revenue by 2026 (source: Statista) due to countless brands looking to engage consumers worldwide. With trends changing rapidly, what do consumers want from style brands? Further-more, how does The Pokémon Company International work with its signature designs, motifs and archive of characters and creatures to keep ahead of the market?
"Consumers today increasingly expect personalized, fun experiences when interacting with their favorite style brands," says Galante. "It's more than just shopping – they want to be entertained and inspired too. Whether they are browsing in-store or online, they want something extra, and AR [augmented reality] and VR [virtual reality] solutions are becoming increasingly popular. We're always looking to engage consumers through destination events in-store or by pushing the boundaries with e-commerce, such as our recent collaboration with [designer]
and
. We created a unique virtual store called Electric/City – an immersive, 360-degree video experience that visitors could walk through – for individuals to learn more about the Pokémon capsule collection and its designer with signposted links to Selfridges shopping pages. This online world was complemented 'IRL' in Selfridges London with an electric two-week showcase for the collection in a dynamic space, which included an extraordinary digital treasure hunt."
The answer to consumer engagement within the fashion and licensed apparel market is innovation, authenticity and collaboration across key categories. Pokémon's collaborations with
and
introduced fans to unique designs in the footwear market, with the brand's collaboration with online retailer
Zavvi selling out of limited-edition Pikachu sneakers
within 11 minutes. Athleisure and streetwear are rapidly growing markets for Pokémon, pairing with designer
and
to produce two original ranges, the first launched in London's Camden Town district.
"The Axel Arigato x Pokémon capsule was brought to life through the real-life portrayal of Pokémon fans and their collections," says Galante. "As well as featuring sustainable materials in its collection, the collaboration with the socially driven Swedish lifestyle brand put the Pokémon community at the front and center, with its innovative pro-motional campaign inspired by the passion and loyalty of fans. A superb combination of contemporary cool and iconic Pokémon imagery, this fabulous capsule collection married retro iconography with modern silhouettes and tailoring, and most lines sold out within hours."
"Sustainable and ethical fashion is also increasingly important, with consumers becoming more socially responsible in their choices," adds Galante. "We promote these values in our collaborations; for instance, our Charli Cohen x Pokémon collection was created in sustainable technical fabrics such as recycled ocean plastics and organic cotton, while our recent collaboration with Axel Arigato featured organic cotton T-shirts and responsibly produced sneakers using Italian leather sourced from Gold Standard tanneries, plus recycled PET bottles and recycled plastic."
Today, innovation in fashion isn't just restricted to style, collaboration and, most importantly, sustainability. Technology is now a significant factor in fashion, with brands foraying into the metaverse, video game and non-fungible token space to engage fans on different platforms.
"The Charli Cohen x Pokémon collection saw us enter the metaverse for the first time with the hugely successful Electric/City digital platform, offering an interactive cyberpunk world that provided consumers an exciting and immersive experience. An added feature saw exclusive Snapchat filters attached to each garment that allowed purchasers to wear it digitally, and each piece also had a QR code keyring, which when scanned activated a Pikachu AR experience to help celebrate the 25th anniversary."
The brand's reach and appeal don't stop at high-concept tech integration, high-profile collaborations and sell-out high street capsules but extend into high-end luxury.
Working with brands such as Longchamp
– the French Maison's first foray into entertainment and gaming – saw Pikachu-inspired fashion items powered by an in-game "Pokémon GO" campaign at Paris Fashion Week. There, players could discover a new Longchamp x Pokémon avatar backpack accessory.
"Fans could match their avatar with real-life products from the collection, which added a fun and playful twist to Longchamp's elegant designs," says Galante. "The unique range of 27 Pikachu-inspired items included scarves, iPhone cases, keyrings and bags – including four exclusive versions of the classic Longchamp Le Pliage bag. The special black canvas edition featured a Pikachu designed specifically for the fashion house, wearing a jockey's helmet paying homage to the Longchamp logo. The collaboration is Long-champ's most impactful to date, not just in terms of turn-over but also in media value."
A New Style of Brand Strategy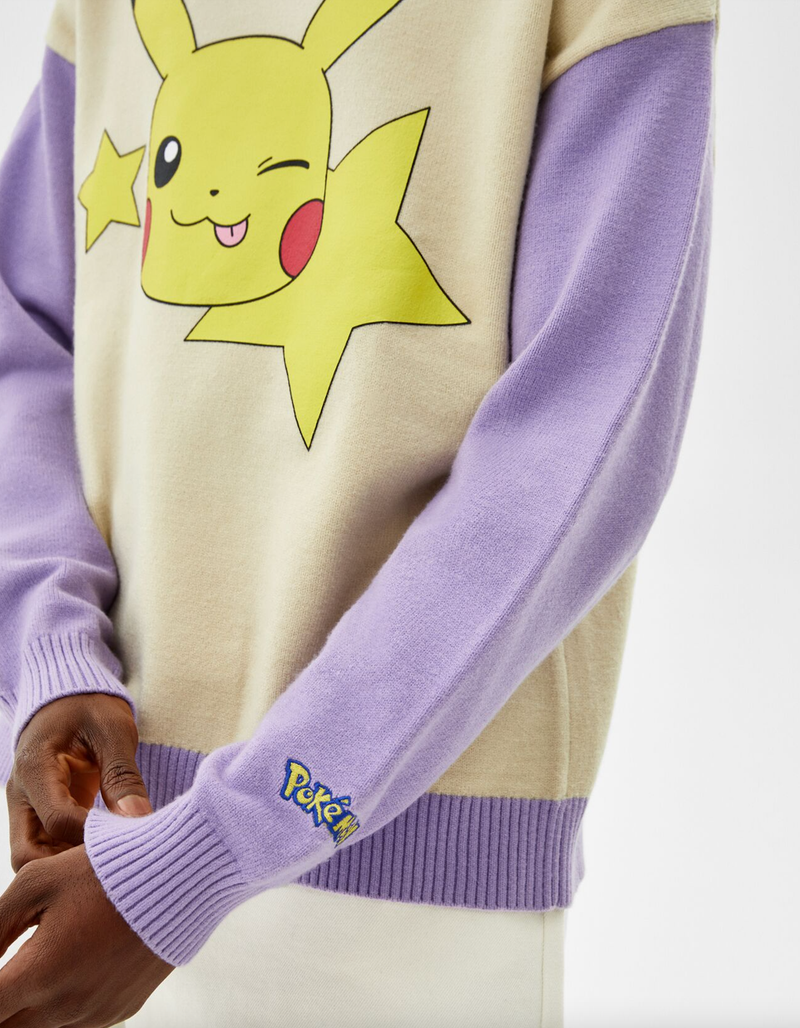 Not only is Pokémon a multi-generational brand with a worldwide organic appeal, but The Pokémon Company Inter-national has made meticulous steps to ensure all can enjoy the brand through innovative, creative and fan-driven consumer products. The brand's work in fashion has made waves in the licensing industry and is one of the most remarkable single-category brand extension campaigns in recent history. What does a successful fashion campaign need, and how does Pokémon place its brand in front of fans effectively and authentically?
"A truly impactful campaign will be innovative, original and creative to ensure it stands out and sticks in mind," says Galante. "But it also needs to be authentic to the brand's values and come from a clear understanding of its audience so that it will resonate with fans and enable them to connect more closely with the brand. At Pokémon, we carefully blend all these elements to create exciting and distinctive campaigns with real impact. The 'Pokémon' world features over 900 Pokémon and counting, which are instantly recognizable, colorful, bold and iconic designs, providing a wealth of inspiration for designers to create desirable apparel and accessories with huge appeal and great collectability. 'Pokémon's' widespread popularity, much-loved characters, and the brand's reputation for innovation attract high-caliber partners keen to explore ground-breaking ideas. These creative partnerships and collaborations add to the buzz around each collection."
The diverse nature of the brand and its dedication to innovation is clear from the sheer expanse of the
with celebrities, designers and licensees across key categories. Still, one central question remains, what does the brand have in store for the next quarter decade, and how will the Pokémon brand continue to evolve?
"'Pokémon' has always been about innovation and evolution," says Galante. "That philosophy will direct our activity in the future as we continue to set trends, expand into new areas as they open and find bold new ways to harness technology and connect with existing ones and new fans. The sensational success of Pokémon's 25th anniversary year in 2021 saw the iconic pop culture brand reach new heights. We have an ongoing program of dynamic and exciting activity planned over the coming months and years to consolidate and develop that even further."
The Pokémon Company International aims to continue to surprise and delight its fans with more exciting content, partnerships and experiences with significant collaborations yet to be announced. According to Galante, the new releases in the pipeline and the next 25 years will grow Pokémon's popularity to "record peaks." With so much success in the fashion world alone, it's not hard to picture the brand's next big adventure.
Read more about:
Subscribe and receive the latest news from the industry.
Join 62,000+ members. Yes, it's completely free.
You May Also Like
Loading..