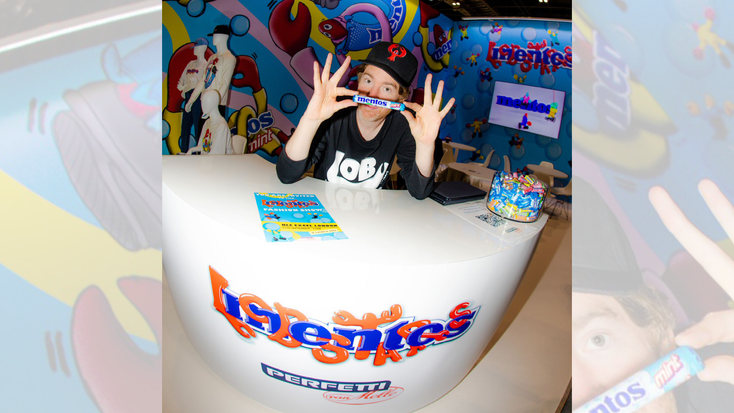 Philip Colbert at the Perfetti Van Melle booth at BLE.
Perfetti Van Melle
Perfetti Van Melle
, a global company of confectionery and chewing gum, produces well-known international candy brands, including Mentos and Chupa Chups. The satisfying freshness of Mentos has been a worldwide phenomenon since 1932. The chewy mint is sold in more than 150 countries and is the largest brand Perfetti Van Melle owns. The development of Mentos has evolved through its partnerships, lifestyle projects and creative assets.
The brand has some big and strategic plans lined up, including its new sustainable formats in response to the consumers demand for brands that are clear about their commitment to making the world a better place. This takes Perfetti Van Melle on a path of constant innovation to offer a better future with more responsible treats.
In its licensing program with Mentos Perfetti Van Melle focuses on a strategy that puts creativity and design first. This includes a recent collaboration with pop artist Philip Colbert. License Global sat down with Colbert and Christine
Cool, area licensing manager, Perfetti Van Melle, to learn more.
"Perfetti Van Melle has always given the licensing division the space to develop an independent design route," says Cool. "For each brand, we strategically define the distinct licensing DNA, which taps into the brand's heritage but also into what makes that brand unique. From there we build and enlarge the art dimension of our brands every year in new style guides and original collaborations."
Mentos took one of its first licensing steps in a collaboration with a French communication campaign and its limited-edition Citroen C1 car model. The collaboration was an overnight success, with cars being sold out immediately. Soon after, Pantone approached the brand about a limited-edition clothing project, which felt like a promising sector to delve into.
"What Perfetti Van Melle can offer with Mentos is a truly global brand with a very strong identity and heritage," says Cool. "In licensing we have built further on those pillars to offer unique creative assets to take to other categories."
As the Mentos brand evolves, it regularly finds itself part of influential
in retailers like H&M, Zara, Bestseller Group and Wego, bringing on a wider demographic audience. Each collaboration taps into trends that the Mentos fans love to wear, while reliving the brand they grew up with.
Mentos and the Lobstars
For this fashion collaboration with the Mentos brand, the Perfetti Van Melle licensing team had a clear idea to partner with a bold artist who could align with the brand's "Yes to Fresh" tag line whilst offering a different perspective and a surprising interpretation of the brand.
"The first step for any collaboration for us is to fall in love with the artist's work and his collaborations," says Cool. "We had some initial meetings with Philip Colbert presenting the brand and proposing some guidelines for the project but eventually the complete creative process was done by the artist allowing a lot of artistic freedom from our side."
Colbert created a universe where he merges the strong icons of his three-dimensional lobster characters with Mentos on a compelling fashion proposal.  
"In truth, Philip Colbert exceeded our expectations when we saw that he created a very strong digital proposal on top that has the potential for a strong launch in the metaverse as well," says Cool.
Perfetti Van Melle understood that this
would be an excellent way to build on their existing brand awareness strategies. Through the combination of artistic interpretations and fashion sectors, it is evident that visual storytelling brings forward possibilities for both Phillip and the Mentos brand. 
"We were beyond happy with his approach because we are already starting to do our first projects in the metaverse with Chupa Chups and this project will be perfect both for fashion collaborations and to take Mentos to its first NFT launches," says Cool. 
Colbert is described as a neo-pop surrealist artist, channeling the use of vibrant colors, abstractions and works within a variety of contemporary artists. He focuses on painting, sculpture, clothing, furniture and abstract designs. Colbert's latest work includes
, which gained an immediate following soon after its launch. 
"The Lobstars is made up of 7,777 lobster citizens in a metaverse lobster-opolis – a successful NFT project I launched 6 months ago," says Philip Colbert. 
Since 2017,
has developed a loyal and authentic audience over many global exhibitions. He began putting on international exhibitions, which led him to form a relationship with Perfetti Van Melle. Almost immediately, Colbert and the Perfetti Van Melle team knew a partnership would expand their brands and his career in innovative and unexpected ways. 
"I was very familiar with the Mentos brand as a kid," says Colbert. "I loved what they had been doing with it at a licensing level; with their apparel and really playing with a sort of fresh, minty aesthetic idea visually and how that translated in the licensing."
This partnership has helped him push the boundaries of new and existing collaborations within licensed apparel, promoting powerful momentum and energy to Mentos products.  
"I loved how surprising that was as a collaboration," says Colbert. "It wasn't the most obvious connection, but in a pop sense, I thought it was really fresh and I loved the intimacy, power and iconic quality of the brand. I loved the surprise element of using it in apparel and then mixing it with The Lobstars. The connection between
was a really fun one. Something fresh and irreverent, but also friendly and humorous."
Colbert plans to continue his collaboration with Mentos through international partnerships with various retailers across the globe and Perfetti Van Melle will showcase the collaboration at the licensing show in Shanghai later this year.
Up next for Perfetti Van Melle is a well thought out plan to launch its first-ever food and beverage extension for the Mentos brand. Namyang, a Perfetti Van Melle partner, is launching Mentos first non-sparkling soft drink with jelly bites of nata de coco.
Simultaneously, Perfetti Van Melle is also planning the release of its candy replicas, plush toys, dolls and puzzles, soon to be launched by Zuru, MGA, L.O.L, Loose, Ypernova and exciting new launches of personal care ranges across the globe in 2023.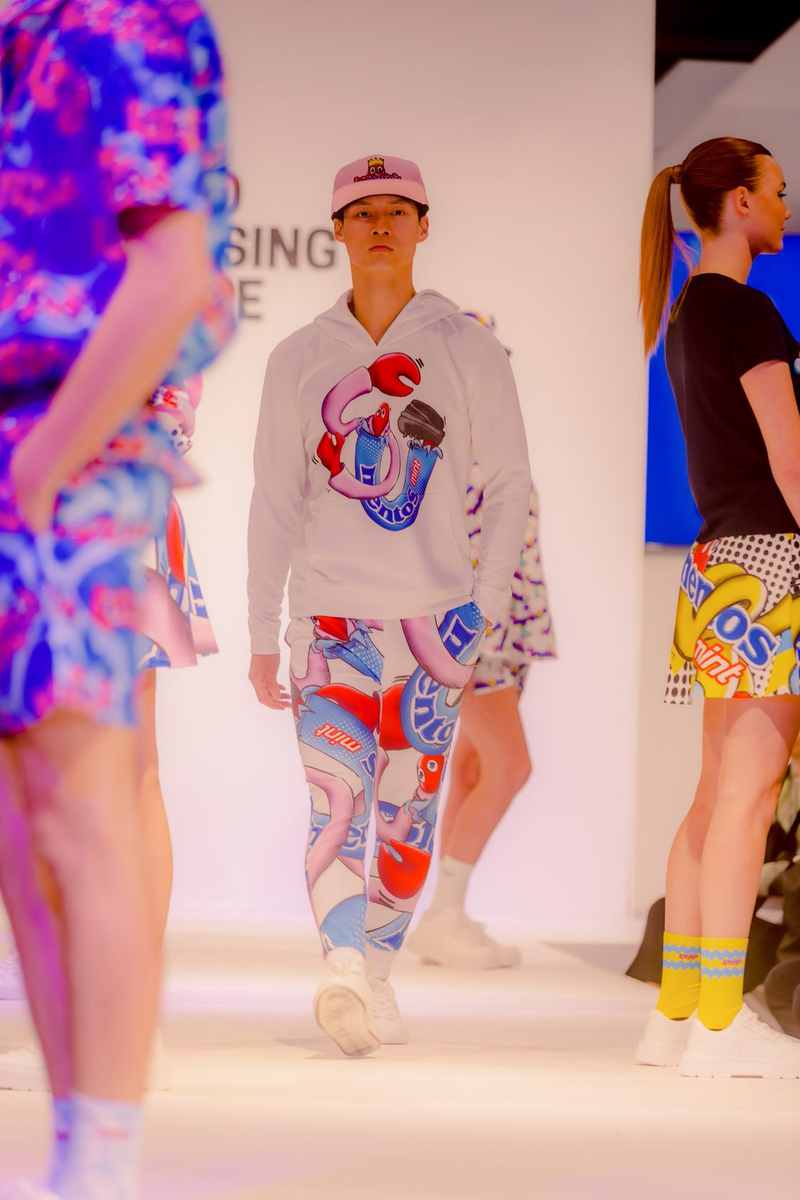 Read more about:
Subscribe and receive the latest news from the industry.
Join 62,000+ members. Yes, it's completely free.
You May Also Like
Loading..