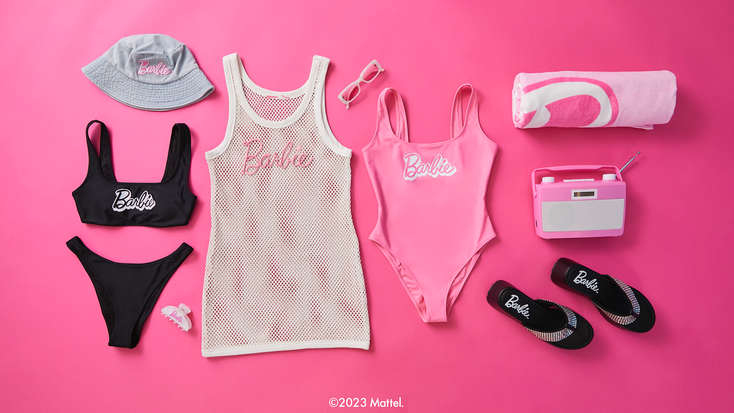 Barbie x Forever 21
Forever 21
Fashion retailer,
, has announced its next installment of Forever 21 x Barbie. The brand has again teamed up with Mattel to launch a
collection in time for summer. Co-designed by Mattel and Forever 21, the exclusive capsule will be available at select Forever 21 retail stores, Forever21.com and virtually on "
" starting May 18.The Forever 21 x Barbie collection is the brands' most extensive collaboration, featuring 76 pieces across a diverse range of categories, including logo T-shirts, sweatshirts, swimwear, sleepwear, denim shorts, vests and jackets.
Anchored in Barbie's pink hue and complemented by subtle accents of light pink, white and gray, the collection showcases a wide selection of fashion styles. From sporty pink pieces in Forever 21's best-selling silhouettes to denim garments embellished with sequins and bold dresses that make a statement, the collection offers a variety of products for the brands' fashion-savvy audience."We're thrilled to reintroduce Barbie
to Forever 21 and embrace the growing Barbiecore trend that our customers adore," says Winnie Park, chief executive officer, Forever 21. "This captivating collection offers a variety of collectible pieces that perfectly embody our signature trend-forward aesthetic, all while paying homage to the iconic Barbie brand – and at an incredible value. We can't wait for our fans to experience this must-have collection."
The Forever 21 x Barbie collection showcases expanded sleep apparel, footwear and fashion bags. Novelty non-apparel items also capture the active-lifestyle spirit of Barbie, such as a rhinestone-encrusted water bottle. Women's apparel sizes range from XS-XL, plus 0X-3X and kids' 5/6-13/14.
Forever 21, in partnership with Virtual Brand Group (VBG), has also created an AI-designed virtual Forever 21 x Barbie fashion collection available exclusively on "Roblox." The brand's metaverse experience Shop City on "Roblox" allows visitors to build and operate their own fashion store.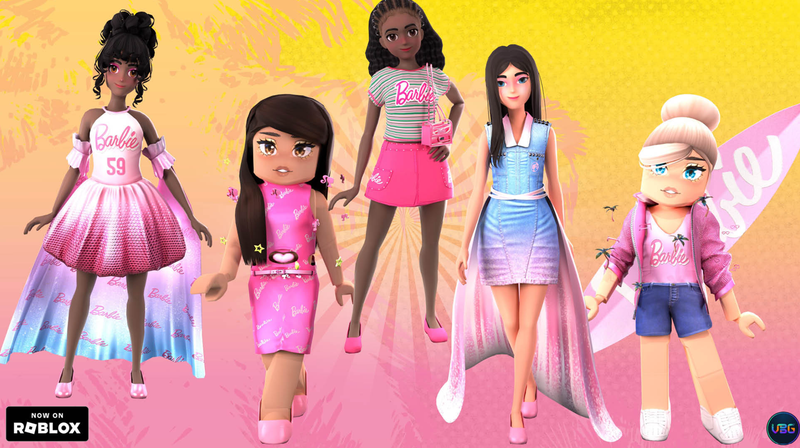 The virtual Barbie x Forever 21 collection.
License Global caught up with Justin Hochberg, chief executive officer, Virtual Brand Group, at the Forever 21 x Barbie launch event.
"Virtual Brand Group has been collaborating with Forever 21 for the last year and a half," says Hochberg. "That collaboration has probably been the most prominent virtual fashion in the world. We have sold more items on Roblox than anybody else, and we are constantly pushing the envelope with partners like Barbie. What we did with this collection was take real fashion that exists in the store that you can then twin with your avatar. Beyond that, we created new exclusive items that you can get only on Roblox that push the envelope of what you'd expect in the physical world. For example, you could walk around with palm trees and sunshine floating around your outfit. What we do in the virtual world is defy the laws of gravity, and we are the center of youth culture and marketing because that's where people are these days."
The metaverse-exclusive Forever 21 x Barbie designs include colorful summer-themed formal and streetwear lines. A portion of the virtual collection will only be available as a limited edition and all visitors of the experience on "Roblox" will have an opportunity to claim free Forever 21 x Barbie fashion surprises.
"Virtual fashion is an important part of meeting consumers everywhere they are," says Jacob Hawkins, chief marketing, omni and digital officer, Forever 21. "This one-of-a-kind metaverse Barbie collaboration between Forever 21, Mattel and Virtual Brand Group is at the forefront of bringing physical and virtual products together."  
See Mattel at
, taking place on June 13-15 at Mandalay Bay Convention Center, Las Vegas.
Subscribe and receive the latest news from the industry.
Join 62,000+ members. Yes, it's completely free.
You May Also Like
Loading..