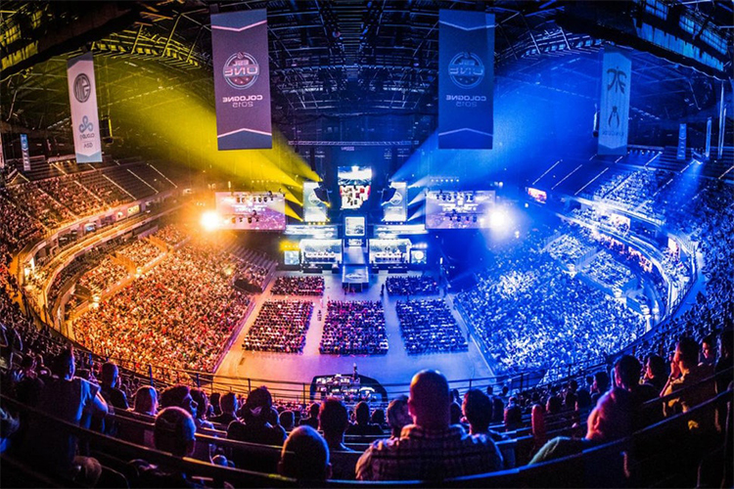 The professional gaming community is expanding exponentially, and opportunities in gaming, particularly eSports, are a hot ticket right now. And rightfully so. The entertainment category is spreading like wildfire, bridging the gap between solo play and interactivity, all covered in shiny tech.
eSports refers to organized video game tournaments that pit gamer against gamer in a live, stadium-like setting, with the winner taking home a hefty paycheck. Fans and attendees rally around their favorite players, much like they would for traditional sports like football or basketball, pledging their allegiance to teams. And align themselves deeply, these fans do.
The phenomenon is still new-ish, but the data for it is astounding.
SuperData, a games and interactive media intelligence firm, valued eSports revenue for 2017 at $1.5 billion globally, and projects that revenue will continue to grow by as much as 26 percent by 2020 as the genre goes more and more mainstream.
But what about viewership, you
ask? For popular eSports league "League of Legends," viewership topped 364 million for its mid-season invitational in late 2017. As for the tournament's ability to draw crowds,
Rolling Stone
magazine said: "To put that all into perspective, 111.3 million people watched [the 2017] Super Bowl, while only 30 million watched the NBA finals."
Business Insider Intelligence, a research service from the publication
Business Insider
, estimates that more than six billion hours were dedicated to watching professional gaming on the whole in 2016.
There are already companies firmly entrenched in the field such as Amazon, which snapped up gaming platform Twitch in 2014 for nearly $1 billion, and Activision Blizzard, which staked an early flag in the eSports arena with the acquisition of Major League Gaming in 2016, a move that Mike Sepso, senior vice president, Activision Blizzard Media Networks and MLG co-founder said, "...is an important step toward Activision Blizzard Media Networks' broader mission to bring eSports into the mainstream by creating and broadcasting premium eSports content, organizing global league play and expanding distribution with key gaming partners."
On the merchandise front, eSports is big business with mega potential.
Last month, Activision moved deeper into the category with the appointment of a dedicated executive to head eSports licensing for the "Overwatch" League, Daniel Siegel.
"Licensing and partnerships have become an increasingly important part of how the 'Overwatch' brand is promoted and presented to eSports fans all over the world," said Pete Vlastelica, president and chief executive officer, Major League Gaming, Blizzard Entertainment.
Siegel is slated to speak at Licensing Expo Japan, taking place April 25-27 in Tokyo, where he will present licensing opportunities for "Overwatch."
With sponsorships and backing for "Overwatch" League from major brands such as HP, Intel, Toyota and T-Mobile, it is safe to say revenue opportunities will only increase.
Other leagues exist too, from a "Clash Royal" League by Supercell to Riot Games' "League of Legends" teams and "NBA 2K" League, there's something for every gamer.
Bandai Namco Entertainment recently announced its slate of events through 2018 for its "Tekken 7" game, which launched last month in Atlanta, and will tour the globe, culminating in the "Tekken" World Tour Finals in Amsterdam in November. The events will be covered with broadcast via ELEAGUE (a partnership between Turner Broadcasting and IMG) and TBS.
Even ESPN covers eSports.
And now major markets are opening up the field even further. The explosive global growth of eSports has just begun in Japan, which according to LIMA's annual global survey, is the third largest licensing market in the world. Early this year, Japan legalized paid eSports.
Of course, these gamers need somewhere to play.
Most recently, the city of Arlington, Texas, announced its plans for a new, state-of-the-art eSports stadium that is promised to be the largest one of its kind. The 100,000-square-foot Arlington Convention Center will get a $10 million revamp and is set to open its doors this fall.
Riot Games Korea will open a stadium, reportedly called LoL Park, next year in Seoul; March saw a new arena open at the Luxor Hotel and Casino in Las Vegas, Nev.; and Blizzard opened Blizzard Arena Los Angeles late last year. There's certainly many more, but, honestly, it's tough to keep up with all the developments in the field.
There's now even a business conference dedicated solely to the business side of things: the eSports Business Summit, which is set to take place in October.
The takeaway here is this: there's a lot of business to be had in eSports, and brands already ingrained in the phenomenon are primed to come out ahead in the years to come–it's a good idea to put some stock in the game.
Read more about:
Subscribe and receive the latest news from the industry.
Join 62,000+ members. Yes, it's completely free.
You May Also Like
Loading..