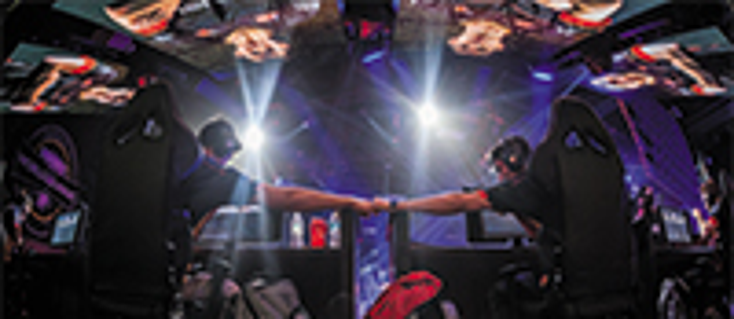 Video games are no longer a solo sport as the genre gives rise to competitive gaming–and it's bringing in the crowds.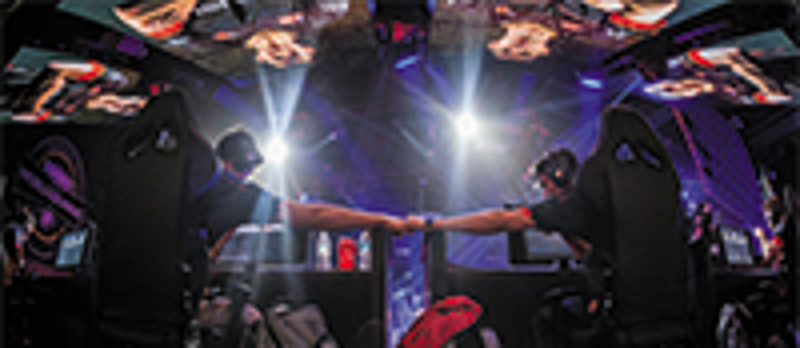 "eSports are at a tipping point," says Mike Sepso, senior vice president, Activision Blizzard's eSport division. "It looks like a sport, it's in arenas, fans are cheering and there are loyalties to brands, teams, games and leagues. The audience is bigger than traditional sports leagues, and there's a lot of capital flowing in."
NewZoo, a provider of market intelligence on global games, forecasts that total eSports revenue (media rights, merchandise and tickets sold at the events, online advertising and brand sponsorships) will surge 41 percent to $696 million in 2017, up from $463 million last year, and is projected to grow to $1.1 billion by 2019. The total
audience (online and in arenas) is projected to grow to 385 million this year, up from 292 million in 2016, and is on track to swell to 427 million by 2019.
The biggest share (38 percent) of that revenue comes from sponsorships, which grew nearly 58 percent last year, followed by advertising, which represents 22 percent of revenue and experienced double-digit growth. Media rights is the fastest-growing segment of the revenue pool, up nearly 82 percent last year.
Brands that have a natural connection to the video games such as energy drinks like Monster and Rebel and technology companies (think Intel) are already major sponsors of the games, but the appeal of eSports is growing.
"An interesting trend we see unfolding now is non-endemic brands entering eSports with either team-wide or individual player sponsorships," says Torsten Haux, vice president, global media rights, ESL, the world's largest and most established eSports organization. "Most recently, the Danish 'Counter-Strike: Global Offensive' team Astralis signed a deal with Audi, and Gillette was sponsoring one of the tournaments at IEM Katowice. We will see more deals like that coming through in the next few months."
Advertising is another revenue opportunity.
"One of the biggest opportunities is actual in-game advertising. Putting logos in the actual game could be great for developers. Valve does this with 'Dota 2' to a certain extent, but it is a very unexplored area of advertising," says Duran Parsi, chief executive officer, Collegiate Starleague, a collegiate gaming organization that runs a year-long league for PC game titles.
"While most industry watchers agree that there's plenty of money to be made in eSports, no one has figured out the exact revenue part of the equation," says Joost van Dreunen, chief executive officer, SuperData, a provider of global market research for free-to-play, digital console, mobile, PC, streaming media, eSports and virtual reality games and entertainment. "All of these companies seem to be right about something, but there's no clear winning formula for monetizing eSports yet."
One of the biggest challenges facing the industry is infrastructure. With multiple entities operating leagues and tournaments built around specific games, and no central unifying structure, eSports is currently a loose confederation of individual communities without much crossover.
Gaming Goes Vertical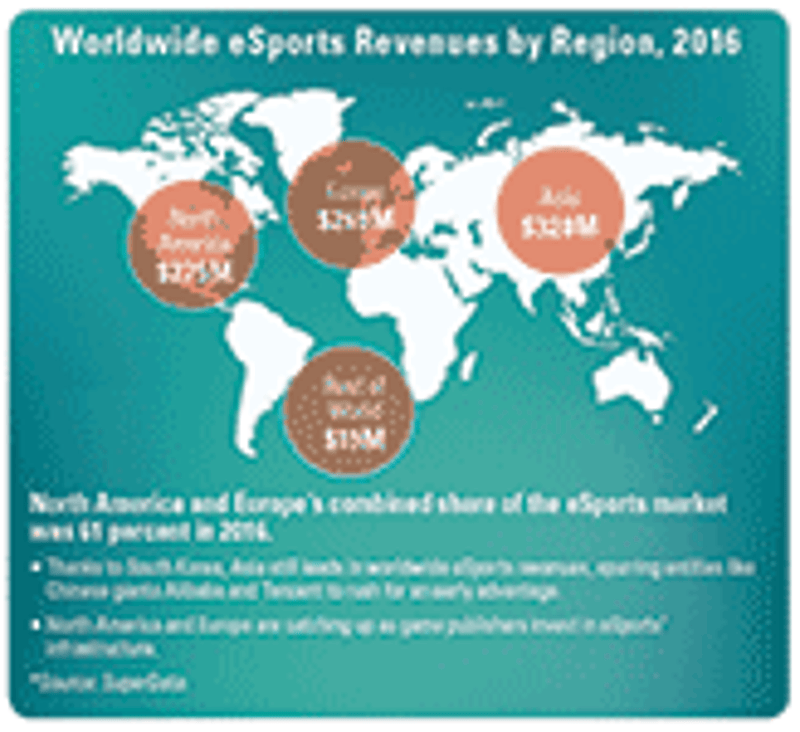 There's also the question of revenue sharing between game publishers and leagues.
"Publishers want compensation for content, but teams also need revenue flow to create a sustainable industry," says Jurre Pannekeet, eSports market analyst, NewZoo. "A set-up resembling traditional sports, with the sale of media rights, seems to be the model the industry is following."
Game publishers are transitioning to vertically integrated models that give them greater control of their IPs in the competitive eSports arena.
"Publishers are keen on maintaining the quality of the gaming experience, whether that's streaming or in live events," says van Dreunen.
Last year, Riot Games signed a deal with Major League Baseball's video streaming and technology services company, BAMTech, for streaming rights to "League of Legends." BAMTech will pay a minimum of $300 million through 2023 for the exclusive rights to stream and monetize the game through sponsorship and advertising opportunities. The deal is not platform exclusive and does not include a fee for viewing.
"Riot was one of the first to integrate vertically. 'League of Legends' has a history of building its own Internet backbone. It's not a sexy part of the business, but it reduces Riot's reliance on third-party Internet providers and gives the brand a leg up in the market," says van Dreunen.
Activision Blizzard used a different financial model for the launch of its ambitious new eSports league for "Overwatch." The Overwatch League, much like a traditional pro sports league, is vertically integrated with Activision Blizzard creating and marketing the league and broadcast competition, managing the team and players and creating a consumer products group to license product.
The Overwatch League will feature teams based in major cities, much like a typical sports league, encouraging a local groundswell of fans, greater merchandising opportunities and the ability to run matches across many different cities. Details on the teams are expected to be announced over the next few months, but the plan is to have teams based in China, Korea, Europe, the Americas and the Asia Pacific region.
Activision Blizzard is actively bolstering its portfolio and internal personnel to back up its eSports efforts–in the last two years, the company formed a TV and film production unit, bought eSports player Major League Gaming, acquired mobile game maker King Digital, created a new consumer products division and named former Disney and Mattel executive Tim Kilpin as president and chief executive officer.
Game maker Electronic Arts is also pushing into eSports with its new EA Competitive Gaming division, which is focused on establishing competitions for EA franchises in competitive and adjacent genres.
The company is also actively creating initiatives around competitive experiences for and within its games and developing live eSports events.
Other companies are taking notice of eSports opportunities such as Supercell, a mobile game developer based in Helsinki, Finland, which is exploring organized eSports around its gaming portfolio.
But some publishers are taking a hands-off approach.
"Valve, for example, is letting third parties organize their events, and ESL League is looking into licensing and media rights," says Pannekeet. (Valve is an entertainment software company and developer of technologies such as the Source game engine and Steam, an online gaming platform. Valve is also a co-creator of the game "Counter Strike: Global Offensive.")
Platform Wars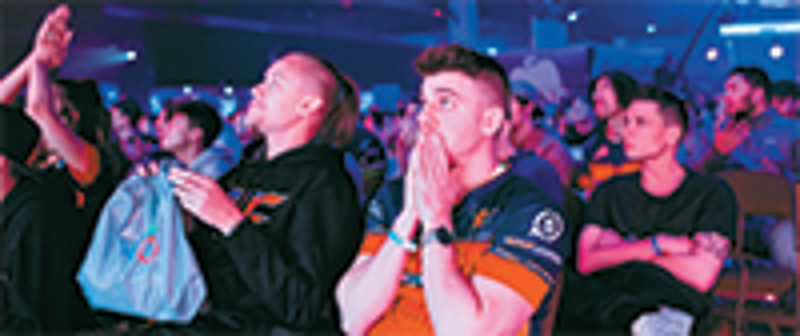 "As the big platforms outbid and outspend the smaller platforms, there's been some roadkill," says van Dreunen. "We've seen a big shift in channel of choice versus a year ago, with billion dollar platforms trying to secure exclusive content the same way TV channels do and trying to own 100 percent of a game title."
Gaming platform Twitch, which has dominated the eSports space, is getting competition from YouTube as it aggressively invests in the genre.
"Right now, Twitch dominates the space, and rightly so, since they are the best platform and have a dominant marketshare," says Parsi. "YouTube and Facebook have been very aggressive as of late to get into the game, with Microsoft's Beam also looking to get involved. I'm interested to see how it plays out, especially given YouTube's exclusive streaming rights for the eSports Championship Series."
YouTube recently teamed up with FACEIT, a leading competitive gaming platform and the creator of the eSports Championship Series (ECS), for a multi-year partnership that designates YouTube as the exclusive online home for the ECS. The championship, which features Valve's popular "Counter-Strike: Global Offensive," began streaming exclusively on the new ECS YouTube channel in March with ECS promotion matches.
The partnership is YouTube's most significant investment into eSports to-date, and the online platform is jockeying to become a central hub of eSports content by offering live streaming in addition to existing video-on-demand content. New sponsorship packages of the league will offer advertisers an opportunity to tap into the YouTube eSports ecosystem.
Twitter announced its partnership with ESL, one of the largest eSports organizers, and DreamHack, which organizes video game festivals. The deal bolsters Twitter's live streaming presence and challenges competitors like Facebook, which became the exclusive broadcaster of Activision Blizzard's Heroes of the Dorm contest in January. Terms of the deal were not disclosed, but broadcasts will include traditional TV-style advertising and sponsored packages.
Brand management company IMG has also recently launched a web-based eSports platform, Boomeo, which features premium gaming content and exclusive education tutorials from top teams and players. Karen Brodkin, president, business affairs, IMG, says the new platform's training functionality is "ahead of the curve."
Traditional broadcasting is also becoming a bigger force as eSports gains traction in worldwide markets. "For the Intel Extreme Masters World Championship in Katowice, Poland, we had more than 70 takers who were distributing our broadcast, with many of them localizing the content in 29 languages," says Haux.
Haux says making eSports content understandable and entertaining is a challenge, and ESL is working with TV stations to invent new products and new formats.
"Besides live events, there will be documentaries, talk shows and original programming that will work with the traditional scheduling," he says.
Live Events Continue to Grow
Live events are another growth opportunity for the industry. NewZoo estimates that sales of live event tickets and merchandise currently accounts for 9 percent of total eSports revenue, but has grown 42 percent over last year.
"Last year, there were more than 420 major eSports events organized worldwide, so going to eSports events is definitely growing up to be a popular source of entertainment," says Haux.
ESL recently wrapped up its biggest event of the year, the Intel Extreme Masters World Championship in Katowice, Poland, which saw more than 173,000 people in attendance.
"Live events are absolutely important and are growing at a rapid pace," says Parsi. "There's a lot of experimentation into what the live eSports experience should look like. Right now, most big organizations are trying to mimic real sports, but there are more interactive opportunities with eSports that don't really exist in real sports, and there's a lot of room for innovation in how live events are experienced by fans in person and online."
The industry is also primed for merchandise and licensing opportunities for both teams and players. Technology categories that intersect with entertainment are a natural branding opportunity, and PC hardware and peripheral categories such as headsets, mice, mouse pads, graphic cards and keyboards are on the short list of desirable licensed merchandise targets. Headset and audio accessory company Turtle Beach is already partnering with leagues as their official audio partner.
"There have been collaborations like energy drink brands putting team logos on cans and HTC, the Taiwanese manufacturer of Android and Windows smartphone, limited edition phones engraved with the logo of the eSports teams the company sponsors," says Pannekeet.
"Like in any other sport, this also is about heroes, the winners and the losers, and that makes for great storytelling that brands who seek authentic engagement and fan interaction, definitely appreciate," says Haux.
Read more about:
Subscribe and receive the latest news from the industry.
Join 62,000+ members. Yes, it's completely free.
You May Also Like
Loading..