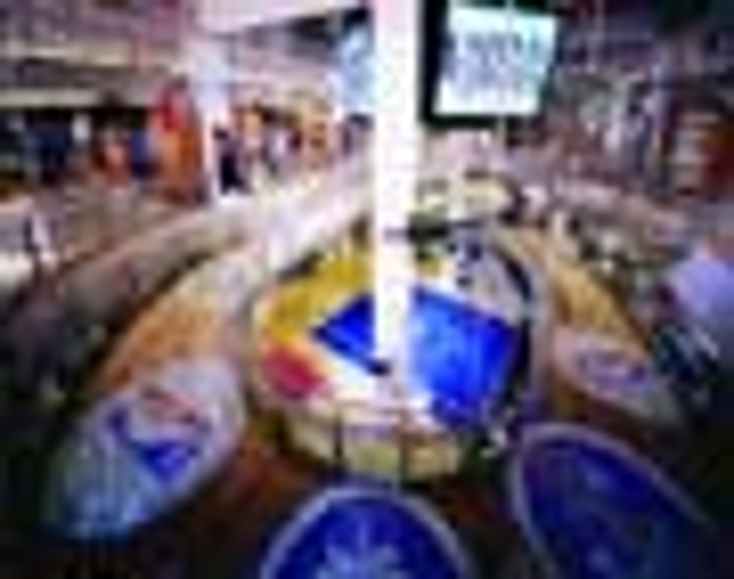 ]>What's up, Doc? This License! exclusive will tell you: The Looney Tunes franchise is gearing up for reinvigoration.
They've delighted children of all ages for decades with fun-filled, animated antics that scream, "Don't try this at home." They've been shot at, thrown off cliffs, blasted into space, and have even exploded. But they somehow always remain standing. Along with their character schemes, plots, and memorable images and voices come well-recognized catch phrases such as "What's Up, Doc?" and "You're Despicable!" Clearly, Warner Bros.' Looney Tunes characters-an indomitable franchise-is a "diamond in the rough." "Jewels such as Looney Tunes, Batman, Superman, and Scooby-Doo must be polished and nurtured," says Alan Horn, president and COO of Warner Bros. And Looney Tunes' edges are about to receive a polish.
Fresh on the heels of its success with feature films Harry Potter and the Sorcerer's Stone and Scooby-Doo, Warner Bros. is setting the stage and its sights on the Looney Tunes
franchise. That's why the Warner Bros. Consumer Products team played host to more than 500 licensees from around the world at the WB Studio lot in Burbank, CA, September 24. And License! was there.So, what's all the hype about? Well, Looney Tunes: Back in Action is set for release nationally and will begin its worldwide rollout in theaters in the November 2003 time frame. But, that's not all, folks! Baby Looney Tunes recently made its TV debut, and prior to the movie release, a series of new theatrical shorts will be released. Following the movie, a new Looney Tunes animated series, Duck Dodgers, will take to the air.
Existing and core Looney Tunes licensees got a sneak peek at the upcoming initiatives, complete with the promotional and marketing support an AOL Time Warner company can provide. LT: The FranchiseTalk with Dan Romanelli, president of Warner Bros. Worldwide Consumer Products, and he will recant with ease the history of the Looney Tunes franchise and its respective licensed products. "Frankly, Looney Tunes has always been a priority for the Studio," he says. But not since Space Jam (the live-action feature film that starred basketball great Michael Jordan and, of course, the Looney Tunes characters in 1996) has the "green light" been given for more feature films and animation. "While by far Looney Tunes is one of the most popular brands for Consumer Products," Romanelli continues, "in the late '90s, it was truly a significant brand for us, and the revenue was amazing."
Unfortunately, these well-recognized and loved characters (recently named the greatest animated characters of all time by TV Guide and once viewed weekly by more than 50 million people) "essentially disappeared from television, with the exception of Cartoon Network," Romanelli explains. However, consumer products both nationally and internationally did not disappear, but the lack of new TV series and feature films did not help to support the Consumer Products division and respective licensee efforts. Further, the closing of Warner Bros. Studio Stores, another retail platform for the brand, in the late 1990s did not benefit the Looney Tunes franchise; let's face it, consumers often keel to the "out of sight, out of mind" concept.
Thanks to consumer research, and Looney Tunes core licensees that asked for "newness" for the Looney Tunes franchise, the strategy of "reinvigorating" Looney Tunes was embraced, and the green light was given. "There is real integration within the Studio as it relates to Consumer Products as a core business," explains Romanelli. "The company recognizes the irreverence of Looney Tunes and its comedic DNA, but also its huge contribution to the bottom line."
Licensees that spoke with License! during the one-day event revealed their enthusiasm for the new initiatives. "For many of our licensees, Looney Tunes has been the cornerstone of their company's success. For retailers, they are excited about this relaunch as they have had a great history with this property," says Karen McTier, executive vice president, domestic licensing, Warner Bros. Consumer Products. "Licensees have faith in the wherewithal of Warner Bros. to make it happen."
LT: The Movie
Looney Tunes are back in action…live action, that is. The feature film, set for the November 2003 time frame, pairs Looney Tunes characters, including Bugs Bunny, Daffy Duck, Yosemite Sam, and Tweety, to mention a few, with the likes of stars Brendan Fraser, Jenna Elfman, and Steve Martin. Guest appearances are made by Timothy Dalton, Joan Cusack, Jamie Kennedy, Jeff Gordon, and Dan and Don Stanton.
Larry Doyle, producer of Looney Tunes theatrical shorts and executive producer/writer of Looney Tunes: Back in Action, offered a preview (some rough animation) and his views of the soon-to-be-released theatrical shorts. "Our task is to recapture the spirit of these characters and place them in a contemporary setting," explains Doyle. For example, in one rough short, Wile E. Coyote is shot up to outer space, and he conveniently whips out his cell phone to call for help. The shorts play right into the history of these characters with their humorous and edgy antics; now, placing them in a contemporary setting, Warner Bros. aims for a new generation of Looney Tunes fans, while still maintaining its core viewership.
Next up: Looney Tunes: Back in Action, the movie, has a stellar team of well-known producers. They include, along with Doyle: Producers Paula Weinstein and Bernie Goldmann, and Executive Producer Chris DeFaria. The film is being directed by Joe Dante. At the licensee meeting, this creative team explained the challenges of producing and shooting a film of this kind, which is expected to cost close to $100 million: First, what actors do you pair with the Looney Tunes characters? Then, how do you find a director to lead a live-action movie of this kind (as essentially you are shooting two movies and then integrating the two)? The production team paired actors Elfman and Fraser to interact with the characters. By the way, Elfman made a guest appearance at the meeting, and said she feels really "cool" being in the movie.
The gist of the movie's plot is as follows: Bugs Bunny, Daffy Duck, and other Looney Tunes animated characters star alongside Fraser and Elfman in a live-action adventure comedy. Set in a live-action world in which these animated characters interact with human characters for maximum comic effect, the story unfolds on the Studio backlot and careens all over the map in well-recognized Looney Tunes style. They embark on an adventure that takes them from Hollywood to Las Vegas, Paris, and the jungles of Africa in search of Fraser's character's missing father and the mythical Blue Monkey Diamond. What's more, Bugs Bunny has his very own Spy Car, and Yosemite Sam operates the Wooden Nickel Casino (following the meeting, licensees headed to the Casino, Stage 21, for a mix of fun and networking), among other cool props.
Beyond the mere fact that licensees have awaited the much-anticipated hype surrounding the Looney Tunes franchise and its current merchandise, the film's visuals, adventures, and environments allow for further creativity in consumer products.
AOL Time Warner, parent of Warner Bros., plans to "pull out all the stops for the marketing, promotion, and integration with other divisions such as Warner Home Video," according to Romanelli.
LT: The Marketing
At the licensee meeting, Dawn Taubin, president, domestic marketing, and Sue Kroll, president, international marketing, both of Warner Bros. Pictures, report that much of the same marketing tactics utilized for Harry Potter and Scooby-Doo both nationally and internationally will be used for Looney Tunes: TV and theater teasers, and print and outdoor advertising campaigns, as well as publicity. Like many of its other property campaigns, Looney Tunes will be marketed as a "family event."
"AOL Time Warner is the world's largest media company. So, basically we come with a communication warranty," says Brad Ball, executive vice president, domestic corporate marketing, Warner Bros. "Looney Tunes has amassed 1,300 classic episodes; it's a five-time Academy Award winner-Animated Short; and Cartoon Network plays host to 32 million Looney Tunes fans weekly. Prior to the film's release, AOL Time Warner will bring together its stable of brands to get the word out." Some of the word has already been spilled out via the www.looneytunes.com Website that launched in May 2001. Since its launch, looneytunes.com has received 45 million page viewers monthly; 1.2 million unique visitors; and 360,000 entries for its Toon Marooned contest, according to Ball.
Jordan Sollitto, executive vice president of worldwide marketing, Warner Bros. Consumer Products, adds, "The site features 30 Webisodes, interactive games, Looney Tunes background information, and products/collectibles." Further, the Website appears on all consumer product packaging currently in the market. "The number of visitors to the site has been multiplying exponentially," Sollitto notes.
Taubin, Kroll, and Sollitto all say the target audience for Looney Tunes is wide, as it appeals to nostalgic parents but will embrace a new, younger generation of fans. Internationally, Kroll anticipates Looney Tunes: Back in Action will be made available in 35 languages with 25 dubbed versions.
LT: The Consumer Products
"It's an important time to be a Looney Tunes partner," says Romanelli. To an audience of more than 500 licensees, some of which have been Looney Tunes partners for upward of 15 years (such as Hallmark and Six Flags), the Warner Bros. Consumer Products team and Matt Bousquette, president of Mattel Entertainment (recently named master toy licensee for a host of Warner Bros. properties), outlined the consumer product initiatives.
Looking at the franchise long-term, Bousquette says Looney Tunes has "global potential to reach broad demographics. Thanks to global research, we know kids love Looney Tunes characters' crazy antics." Bousquette says Mattel's objective is "to make great toys" by utilizing "the true essence of these outrageous antics in the art program. Warner Bros. has done its part, now we must do ours." Mattel currently is developing soft and hard goods, including die-cast cars, games/ puzzles, action figures, and dolls, to mention a few, some of which will have 3-D effects.
Warner Bros.' McTier reveals two significant areas of growth for the Looney Tunes franchise. With the recent master license agreement with Mattel, one of those areas is toys. "Mattel shares the Warner Bros. philosophy to build the franchise. In addition, the marketplace for Looney Tunes toys is clean for Mattel, as past agreements finished and product is not on shelves," explains McTier, adding that Mattel is getting ready for Toy Fair in New York. Another area of growth is in kids apparel, as "Looney Tunes historically has been strong in adult apparel, we will be focused on kids' styling." But McTier points out that "today's fashion for kids more often than not is based on adult trends. There's less differentiation in apparel, even in the 4 to 6x arena."
Both nationally and internationally, the movie will assist current licensees to further propel the Looney Tunes brand. Incremental licensees will be added strategically. Mark Matheny, executive vice president of international licensing, worldwide interactive and publishing, Warner Bros. Consumer Products, explains that Looney Tunes products are already available in more than 100 countries outside the U.S. While the movie will roll into theaters nearly day and date with the U.S., certain countries will follow later. "In the UK, for example, the film will be released mid-February, at the same time most children are on school holiday," Matheny explains. Consumer products both nationally and internationally will hit retail shelves about six to eight weeks prior to the film's release.
At the retail level, McTier and Matheny say Looney Tunes already has a strong presence in a number of retail channels. "We are easily in 15 different departments at retail. With the film, shorts, and new series, we'd like to add six to eight departments to that number, expanding placement in additional classifications and categories," McTier says.
In international markets, Matheny says that while some products may be exclusive to certain retailers, they will not work exclusively with one retailer. "Looney Tunes has an established presence internationally in major retailers. This film renews interest, and presents another layer of opportunity that is incremental," says Matheny.
Romanelli further explains that, as Warner Bros. learned with Harry Potter, "less is more" when it comes to placing product on retail shelves. "This is a long-term franchise strategy and a continuity program. Retailers are also careful now, and we support that," says Romanelli.
Speaking to consumer demographics, Baby Looney Tunes has begun to lay the groundwork for "a whole new audience," says Romanelli. Further, the theatrical shorts and the movie place the Looney Tunes characters in a contemporary setting, appealing to both nostalgic viewers and newcomers. Speaking to ethnicity, Romanelli notes the success of Looney Tunes in the hip-hop urban market, via its fashion licensing agreement with Southpole.
With a built-in fan base that spans two decades in consumer product success, certainly there's a bit of ease with the Looney Tunes franchise. The task at hand is to grow up with its consumers, expanding its appeal to new generations, and provide mediums to do such. "From publishing to interactive, we have the bases covered," says Romanelli. "Looney Tunes is worth the investment...and the best is yet to come." Apparently, that's not all we'll be hearing from Warner Bros. Stay tooned.
Subscribe and receive the latest news from the industry.
Join 62,000+ members. Yes, it's completely free.
You May Also Like
Loading..