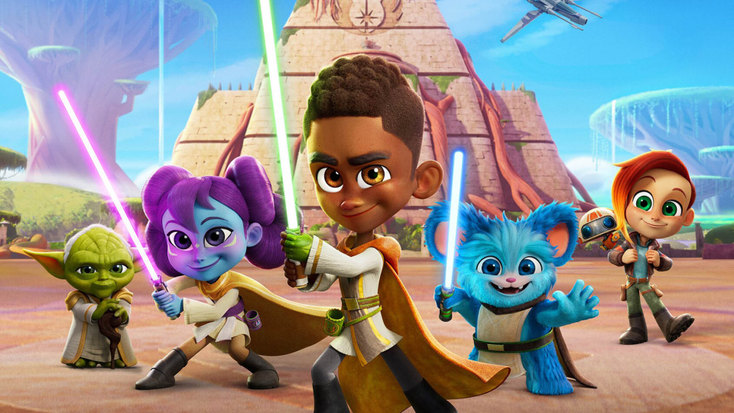 "Star Wars: Young Jedi Adventures"
Lucasfilm
The 4th of May – it's the unofficial "holiday" celebrated by "
" fans around the world who exchange the punny phrase, "May the fourth be with you," as a play on the franchise's well-wishing catchphrase, "May the Force be with you" (a line first uttered by rebel leader, General Dodonna, and not, as many misremember, by Obi-Wan Kenobi). The holiday wasn't created by Lucasfilm. In fact the exact origins are up for debate (as they are probably floating around undetectably in a galaxy far, far away). But
, which purchased
, including the rights to "Star Wars" in late 2012, has been celebrating it at its parks since 2013.
Year after year, the sci-fi celebration gets bigger and bigger as the franchise's universe continues to expand. Legions of fans eagerly jump aboard to share the love, display their vintage regalia or scoop up new "Star Wars" IP. "Star Wars" excitement was already on the rise after last month's announcement of
three additional "Star Wars" films
.
It's hard
to know where to begin looking for notable related celebrations with a franchise valued at more than $50 billion worldwide. But last week, the sixth chapter in the Skywalker saga, "Return of the Jedi," which turns 40 this year, is back in select theaters in the U.S., U.K.,  and other regions for a limited time. No doubt seats will be filled for the nostalgic big-screen experience.
Kith has unveiled a collection inspired by "Star Wars: Return of the Jedi" to celebrate the film's anniversary. The collection includes men's and kids' apparel, accessories and home goods, and will release on "Star Wars" Day, May 4.
, along with its pop-culture apparel and accessory brand,Heroes & Villains, is releasing a lineup of "Star Wars" trilogy T-shirts reflecting each of the films of the original trilogy saga and to be released consecutively each day, May 3-5. The collection also includes backpacks, hats, mugs and sandals.
Last year, License Global announced the release of "
LEGO Star Wars: The Skywalker Saga
," the latest LEGO "Star Wars" title featuring all nine Skywalker films in one new game, available on Xbox Series X|S, Xbox One consoles, PlayStation 5 and 4 consoles, Nintendo Switch and PC. Players of the game can celebrate "Star Wars"Day with a new playable character, "Luke Starkiller," which will be available for free starting May 4.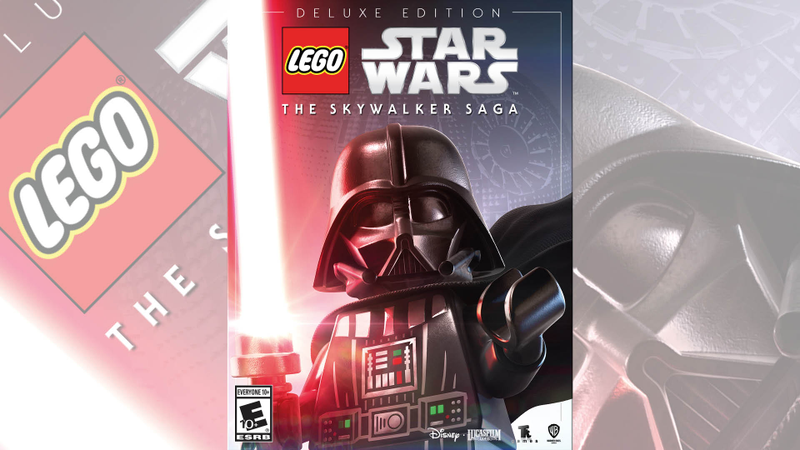 "LEGO Star Wars: The Skywalker Saga"
"Star Wars Jedi: Survivor" Coming to a Galaxy Near You
On April 28, Respawn Entertainment, EA and Lucasfilm Games launched the highly anticipated "Star Wars Jedi: Survivor." The game is the sequel to "Star Wars Jedi: Fallen Order."
"'Star Wars Jedi: Survivor' evolves the gameplay experience of 'Star Wars Jedi: Fallen Order' in every way," says Stig Asmussen, game director, Respawn Entertainment. "Players will be able to experience a story that raises the stakes at Cal's every turn, expansive worlds to explore and Jedi combat that makes players of all skill levels feel like a true Jedi. I could not be prouder of the work our team at Respawn has put into this game and grateful for our collaboration with the Lucasfilm Games team on this adventure."
"Stig and his team have created an extraordinary second chapter with 'Star Wars Jedi: Survivor,' delivering an experience that expands the scope and scale of the game in so many ways over its predecessor," says Vince Zampella, founder, Respawn Entertainment. "'Star Wars Jedi: Survivor' underscores Respawn's philosophy uniting an incredible universe found in the 'Star Wars' franchise with creative and exciting gameplay that feels great to play."
"'Star Wars Jedi: Survivor' is a blockbuster action-adventure game that showcases the incredible stories, characters and planets within the 'Star Wars' galaxy while inviting fans to live out the one-of-a-kind cinematic action and fantasy of being a Jedi," says Douglas Reilly, vice president, Lucasfilm Games. "This sequel is a testament to Respawn's love and care for the Star Wars  franchise and we could not be more proud to collaborate with them to deliver such a breathtakingly immersive experience."
"Star Wars Jedi: Survivor" is available now onPlayStation5,Xbox Series X|SandPC.
On May 1,Psyonix announced "Star Wars" content would be coming to the vehicular soccer video game, Rocket League, on May 4 for the first time. Content themed after iconic droids BB-8, C-3PO, K-2SO and R2-D2 will be available in the Rocket League Item Shop from May 4 until May 16 and includes a Star Wars Droid Bundle, individual Droid packs and free Star Wars content.
On May 4, Disney + will premiere not one, but two "Star Wars" shows. Following on the Emmy Award-nominated success of "Star Wars: Visions," the newest iteration will continue to push the boundaries of "Star Wars" storytelling, with nine new shorts from nine studios from around the globe. Employing captivating animation styles from a variety of countries and cultures, the second volume offers a dynamic new perspective on the storied mythos of "Star Wars."
"Star Wars: Visions" Official preview
Also premiering is "Star Wars: Young Jedi Adventures." The animated children's series is set 200 years before "The Phantom Menace," during the High Republic era. "Star Wars: Young Jedi Adventures" follows Jedi younglings, Kai, Lys and Nubs as they are sent by Master Yoda to train at a Jedi temple on the beautiful world of Tenoo under the tutelage of Master Zia.
announced several releases of apparel, accessories, toys and plush related to the show from LEGO, Mattel, Hasbro and shopDisney. 
Paul Southern, senior vice president, global brand commercialization, Disney Consumer Products, recently spoke with License Global about the continued growth of the "Star Wars" franchise ahead of May the 4th.
As of now, there are 16 movies, and new Star Wars series continue to roll out on Disney + starting with "The Mandalorian" in 2019. Additional shows, including "Andor," "Obi-Wan Kenobi" and "The Book of Boba Fett," have helped build an expanded universe, and in turn, more opportunities for consumer products.
"The Skywalker Saga left us with no shortage of iconic characters, settings and stories between the original trilogy, prequel trilogy and sequel trilogy," says Southern. "With the expansion of the galaxy through new original series on Disney+, the additional content has created endless opportunities to continue to create new products for a wide variety of fans. For example, with the arrival of Season 1 of "The Mandalorian," we had the introduction of Grogu, who has in turn become a pop-culture phenomenon. Wide audiences immediately embraced Grogu, and he continues to be a popular character for all categories of product development. Additional series such as "Andor" and "Star Wars Visions" continue to demonstrate the versatility of the brand and how we can continue using the content to innovate in new and exciting ways."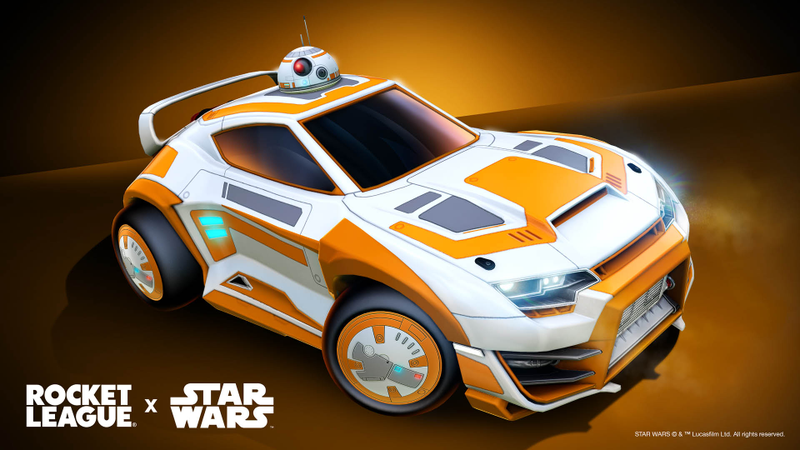 Rocket League x "Star Wars"
Some of the biggest trends Southern sees taking place across the "Star Wars" consumer base include '80s-inspired merchandise, lightsabers for adults and original Kenner toys. Southern says that "Star Wars" is no stranger to the core collector fanbase, dating all the way back to when the original trilogy made its mark on pop culture.
"Collectors love being the first to get their hands on not only action figures, building sets, roleplay items and high-end collectibles, but they're also passionate about outfitting their lives with 'Star Wars' lifestyle products like apparel and home goods," says Southern. "We're also excited to spark nostalgia with some of our anniversary lines with products celebrating 20 years of the Clone Wars and the 40th anniversary of 'Star Wars: Return of the Jedi.'"
Disney is also creating new on-ramps for younger generations to embrace the "Star Wars" brand. Southern says it's a two-fold strategy.
"With new content like 'Young Jedi Adventures' that's aimed at a preschool audience, we're catering to a younger demographic with toys and plush meant for families with young kids who are sharing their love of Star Wars with a new generation," explains Southern. "Simultaneously, we're aiming to reintroduce legacy content to younger audiences through key product categories, like plush, and strategic collaborations with brands and retailers that matter most to those demographics. We're excited for the rest of the year ahead and are looking forward to introducing more new products for our current and upcoming properties that we hope will thrill fans of all ages."
Read more about:
Subscribe and receive the latest news from the industry.
Join 62,000+ members. Yes, it's completely free.
You May Also Like
Loading..