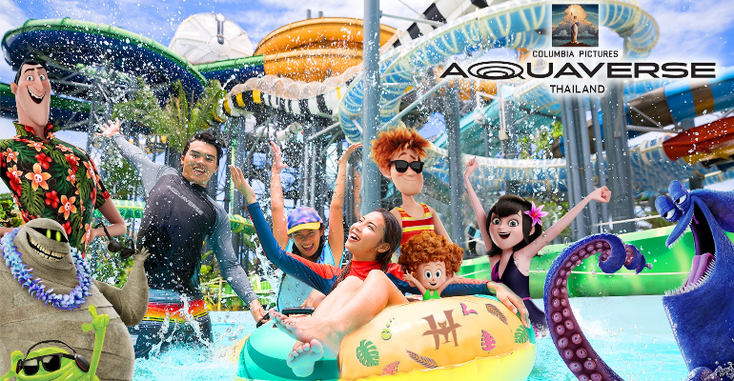 Sony Pictures Entertainment will create rides and attractions based on movies such as "Ghostbusters," "Bad Boys," "Jumanji," "Men in Black," and "Hotel Transylvania" this October with Columbia Pictures' Aquaverse in Thailand.
Located 90 minutes from Bangkok, Sony Pictures Entertainment built the waterpark to immerse fans of all ages into each property's world. The water park, the first one in Thailand, will offer entertainment, interactive props, sets and scenery, themed restaurants, live shows and retail locations filled with licensed merchandise. 
"We are delighted to be teaming up with Liakat Dhanji and Amazon Falls on launching Sony Pictures' first theme and water park and are inspired by his vision of creating an immersive entertainment destination for Thailand," says Jeffrey Godsick, executive vice president, global partnerships, brand management and head, location-based entertainment, Sony Pictures Entertainment. "Columbia Pictures' Aquaverse is the next step in Sony Pictures' larger
global strategy to grow and expand location-based entertainment by utilizing its strong global film and T.V. brands. We are creating opportunities for all audiences around the world to immerse themselves deeper into our stories through water parks, touring exhibitions and theme park attractions."  
"Sony Pictures Entertainment and Columbia Pictures' breadth of global content, technology and talent leadership will be invaluable in creating a fully immersive experience that will bring curiosity and wonder to a global audience," says Liakat Dhanji, chief executive officer, chairman, Amazon Falls Company, owners and operators of Columbia Pictures' Aquaverse. "The launch of Columbia Pictures' Aquaverse represents a first step in what we envision to be a broader collaboration that will pioneer the future of an integrated entertainment destination as part of the EEC's smart city. Alongside our unique rides and attractions, we look forward to forging new partnerships with top accommodation, technology, retail and F&B partners as we curate an unmatched lifestyle experience that will resonate with all our visitors."   
"We are proud to welcome and commit to giving our full support to Sony Pictures Entertainment and Amazon Falls Company," says Dr. Kanit Sangsubhan, secretary-general, Eastern Economic Corridor (EEC). "In Columbia Pictures' Aquaverse is poised to set new standards for immersive entertainment in the EEC, Thailand. The project is going to play a key role in reshaping the growth dynamism in the EEC. The theme park will be a key component of our EEC Smart City development plan. EEC will provide our full support, including 5G services and other infrastructure, digital technology, transit links and partnership with clean energy and investment promotion package to ensure the success of the project and help create a long-term sustainable development in the EEC." 
Columbia Pictures' Aquaverse will feature 12-meter free-fall rides into "MIB" wormholes; portals and waterslides in the "Ghostbusters" Supernatural Experience; outdoor go-kart tracks that bring "Bad Boys'" Miami backdrop to life; jungle slides and mountain escapes with "Jumanji;" a kid-friendly zone with "Hotel Transylvania," and various other adventures. 
Read more about:
Subscribe and receive the latest news from the industry.
Join 62,000+ members. Yes, it's completely free.
You May Also Like
Loading..