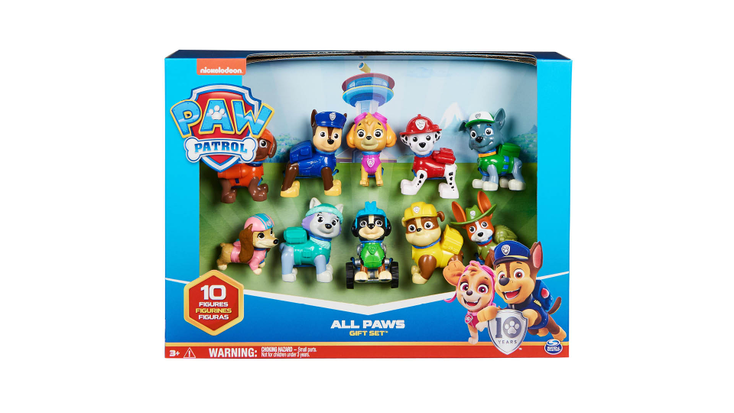 "PAW Patrol" gift set.
Paramount

Anyone who's spent time with preschoolers in the last 10 years has most likely heard the young kids talk about the inescapable allure of "PAW Patrol," produced by
and currently airing on Nickelodeon. The colorful animated show features a group of heroic rescue pups led by a tech-savvy boy named Ryder. The show has captured the hearts of kids all over the world, and it is now ready to celebrate its 10th anniversary with live tours, consumer products, a new theatrical movie and a spin-off series. 
From the opening riff of the theme song to the moment the pups receive treats and belly rubs for solving problems in their community, the show aims to empower young kids to believe in their own capabilities. It also educates children about teamwork, community and friendship through action-packed storylines that keep them engaged and entertained. For instance, the pups have gone on adventures with dinosaurs and even turned into superheroes. PAW Patrol's themes and values
also tend to gain an abundance of parental approval. 
With a passionate and dedicated fandom made up of both children and parents, "PAW Patrol" has dominated the media and retail landscapes. And to maintain its standing as one of the top preschool franchises worldwide,
Nickelodeon and Spin Master Entertainment
have created a secret formula that is deceptively simple: give the audience exactly what it wants. Nickelodeon and Spin Master Entertainment always focus on providing an immersive experience both on and off the screen that reflects kids' favorite ways to play. This keeps young kids engaged with
and allows licensing partners to refresh their product lines year after year, helping this cultural juggernaut to remain omnipresent at retail, with products on shelves across every key category. 
The franchise's 10th anniversary marks its biggest year yet, with new content and products to excite fans around the globe. Nickelodeon and Spin Master Entertainment kicked off the celebration in February with the launch of the first "PAW Patrol" TV spin-off, "Rubble & Crew." The storyline of high-stakes adventures follows Rubble and his pup family of builders as they use their incredible construction vehicles to build and repair whatever the town of Builder Cove needs. The series capitalizes on two elements: the tough and loveable bulldog and the "Rubble & Crew" extensive construction-focused toy line. And, the celebration continues with an all-new primetime anniversary TV special, "ALL PAWS ON DECK," premiering Monday, April 24, on Nickelodeon, as well as a limited-edition Toy Figure Gift Pack that features 10 pups to celebrate 10 years, available for purchase retail wide.
"ALL PAWS ON DECK" "Rubble & Crew," and their corresponding toys are not the only way
can connect with their favorite characters and celebrate the show's 10th anniversary. Since 2016, PAW Patrol's live tours have been seen in over 40 countries by 5.5 million people, and now kids can attend a brand-new production, "PAW Patrol Live! Heroes Unite." Launched earlier this year in the U.S. and running alongside "PAW Patrol Live! The Great Pirate Adventure," this tour will allow fans to experience the PAW Patrol universe and its characters up close and personal as they join the cast in daring rescues. 
And the excitement does not end at the edge of the stage, as
is going big for the show's anniversary. "PAW Patrol: The Mighty Movie" is slated for an exclusive theatrical release by Paramount Pictures later this year on Sept. 29. Due to the success of the first movie, "PAW Patrol: The Movie," which earned close to $150 million at the global box office, there is abundant anticipation for the second. And since the first movie delivered exciting content, inspiring movie-themed live experiences, new product offerings and a massive movie-themed retail program, the second movie is set to provide even more exclusive retail programs and high-profile promotional partnerships for kids and families to enjoy.
Subscribe and receive the latest news from the industry.
Join 62,000+ members. Yes, it's completely free.
You May Also Like
Loading..