Theme Song for Tara Duncan
Princess Sam
The "
" IP has made enormous strides in the licensing industry. Starting off as a fifteen-volume, French book series, the property – owned by Princess Sam – has evolved into a successful TV series and online video game, and it is now breaking into consumer products. 
Created by Sophie Audouin-Mamikonian, the book series was first printed in 2003 and has been published in more than 27 countries, selling tens of millions of copies and rising to the second largest publishing saga worldwide, right after "Harry Potter." 
The clever, outgoing and determined personality of Tara Duncan makes her easily relatable. Thus, her character has quickly enchanted and inspired the hearts of children and families across the globe as she solves mysteries and destroys evil forces with her unlimited magical powers. The series discusses universal topics, such as inclusion and diversity, and disabilities like dwarfism, making it even more accessible to an international audience.
Once Sophie Audouin-Mamikonian achieved profits around the globe in the literary industry, she took Tara and her universe to the television screen to turn the tale into a new experience. 
As the founder and chief executive officer of Princess Sam, a French animation studio, Sophie Audouin-Mamikonian had the first season of the show produced using more than 170 artists and state-of-the-art CGI motion capture technology, allowing the audience to be further immersed in Tara's universe. 
The first season, based on volume one of the book series,
France in January 2022 earning high ratings. With such high engagement, Princess Sam then distributed the Tara Duncan IP for the first season to top broadcasters including Gulli (France), RTS (Switzerland), DeAKids and RAI Gulp (Italy) and RTÉ (Ireland) in efforts to grow the show's global audience and Tara's brand loyalty.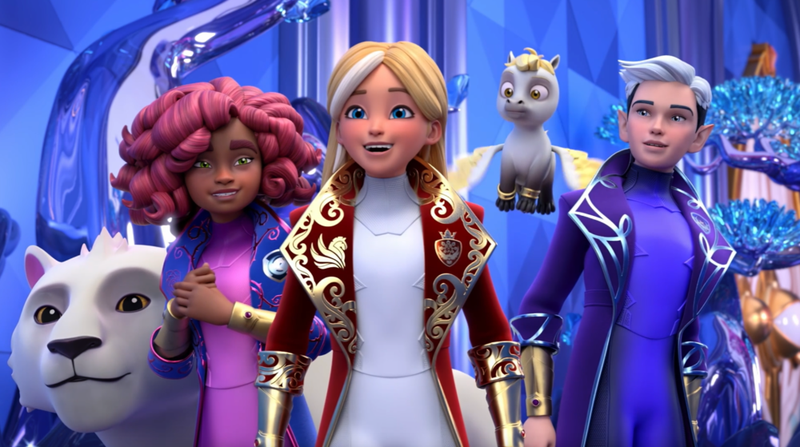 Building on the success of the first season, Princess Sam is now developing season two of "Tara Duncan." While the first season was being developed, it was important to Sophie Audouin-Mamikonian that each episode was well done. "As a writer, the script is super important for me; I treated each episode like a movie," she says, and Princess Sam is, again, looking to bring the thorough detail into season two.  
Season two is set to be aired in fall of 2024 and has already been sold to television channels and other platforms in Asia and Europe. Yet, the animation studio is still looking to confirm platforms in the U.S. and Canada and to cultivate relationships with existing TV partners in other territories to open markets and capture new audiences. 
"As the series is an entertainment program based on a literary work with strong values, we can approach a wide profile of broadcasters," says Najib Fayad, executive vice president global operations, Princess Sam Entertainment Group. 
"Princess Sam Entertainment Group is putting content back at the center of licensing by creating a fantastic show, then partnering with the strongest TV broadcasters and platforms," says Laurent Taieb, head of licensing, Princess Sam Consumer Products. 
As the second season is being created, Princess Sam is starting the next phase of Tara's brand strategy, which includes developing licensed consumer products,
"The launch of the new show provides the perfect starting point for an equally imaginative and appealing licensing campaign, and I am really delighted to be able to participate in growing the Tara Duncan license on a global basis," says Taieb.  
The company has indicated plans for branded action figures, play sets, home textiles, fashion accessories, stationery, fashion dolls, plush toys and games to help bring Tara Duncan's adventures to life, allowing children to take Tara on their own adventures and simultaneously giving children the opportunity to explore their imaginations. The toys will be manufactured through Princess Sam's master toy company. However, Princess Sam will be looking to develop and grow partnerships with local toy companies and licensing agents to distribute toys globally. As soon as Princess Sam confirms the TV channel in the U.S., it will also be looking to distribute and sell toys in Toys 'R' Us, Walmart and Target.  
Starting in France and spreading to territories all over the world, Tara Duncan's character and story has energized children's creativity and imagination through books, video games, television and now, toys. Having already captured such a massive audience, Princess Sam is coming together with new partners and expanding existing relationships to continue spreading the magic of the Tara Duncan brand. 
Subscribe and receive the latest news from the industry.
Join 62,000+ members. Yes, it's completely free.
You May Also Like
Loading..