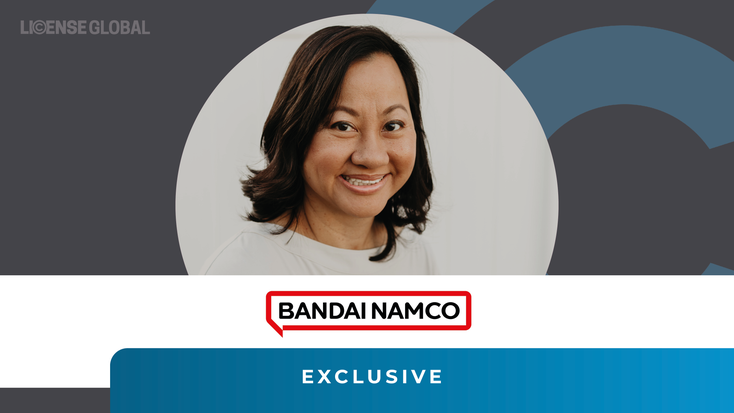 Linh Forse
Bandai Namco Entertainment
For over four decades, "Gundam" has been a beloved anime franchise known for its compelling storytelling, dynamic mecha battles and profound themes. The brand has grown beyond its cult-like fanbase to become a global phenomenon, with over 60 television series, theatrical releases, original video animation (OVA) series, over 200 games and millions of home video units and model kits sold worldwide. 
With anime becoming more mainstream, License Global speaks with Linh Forse, senior director, licensing,
about how "Gundam" is approaching its 45th anniversary with growth in mind.
License Global: How has the "Gundam" brand grown over 40 years, whether in terms of storytelling or fandom?
Linh Forse:
Since its 1979 debut, the mecha anime series, "Gundam," has developed to become a beloved franchise. Even now, fans have been drawn to the dynamic mecha battle scenes, substantial character depth, complex human drama and profound story themes and values – all of which attracted
many viewers to its dynamic universe. 
"Gundam" started to expand with the introduction of GUNPLA, where fans could build detailed models of beloved mechas while non-fans can appreciate the models' eye-catching designs. After the premiere of "Gundam Wing's" original run on Cartoon Network, other ways the brand has grown include action figures themed after several "Gundam" anime series and the development of stellar games like "Gundam Battle Assault" and "Journey to Jaburo," among others. All these expansions contributed to Gundam's global success. 
Currently, more than 60 releases are produced as television series, theatrical releases and OVA series. "Gundam" has also seen over 200 games across console, arcade and online gaming. Finally, there have been over 20 million home video units sold, over 2000+ GUNPLA variations produced, and over 7 billion GUNPLAs sold, 90% of which were made in Bandai's factories in Japan.
How did viewers worldwide perceive "Gundam," transforming it from a cult-like fan base to a global phenomenon?
As an IP, "Gundam" has been evolving in many ways while also looking to reach new audiences throughout its long history. As such, the brand has been enjoyed by generations of dedicated fans who grew up with "Gundam" and supported the IP in various ways, whether by purchasing apparel kits, toys and models or creating fan works. 
While each fan differs in how they interface and support the IP, all fans share the same core values "Gundam" represents, which connects them into a global fanbase. Unsurprisingly, nearly one in five households in North America know the "Gundam" name.
How have the licensing opportunities for BNEA's "Gundam" evolved with its growing popularity? What new collaborations represent the future and potential of the brand?
Our goal for Bandai Namco Entertainment America's licensing team is to continue expanding "Gundam's" reach by building a licensed merchandise program focused on high-quality consumer goods like apparel, accessories, computer peripherals and collectibles. As we explore broader collaborations, the team is thrilled to work on partnerships that will enable both parties to create specialty products that will appeal to the "Gundam" fandom and the built-in audiences of our partners.
Recently, we launched branded energy power tubs and a collector box with
featuring Mobile Suit Gundam and found a collection of keyboards, keycaps and other accessories with Higround based on the Mobile Suit Gundam Wing anime. We are working on other exciting partnerships and hope to announce those shortly.
What are the global trends in animation, and how do you see "Gundam" growing within that context? 
With anime becoming more mainstream and available on primary streaming services, there is now a "Gundam" series for everyone. This includes series that continue to push the envelope on social norms, particularly our new series, "Mobile Suit Gundam: The Witch from Mercury." We will continue building the brand with exciting content designed for new global audiences.
What trends in fan activity do you see as important for 2023 and 2024?
We are exploring different trends at once, as our goal is to broaden the Western audience for "Gundam" by increasing awareness and accessibility for this globally popular IP. Our efforts, as of now, are focused on building a community for fans to experience Gundam across several avenues. This lines up well with "Gundam's" 45th anniversary in 2024 and the upcoming film with Legendary. As our license program grows, we've spoken to many potential partners about possible opportunities, and we hope to share what we have planned. Currently, there will be an expansion of brand experiential activations that we hope to kick off in the U.S. market. This includes esports activations, Gundam Base pop-up stores, continued support for our Gundam Expo USA booths at major conventions and other consumer activations and fan panels. 
Read more about:
Subscribe and receive the latest news from the industry.
Join 62,000+ members. Yes, it's completely free.
You May Also Like
Loading..