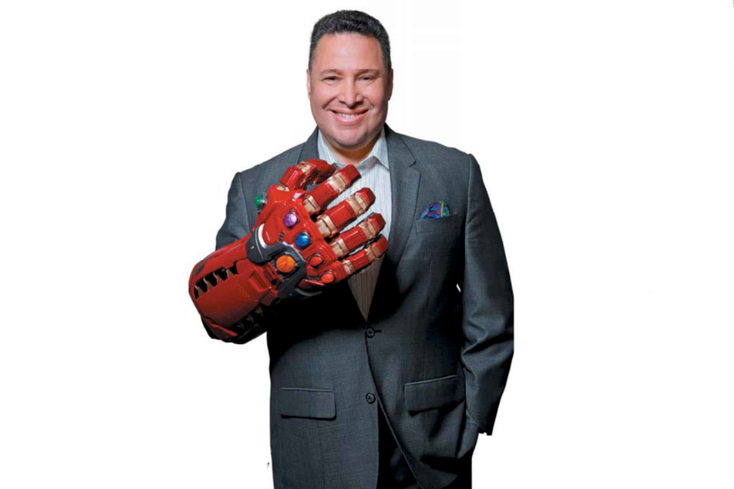 IT'S HARD TO
know where to begin when discussing the transformations taking place at The Walt Disney Company.
There's the obvious–the integration of 20th Century Fox and National Geographic, sparked by the $71.3 billion buy that closed in March. 
There are new opportunities that lie on the horizon, such as
, the streaming service that's set to launch Nov. 12 (and which has been dubbed a
). 
There are the powerhouse films that are overtaking the box office–from Disney and Pixar's
Toy Story 4
, which took in $121 million on its opening weekend in the U.S., to Marvel Studios'
Avengers: Endgame
, the company's highest-grossing movie of all time, which premiered this year and has since taken in nearly $2.8 billion at the worldwide box office (source:
). Trailing it is only
Avatar
, which Disney too has situated in its future pipeline. (And it should not be overlooked, 13 of the Top 20 films of all time belong to the House of Mouse.)
There's the Disney Parks, Experiences
and Products business, which is up five percent in revenue as of Q2 2019 to $6.2 billion, bolstered by growth in its theme parks, resorts and cruise line, increases in its consumer products business and gains from its licensed video game segment. (Disney reported $54.7 billion in global retail sales of licensed consumer products in 2018, up $1.7 billion from 2017, earning it the No. 1 spot on
License Global
's annual
Top 150 Global Licensors report
.)
And there's its internal structure. In May 2018, Ken Potrock was named president, consumer products commercialization, a move that pulled on his more than two decades of leadership experience within Disney Parks and Resorts.
In short, there's a lot to unpack when it comes to the magical–and fiscally sound–world of Disney.
"This is an incredible time for The Walt Disney Company," says Potrock. "At Disney Parks, Experiences and Products, we're maximizing the company's truly unrivaled investment in new IP, innovative platforms and unique synergies to extend the power of our brands and franchises–Disney, Pixar, Marvel,
Star Wars
, Fox and National Geographic–into the daily lives of fans and families through innovative products and immersive experiences."
Taking the Organization 'to Infinity and Beyond'
Disney's consumer products business has seen its share of innovation and transformation over the years, and so has the wider Disney organization, but none so much as in recent times.
As the company continues to grow in size, scale and scope, and continues to widen and diversify its portfolio, so too does opportunity continue to grow by leaps and bounds. Potrock is steering the division as it sets its new course.
"Our theatrical releases continue to perform extremely well at the global box office, we're investing substantially in immersive new experiences across our theme parks globally and Disney+, our new streaming service set to launch on Nov. 12, will forever change the way consumers view and interact with our brand and stories," says Potrock.
As Disney's consumer products business structure has evolved, it is now also able to leverage the power of its parks and other core entities, such as ESPN, like never before.
"Our integrated approach also means that for the first time ever, we can offer full product and retail plans for Disney Parks, available at retailers outside of the parks," says Potrock. "In addition, ESPN, the No. 1 brand in sports, is joining our consumer products portfolio. ESPN has a special connection with sports fans worldwide, and we're excited to build upon fans' great passion and love for sports through innovative products and experiences."
Disney+ is arguably one of the most highly anticipated launches to come to the SVOD market, ever. The new streaming service will bring together the best the company has to offer including movies and shows from Disney, Pixar, Marvel and
Star Wars
, as well as its recently acquired powerhouse brands such as "The Simpsons" and offerings from National Geographic, creating an extremely compelling service that will unquestionably be a force within the industry. Price, too, is competitive–Disney+ will come in at just $6.99 per month, well below other like services in-market. And while subscription is not yet open, early reports are promising, with one survey from UBS (via
) indicating that 43 percent of people in the U.S. are interested in subscribing. (For context, the population of the U.S. stood at 327.2 million in 2018.)
Disney also holds the lion's share of streaming giant Hulu, and along with its recently launched ESPN+ service, allows it to likewise leverage these services as well to further grow and bolster its vast array of content across the full demographic persona.
"Connecting audiences more deeply with our stories through a service as appealing and intuitive as Disney+ is incredibly exciting," says Potrock. "And in addition to our beloved characters and stories from across Disney, Pixar, Marvel and
Star Wars
, we will now add 20th Century Fox properties and National Geographic to our assortment of iconic brands."
With the 20th Century Fox acquisition now fully folded into the Disney ecosystem, opportunity to maximize its varied portfolio–across not only content but also consumer products–is now in play.
"These additions bring to Disney an unrivaled and expanded new content library, providing new audiences, new merchandise opportunities and global capabilities–all of which will benefit us and our partners," says Potrock. "We know that 20th Century Fox brings great franchises, from
Avatar
and 'Family Guy' to its enormous vault, and we are eager to fully unlock its potential.
"Our consumer products business is reimagining the way we do things to connect more deeply with the consumer at every juncture in their lives. To paraphrase Buzz Lightyear, we're poised to take Disney's consumer products business to infinity and beyond," continues Potrock.
There's No Off Switch for a $55 Billion Franchise
If there's just one thing Disney does best (and that is a difficult proposition to argue), it is its ability to leverage its deep and rich portfolio of IP to engage with its fans at every opportunity in an always-evolving myriad of ways. In fact, it's a foundational belief held by the company. Because when you have a hit, or hundreds of them as is Disney's embarrassment of riches, you understand intrinsically the responsibility to the fans to deliver meaningful content, experiences and extensions.
"We look at our valuable IP and franchises as an opportunity to have a consistent, always-on platform that keeps our content, products and experiences relevant for consumers every single day," says Potrock. "This 365-days-a-year franchise approach has long been a cornerstone of The Walt Disney Company, and with it, we've created and added numerous billion-dollar franchises that consumers around the world love and engage with daily. We've got content for every generation, and we know our consumers always want to be connected to our characters and brands–there isn't an off switch when you're a $55 billion business at retail. So we're responding to the fact that our consumers love our stories and characters and want to engage with us every day."
Disney is the master at delivering tentpoles, such as have been created within the expansive Marvel universe, the reinvigorated
Star Wars
franchise, Pixar titles,
Aladdin
,
The Lion King
or the newer
Frozen
film, for example. And those films deliver at the box office and beyond. But what about the in-between times? According to Potrock, that's where the consumer product comes in.
"Disney's 365 franchise approach for consumer products maximizes tentpole films like Marvel Studios'
Avengers: Endgame
with global product and retail activations spanning nearly every category and channel," he says. "To fill the gaps between those tentpole films, we deploy every asset and synergy opportunity with integrated marketing and product plans that connect our iconic characters and franchises to consumers in new, fun and unexpected ways."
In addition to films, Disney leverages its home entertainment releases, promotional windows, theme park attractions, video games, books, electronic and interactive products and more to drive sales every single day of the year. Those opportunities are further augmented by synergies between product and experiences available within multiple levels of the organization, driving a hugely impactful consumer moment that is unparalleled.
For example, Disney will launch a massive simultaneous rollout of products on Oct. 4 when it debuts ranges for both
Star Wars
and
Frozen 2
kicked off by two consumer-centric events–Triple Force Friday and Frozen Fan Fest.
Triple Force Friday will celebrate the launch of brand new products from a trio of original
Star Wars
entertainment events, including products inspired by the final installment in the Skywalker saga,
Star Wars: The Rise of Skywalker
, as well as the debut of the first-ever live-action
Star Wars
series, "The Mandalorian," set to debut exclusively on Disney+, and the latest video game title from EA and Respawn, "Star Wars Jedi: Fallen Order." Products will span multiple categories, from toys to collectibles, housewares, books, apparel and more. Stores around the world will also join in on the festivities with in-store events and midnight openings.
Frozen Fan Fest marks the official run up to Walt Disney Animation Studios'
Frozen 2
, which is set to premiere Nov. 22. Frozen Fan Fest will include product reveals, musical moments, in-store events and much more, all introducing the wide assortment of product–everything from toys to apparel, books and the like–inspired by the new film.
"This combined product and retail event showcases what sets us apart for licensees and retailers–connecting iconic IP with our capabilities to reach a massive, global audience and launch four product initiatives–
Frozen 2
, 'Star Wars Jedi: Fallen Order,' 'The Mandalorian' and
Star Wars: The Rise of Skywalker
–on the same exact day," says Potrock. "No one else can come close, and I'm so pleased with the level of support we've received from our licensing and retail partners to make Triple Force Friday and Frozen Fan Fest successful around the world."
But it's not only the newer films that are receiving thorough marketing and product support, it's also Disney's core franchises and brands, such as Mickey Mouse, who celebrated his 90th anniversary last year, or its iconic villains.
For Disney Villains, the organization ignited the property across multiple touchpoints–everything from a rousing catwalk at last year's New York Fashion Week from luxury fashion designers The Blonds to this spring's makeup collaboration with ColourPop.
But it's the massive global coordination and product program that debuted during Mickey's 90th celebration that took the cake, so to speak.
"A great recent example is Mickey: The True Original, which we launched in conjunction with Mickey Mouse's 90th anniversary," says Potrock. "Mickey is the definition of iconic, and we are excited to build upon the magic that has sustained Mickey's position as a global icon for 90 years with the right mix of events, collaborations, influencers, product and retail activations and content. Mickey: The True Original is a great proof point for what's possible when we and our partners around the world are all focused on the same activation–and we're excited to continue the momentum by extending the celebration for both Minnie and Mickey in the years to come."
For Mickey, Disney's consumer products business pulled out all the stops, bringing its full organization together to create an expansive licensed product program with best-in-class partners such as Vans, Cath Kidston, Rag & Bone, Levi's, Lacoste, Polaroid and many more that spanned everything from merchandise to experience.
Local Tastes Can Often Become Global Trends
Disney is uniquely positioned to service a global market–with globally integrated teams across North America, EMEA, Asia-Pacific and Latin America, it allows the organization to capitalize on internal and external talent in whatever market it needs.
That global positioning also allows the group to localize, sometimes on a granular level.
"With the success of our products, films and theme parks around the world, our brands, franchises and characters are truly global," says Potrock. "In addition to serving these audiences, we must also consider how we work with our key product and retail partners around the world. Our global mindset starts with a shared set of values and holistic vision. Our business–both on the commercial and creative sides–is rooted in strategies that empower our global and local teams, as well as our licensees, to break down silos and collaborate on products that resonate in additional markets, formats or categories."
Potrock says that the same strategy translates equally into how Disney's consumer products business tackles the retail conundrum, as well as leverages product that is succeeding in-market, no matter the location.
"If our team in London has unlocked a unique shop-in-shop experience in the U.K., it makes perfect sense to see if it translates to the U.S. and elsewhere," he says.
Likewise on the product side.
"If an outstanding product is being developed in Korea that translates well to Mexico, there is no reason why we wouldn't share it, or even explore the possibility of scaling globally. As we know from experience, local tastes can often become global trends," says Potrock.
Ultimately, Disney's global alignment and shared vision between the commercial and creative sides of the business allow it to be strategically consistent yet tactically divergent, resulting in growth.
But while all of that strategy and the mechanics behind it is well and good–even essential–it does truly boil down to consumer supply and demand, and which markets are looking for what products and why.
"While the industry has and will continue to evolve, what stays consistent is Disney's relentless focus on the consumer," says Potrock. "Consumer centricity is something that Walt himself was singularly focused on, and it remains a powerful driving force for the company to this day. By always listening to the consumer, we are setting new trends, exploring new opportunities in a variety of categories and channels and reimagining our product and retail offerings across the demographic and socioeconomic spectrums."
Through deep learnings, insights and true understanding of consumer behavior, Disney ensures that its product will resonate at retail, and ultimately raise brand profile. And it is happy to share those insights with its licensees and retail partners to ensure that "together we can create products, experiences and go-to-market approaches that fans and families around the world will love," says Potrock.
"We're setting new trends, exploring new opportunities and reimagining our product and retail offerings," continues Potrock. "I think fans and families will be inspired–and surprised–by all of the magic that's in store for Disney's consumer products businesses in the years ahead."
Read more about:
Subscribe and receive the latest news from the industry.
Join 62,000+ members. Yes, it's completely free.
You May Also Like
Loading..