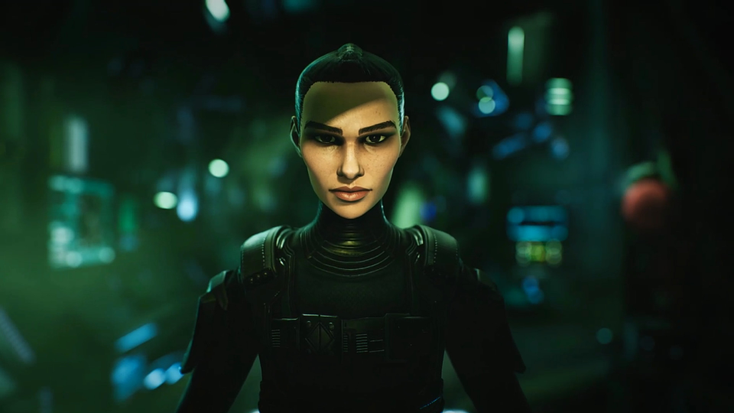 "The Expanse: A Telltale Series."
Telltale Games
License Global will update this story with news and announcements as they emerge over the six days of Gamescom 2022. 
Licensing Reveals and Updates 
A new open-world survival game set in the sprawling sands connected to the lore of "Dune," "Dune: Awakening" was revealed to audiences for the first time with a new trailer. Developed by Level Infinite and published by Funcom ("Conan: Exiles"), the massively multiplayer online (MMO) game focuses on survival and is due to launch across consoles and PC at a date to be announced.   
"Hogwarts Legacy" is a highly anticipated story-driven role-playing game (RPG) across Harry Potter fan communities and gamers alike. A new trailer was revealed at Gamescom that showcased new gameplay and story elements, taking players to 100 years before the events of "Harry Potter and the Philosopher's Stone."  
"The Expanse: A Telltale Series" 
Having received high acclaim and a dedicated fan community following adaptations of
"The Walking Dead"
"The Walking Dead"
and
Telltale Games' developers took to Gamescom to announce a new licensed game set in the universe of "The Expanse." Originally a series of novels before coming to screens via an Amazon Prime original adaptation, Telltale Games is looking to take the stories of this sci-fi epic further by putting players amid a bloody mutiny aboard The Artemis. 
"Killer Klowns from Outer Space" 
Schlocky horror-comedy "Killer Klowns from Outer Space" divided movie audiences when it launched in 1988, but it's gathered a huge cult following as the years progressed. While there have been rumors of sequels for both big and small screens, the property will soon receive a spiritual successor in the form of an
Highly anticipated in gaming and fan circles, open-world action RPG "Gotham Knights" surprised the Gamescom audiences this week by bringing its release date forward. With newly announced lead villains, Harley Quinn and Clayface, leading an assault on Gotham City, it falls to Batman protégés, Nightwing, Robin, Red Hood and Batgirl to stop them.  
The MINI Aceman
concept car made its grand debut at Gamescom, giving attendees the first reveal of the
new electric MINI x Pokémon collaboration
. It features a built-in mobile cinema, a visual effects-laden dashboard with Pikachu greeting drivers from the central OLED system and a Pokémon-inspired interior. 
"Warhammer 40K: Darktide" 
One of the latest licensed video games from Games Workshop, "Warhammer 40K: Darktide," is an action-shooter based in the Warhammer 40,000 universe. While this game is already announced, the
title took to Gamescom to reveal new gameplay and a new trailer to excite fans further.  
"Ghostbusters: Spirits Unleashed" 
The four versus one multiplayer experience based on the lore of
is due to gain an exclusive reveal this week, with
beloved nostalgia and blockbuster property getting another release in its critically acclaimed video game portfolio. 
"SpongeBob SquarePants: The Cosmic Shake" 
Another game set for a further exclusive reveal at Gamescom is "SpongeBob SquarePants: The Cosmic Shake," which lets players take control of
and Balloon Patrick to explore new universes. This platform game doesn't have a release date yet, but the upcoming reveal will undoubtedly shed more light on the project. 
New Intellectual Property Announcements  
Former Rockstar developer, Leslie Benzies, has given the world a glimpse at "Everywhere," a new open-world game from Build a Rocket Boy Games.  
Focus Home Interactive and Deck13's latest intellectual property, "Atlas Fallen," is a monster-hunter-style game that allows players to use shifting sand as a weapon. 
Jeff Gardiner, former Bethesda producer on "Skyrim" and
has revealed an upcoming open-world RPG, "Wyrdsong," from his new studio, Something Wicked Games.   
Justin Roiland, co-creator of
has spearheaded the development of a new game titled "High on Life," which features foul-mouthed talking weapons. 
Stay tuned to License Global for more updates from Gamescom 2022. Alternatively, to explore licensing opportunities with some of the gaming market's biggest brands, rights holders and developers, register for
(Sept. 20-22) at London ExCeL. 
Read more about:
Subscribe and receive the latest news from the industry.
Join 62,000+ members. Yes, it's completely free.
You May Also Like
Loading..