Characters from "Ginji."
Blanca Pictures
Blanca Pictures has made incredible progress on its original IP, "Ginji," a 2D animated series since the beginning of this year. In 2021, the studio was faced with the task of setting up production and reaching a stable episode release schedule. Then, in 2022, the objective evolved to show the series' market potential to distributors and potential licensing partners. As the company prepared the series for distribution, the company focused on brand awareness and came to position itself as a global commercial project.
"Ginji" debuted in the licensing space earlier this year in September at Brand Licensing Europe in London. The Blanca Pictures booth may not have been large, but it was noticed by countless visitors because of the innovative use of technology that adorned their displays. Blanca Pictures was delighted to introduce its brand, its vast and thoroughly developed universe and characters. The reception and the feedback received from both the professional market and BLE visitors were extraordinary. Blanca Pictures demonstrated to licensors major opportunities and exponential potential for Blanca's trademarks. The support that Blanca Pictures received at the London BLE exhibition gave a huge boost to new ideas and motivations. Overall, BLE 2022 provided the energy, emotion and confidence that prepared the team for the next steps in Licensing.
"We
had a truly remarkable number of visitors at our stand, and conducted dozens of meetings with licensing companies, with which we continue constructive dialogues," says Irina Spring, head, marketing, Blanca Pictures. "We gained tremendous experience and a greater understanding of our potential; a wonderful experience for our teamwork as we interacted with the market at large. Coordination is very important for any team, especially now, as we start on the new chapter in the life of GINJI. It's truly magical – to start with an idea, a dream and find ourselves at one of the most important global events of the year: Brand Licensing Europe in London where we were voted as the Next Big IP to follow in 2023!"
"We started working with the market before the exhibition and had zoom calls with a number of companies of the BLE platform ahead of the Expo," says Liliya Belaya, executive producer and studio co-founder, Blanca Pictures. "It's important for us that we take advantage of every day and every opportunity and that they advance the project forward. We understand that we are entering a large and competitive environment, and in the downturn of the overall global economy, we will have to work harder to make our brand both recognizable and in-demand. But this does not stop us. On the contrary, it gives more drive and courage to dive into this ocean of opportunities."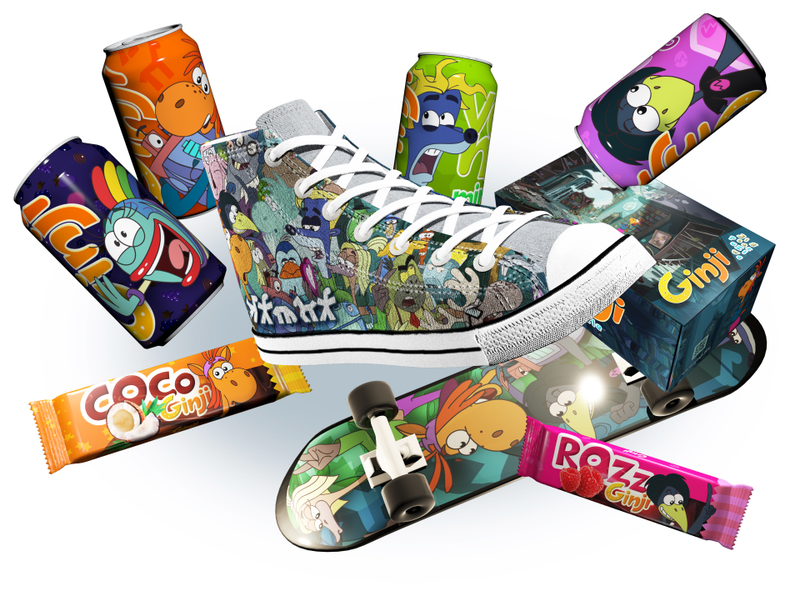 It was very important that Michael Bely, creative producer, "Ginji," who came up with the main "Ginji" character and helped co-found the studio was at BLE along with Kristina Nazarevskaia, head writer and producer, Blanca Pictures.
"For 'Ginji,' creativity and commercial aspects must be harmoniously combined, maintaining a balance and attractiveness in terms of both content and merchandise," says Belaya. "We need both a viewer and a buyer. The visual, the narrative and dialogues must reflect the current trends, themes and resonate with the viewer."
And who, if not a screenwriter, should have the best grip on this.
"We saw an almost overwhelming amount of content at BLE and a significant share was aimed at the preschool category," says Nazarevskaia. "And when we had meetings, there was an instant interest in 'Ginji.' We saw that there is a huge demand for 6+ and family content and that places the 'Ginji' project in a very advantageous position, both today and going forward. What sets us apart is that we don't limit our audience at a particular age group. Our characters, their personalities, charisma, dialogues, references, both visual and linguistic, will resonate with everyone in the family. Adults will surely appreciate the multi-layered jokes and witty comebacks."
Michael Bely carefully works with color, shapes and easter eggs that have been incorporated in many places throughout the series, sometimes via a specially designed horse-shaped alphabet.
"For licensing companies, we see huge scope and limitless opportunities for working with our brand," says Bely. "We pay very close attention to details. For BLE, we came up with a line of prototypes in every market segment: from food and drink items to apparel, tabletop games, publishing and sports merchandise. We had items for kids, teens and adults. We are all children at heart, and we felt this even more acutely during the lockdown when even adults longed for things that brought them comfort: stuffed toys, toy-shaped pillows, pajamas with animated characters. We see this trend continue its evolution, as adults happily incorporate things featuring animated characters. I'd like to specifically mention our printed prototypes. Before the series went into production, we published more than 40 comics. We also have an amazing lay-flat book featuring our sumptuous series backgrounds. The book can potentially be the foundation of a whole new series of adventures and can easily become a bestseller. We are even considering writers for this part of the project."
In an interview with License Global, the team mentioned developing partnerships with several distribution and licensing companies around the world. At the moment, the company is focused on a distribution contract with a major distributor that will be announced as soon as the partnership is finalized.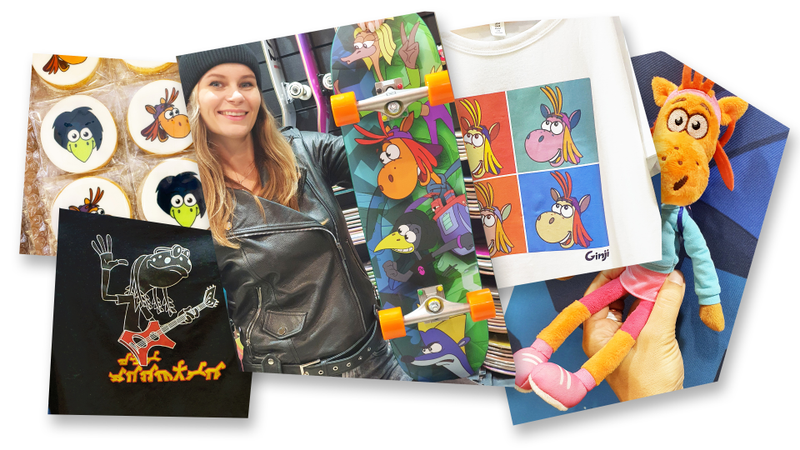 A memorable moment for the team this year is when episode 104 "Artist, Formerly Known as Varona" received the Golden Dragon Award for Best Animated Short Film at the Shanghai Film Festival. The episode was also selected for the 11th Mumbai Shorts International Film Festival-22, which will be held on Dec. 11. It also received an "honorable mention" at the Los Angeles Animation Festival, which will be held Dec. 10 and 11. The tremendous success is the result of the extraordinarily talented and accomplished series director, Slava Ushakov who brings his boundless innovation, imagination and sense of humor to every part of every frame. Slava, a gifted artist and animator in his own right, has been with the studio from the beginning. His ideas helped shape Cade City's very universe, its inhabitants as well as the first several narrative structures. Together with Craig Kellman, they created a comprehensive character vocabulary.
On the brand activation side, Vancouver's ARTSSA team announced a special "Ginji" themed ice-skating show set to all original themes and tracks. The show will take place Dec. 18 in downtown Vancouver. At the helm of the operation is Anastasia Baikov, a professional figure skating coach and choreographer. Although the details are yet to be released, it seems this one-day event will serve as the second annual show to last year's "Christmas with Ginji" performance at the Shipyard Skating Plaza.
"As we near completion of production of season 1, the studio is already hard at work on season 2," says Nazarevskaia. "Viewers can expect lots of twists and turns along way. They will also discover characters' new personality facets and storylines."
"Since this is a commercial project and we are privately funded, at the present stage of our development evolution we are always looking for ways to achieve the best possible ROI," says Belaya. "We optimize production so that quality does not suffer, and optimally direct funding to grow the brand and its market share. The task, albeit challenging is absolutely achievable. We understand one thing very clearly: without brand awareness it is impossible to work with the licensing market. Still, before the release, we are working with potential partners in this space to prepare for the grand market debut. The plan for 2023 is to have 'Ginji' be recognized and loved all over the world."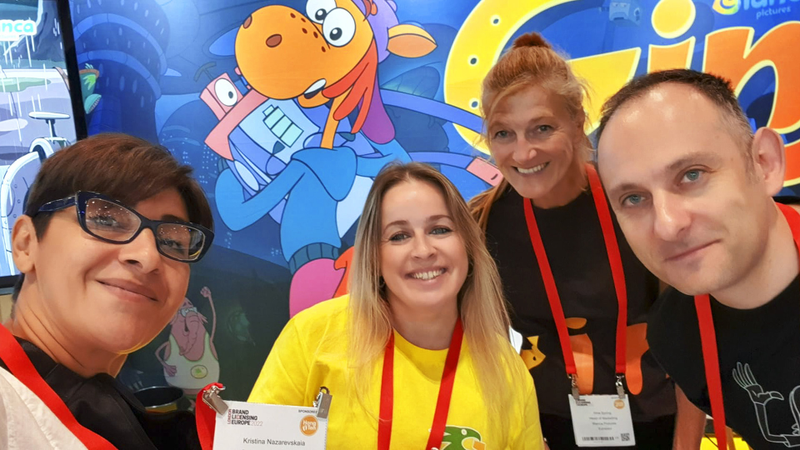 Read more about:
Subscribe and receive the latest news from the industry.
Join 62,000+ members. Yes, it's completely free.
You May Also Like
Loading..