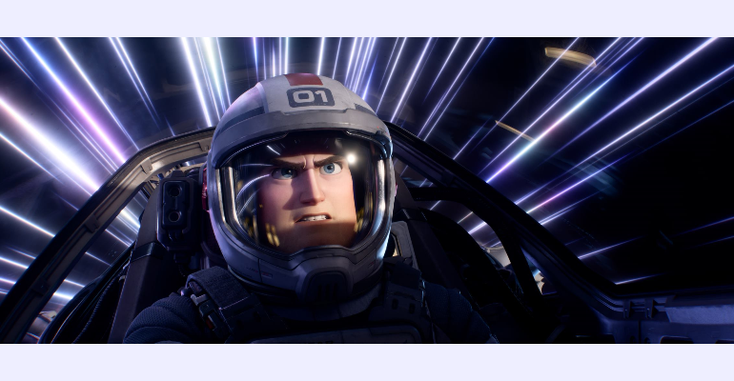 Whether parent or wide-eyed cinemagoer, all our readers will most likely remember the arrival of Buzz and Woody on the big screen. Pixar's first feature film, "Toy Story" entranced millions in 1995 and grossed more than $373 million in its opening weekend.  This heartwarming story surrounding the daily lives of toys built an empire, and the characters returned to the big screen again and again (and again), generating over $3 billion to date as a franchise (source: The Numbers), winning generations of fans young and old. After reaching global acclaim for rede-fining the animated feature film with titles such as "Monsters, Inc.," "The Incredibles," "Up" and "Soul," Pixar is bringing Buzz Lightyear—the hero who inspired the toy—to fans in the action-packed sci-fi adventure "Lightyear." "Lightyear" follows the story of Buzz Lightyear on an intergalactic adventure. Chris Evans lends his voice to the aspiring Space Ranger. Releasing in June 2022, the all-new original film is directed by Annie Award-winning director and veteran Pixar animator Angus MacLane, who co-directed 2016's "Finding Dory," and Galyn Susman ("Toy Story That Time Forgot" short) produces.  
"Lightyear" is the definitive origin story of Buzz Light-year, one of Pixar's most beloved characters," says J.D. Edwards, senior vice president, third party commercialization, Disney Consumer Products, Games and Publishing. "The film reveals how the young test pilot became the Space Ranger we all know him to be today, and the story has all the excitement, heart and humor viewers hope for." "In 'Lightyear,'" we meet the real Space Ranger and journey to infinity and beyond with him alongside a group of ambitious recruits," says Edwards. "From a brand licensing perspective, the film is incredibly toyetic, making it an exciting new property for product development. It's an action-packed sci-fi   adventure that takes place in space, complete with vehicles and high-tech gadgets. The story has created so much leverage for us to develop engaging new product offerings for consumers."  
With
the core narrative and themes of the "Toy Story" franchise surrounding the lives of sentient toys, each with a different backstory, the opportunities for consumer products and fan engagement campaigns become an exciting process of toyetic development, offering goods that engage on numerous levels for fans of all ages. The differentiating point of "Lightyear" means Disney Consumer Products can take inspiration from a new universe and more pro-found lore of the Space Ranger backstory. Disney's approach to licensed goods has built a reliable name in consumer households, not just for narrative-driven storytelling and unforgettable characters, but for bringing the on-screen moments to life through toys, apparel, lifestyle and beyond.  
"Storytelling, relentless creativity, authenticity and innovation are at the core of our product development strategy," says Edwards. "We don't force-fit products that don't feel right, and take pride in working with brands that make sense for a particular film, character or story. "Light-year" is truly one of our most exciting properties, as it will deliver fans with an opportunity to celebrate a beloved character, but with a new story and cast of characters that will come to life through the film as well as through exciting toys, play experiences and more." 
Read more about:
Subscribe and receive the latest news from the industry.
Join 62,000+ members. Yes, it's completely free.
You May Also Like
Loading..