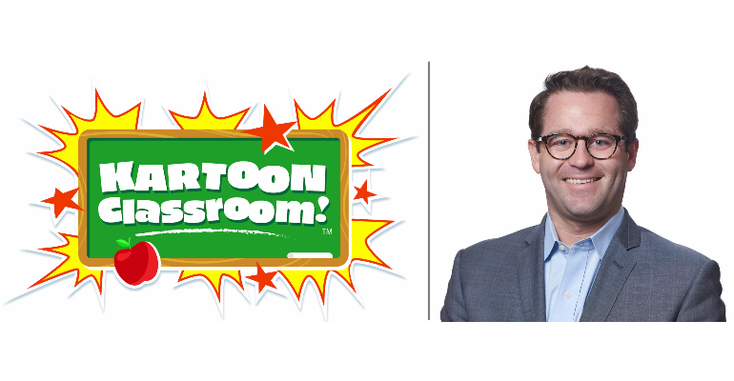 Genius Brands International has announced the launch of Kartoon Classroom!, a stand-alone segment of 
Additionally, Jon Ollwerther
has been appointed to oversee the operations of Kartoon Channel! and Kartoon Classroom! as general manager and executive vice president, global business development. Genius Brands has also brought onboard Disney veteran content and programming strategist, Lou Fazio, as a senior advisor who will collaborate with Ollwerther on the launch of Kartoon Classroom! 
"I am thrilled to take the reins of the Kartoon Channel!, which has seen incredible growth since the June 2020 launch, and work with a management team, including Margaret, David and Lou, that has unmatched experience in the kid's and family media space to create the premiere entertainment destination offering free best-in-class content, including the upcoming 2021 premiere of our new series, 'Stan Lee's Superhero Kindergarten' with Arnold Schwarzenegger and other to-be-announced original content,"
says Ollwerther. "Our announcement of Kartoon Classroom! is an example of the customer-centric thinking at Genius Brands.  Today, parents, educators and kids alike are rethinking the future of learning and development. 
With Kartoon Classroom! we are providing an answer to busy parents and curious kids.  With more and more kids engaging in at-home learning, we believe it is essential to offer shows that have educational content to enrich the viewing experience for our audience." 
Ollwerther joined Genius Brands as vice president, business development in January 2019 and has quickly risen up the ranks, most recently serving as executive vice president, global brand and business development. Prior to joining Genius Brands, he served as vice president of media at Measure, the nation's leading Drone-as-a-Service company where he was responsible for growing the arts and entertainment division. At the company, Ollwerther worked with leading media companies and advertisers such as ABC, NBC, CBS, ESPN, Red Bull Media House, BMW, Nissan, Cartier, Coach, Prada, Maker's Mark and Tom Ford. Prior to joining Measure, Ollwerther was the chief operating officer of a national drone service company based in NYC, formerly called Aerobo.  
In his new role, Ollwerther will oversee the day-to-day operations of Kartoon Channel! and Kartoon Classroom!, in collaboration with Loesch, Neuman and Fazio, he will work to bring more quality 'content with a purpose' and entertainment experiences to the channel's growing fan base.  
Fazio has built a reputation for commitment and performance in programming, acquisitions, co-productions, distribution, team leadership and launching new platforms. Since late 2018, Fazio Media Consulting has been working with production, broadcast, and digital clients to advise and collaborate on distribution, format sales, acquisition negotiation and content strategy. Fazio began his career at USA Network and SYFY channel. In addition to being a key task force member for the launch of SYFY domestically, Fazio worked with Universal Television's senior management team to launch SYFY Europe. Fazio has also held senior programming roles at Disney/ABC, Game Show Network, The Hub Network and the KCET-Link TV Media Group. During Fazio's tenure at KCET, the station enjoyed a 25 percent increase in total day and prime time viewership.
"Having worked at Disney Channel and subsequently with Margaret to help drive the growth of 'The Hub,' I am excited to once again collaborate with her, Jon, David and the Genius Brands' team to build Kartoon Channel! and Kartoon Classroom! into a top streaming platform for kids," says Fazio. "Moreover, Professor Emeritus Don Roberts, former chairman of the Stanford University School of Communications, and recognized expert on children and media, is serving as an advisor to guide the educational content in each show, which is a real benefit to the audience we serve. This is an ideal opportunity for me to utilize my years in programming and acquisitions strategy to deliver a smart, entertaining and safe viewing experience." 
Read more about:
Subscribe and receive the latest news from the industry.
Join 62,000+ members. Yes, it's completely free.
You May Also Like
Loading..