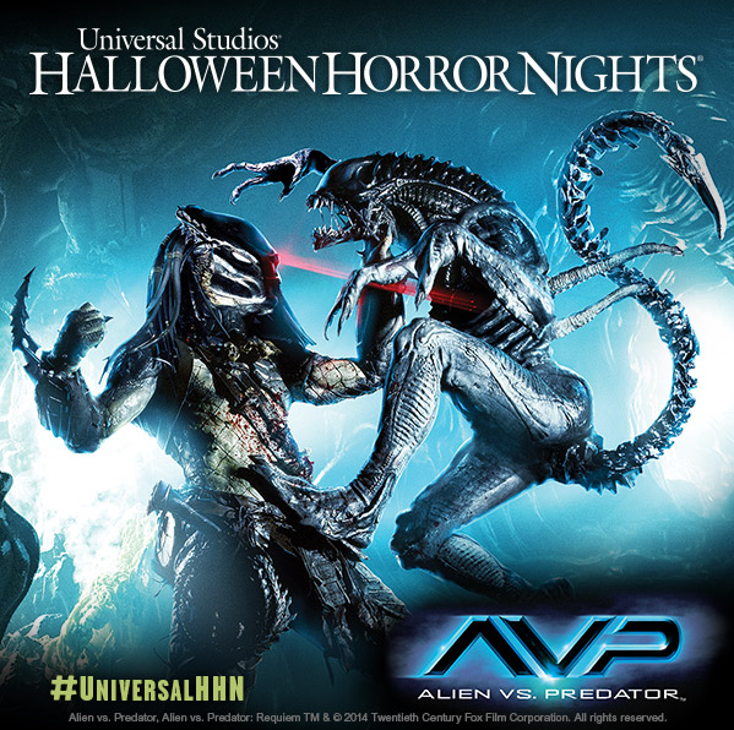 In celebration of the 35th anniversary of sci-fi movie
Alien
and the tenth anniversary of the cult film
AVP: Alien vs. Predator
, Twentieth Century Fox Consumer Products, Universal Orlando Resort and Universal Studios Hollywood have unveiled an all-new maze inspired by
AVP
, opening Sept. 19, for the parks' Halloween Horror Nights.
Guests at Universal Orlando will find themselves right into the middle of the maze, in a battle between the Aliens and Predators as they visit one of Weyland-Yutani's secret facilities to assist with a situation that has surfaced. Guests will have to navigate through the labyrinth within the facility as they try to survive the feud between these two species. 
The maze at Universal Studios Hollywood will uncover an alien spaceship carrying a race of hunter aliens known as Predators and a threatening new alien life form that uses human hosts to propagate its species. After crash-landing in a remote section of America and escaping to the countryside, the alien and predator
become hunter and prey with guests caught in the crossfire.
"The introduction of
AVP
into the immensely popular 'Halloween Horror Nights' is further proof of the indelible mark this incredibly powerful franchise has left on fans and the horror genre itself.  Bringing
AVP
to life in a new maze is a perfect way to celebrate the 10-year anniversary of the film as well as mark the 35th anniversary of
Alien
, the film that started it all, and etched in our collective psyche the meaning of modern terror," says Greg Lombardo, vice president of global live and location based entertainment at Twentieth Century Fox Consumer Products.
"
AVP
is by far the most technically complicated and ambitious maze we've ever created for Halloween Horror Nights," says John Murdy, creative director and executive producer of Halloween Horror Nights, Universal Studios Hollywood. "It's a monumental undertaking to recreate these massive, iconic characters for a live event." Academy Award winning make-up artists, Tom Woodruff and Alec Gillis from Amalgamated Dynamic, who did the special effects for the original creatures for the
AVP
film franchise, helped create the maze.
Subscribe and receive the latest news from the industry.
Join 62,000+ members. Yes, it's completely free.
You May Also Like
Loading..