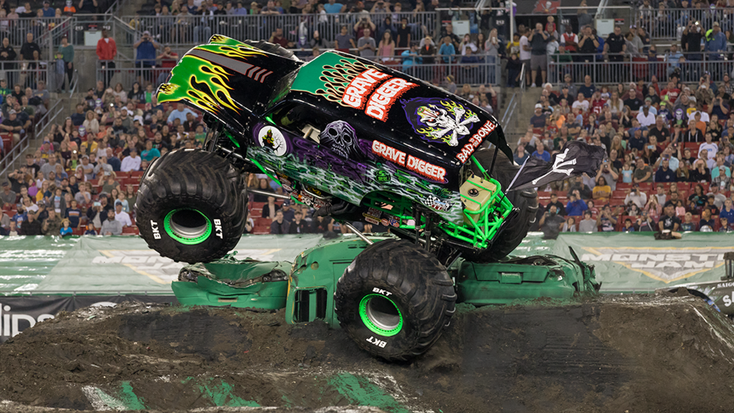 Monster Jam "Grave Digger" Monster Truck
Feld Entertainment
At A Glance
The relaunch of Ringling Brothers and Barnum & Bailey

Monster Jam, Marvel collaboration

IP that have properties within properties
From its owned brands like Ringling Bros.,
and Monster Energy AMA Supercross to licensed productions like Disney On Ice, Marvel Universe LIVE! and "Jurassic World Live Tour,"
is all about family fun. Across its portfolio, Feld Entertainment has put on productions in 80 countries across six continents. As location-based entertainment continues to come back, the company makes its way to Licensing Expo to celebrate its brands. License Global caught up with Jeff Bialosky, senior vice president, global partnerships, and Janet Krug, senior director, licensing, Feld Entertainment, to discuss the company's plans for the
show floor, its upcoming relaunch of the Ringling Bros. and Barnum & Bailey brand and more.
Attendees at Licensing Expo in 2022 probably remember Feld Entertainment's Monster Jam activation – a Grave Digger virtual reality monster truck experience. The company plans to pull out the stops again this year, focusing on its reimagined Ringling
property.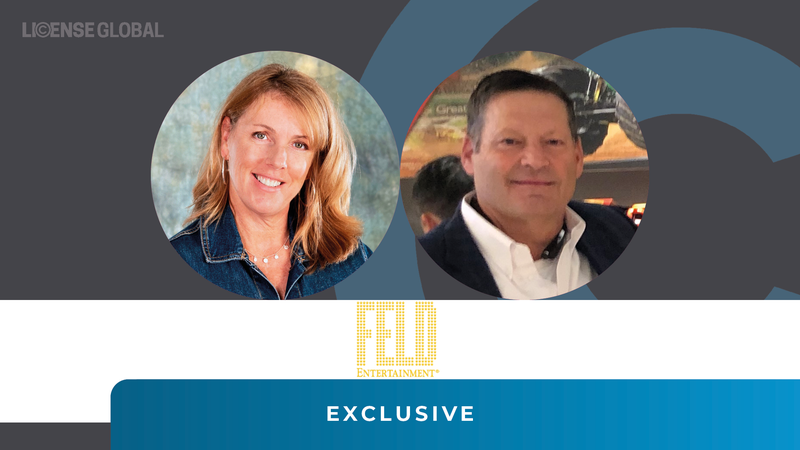 Janet Krug, Jeff Bialosky, Feld Entertainment
"We are bringing some special things with the relaunch of Ringling Brothers and Barnum & Bailey," says Bialosky. "The reimagined Ringling brand is about creating wonder, joy, fun and family connectivity, what Feld Entertainment is all about. Ringling is a brand that's been around 150 years and Feld Entertainment has owned it for over 50 years and has been stewards of continuing to evolve the brand for today's audience. We want families to play Ringling 365 days a year, just like they play Monster Jam beyond the live event. That can be through anything: through activities with the family, through coloring, juggling, exercise, and more. The idea is that you can play Ringling anywhere and the reason why we've chosen to display and talk about it at Licensing Expo. We will kick of the live arena tour officially in September with 75 performers from 18 different countries and never-before-seen acts. We're creating all-new memories for new generations to share for years to come."
"The new production is incredible," says Krug. "Children of all ages will experience new takes on traditional acts like the trapeze and high wire. There will be parts of the show that Jeff and I remember when we were kids but will also include new fresh elements that will wow and amaze fans!"
Fans of Monster Jam fear not – the brand also appears at Licensing Expo with the reveal of a collaboration with Marvel. "It'll be an interesting booth because Monster Jam is introducing a long-term collaboration with Marvel," says Bialosky. "We will have 'The Amazing Spider-Man' Marvel Monster Jam truck on display at Licensing Expo. This will be the first time anyone will get to see it before the Marvel Monster Jam trucks face off against Monster Jam fan-favorites in London on July 15. Other Marvel Monster Jam trucks that will launch this summer internationally include Thor, Iron Man and Black Panther.
Later in the year, we'll add more Marvel IP to compete internationally. The Marvel Monster Jam trucks will launch in London, then go to Frankfurt and Australia. We're furthering the Monster Jam franchise and allowing new fans of both Marvel and Monster Jam to interact with each other, which they may not have before, although we do see a lot of overlap between Marvel fans and Monster Jam fans. It is a great partnership with Marvel, which will lead to more licensed products that are cobranded Marvel Monster Jam."
The company is also leaning into the Fashion theme for Licensing Expo, highlighting Ringling, Monster Jam and Supercross.
"There's a fashion element," says Bialosky. "We are looking for interesting partnerships that are along the line of fashion and apparel, whether it's incorporated into the fashion of what our riders wear, what our trucks look like or how Ringling costumes look."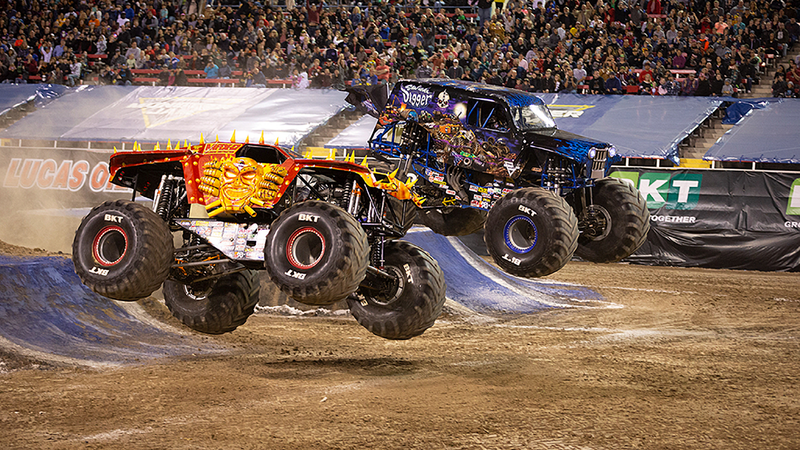 "Monster Jam Live" event, Feld Entertainment
Overall, Feld Entertainment wants to expand in multiple categories for all of its brands.
"We're envisioning an extensive licensing program for Ringling," says Krug. "We think that there's so much opportunity with that brand. We also want to continue to grow our Monster Jam and Supercross Licensing programs as there is a lot of excitement overall with all our fans.
Unlike many businesses in licensing, Feld Entertainment understands the industry from two different standpoints. Feld works as both a licensor for its brands mentioned above and as a licensee for brands like Disney (for Disney On Ice) and NBC Universal (for "Jurassic World" Live Tour).
"Behind the three properties that we actually have the rights to license, we are the licensee on others, like Disney On Ice," says Bialosky. "We design, create, manufacture and sell products at live events. We are a licensee and a licensor. We wear all these hats. It makes it easier to have conversations when you're not just trying to license your property. [This gives us the ability to] understand and know what it's like to be on the other side. We're exhibiting to communicate what opportunities we have and the scale and scope. How it can turn into revenue for potential partners, whether it's a licensing partner or sponsorship partner or an activation partner, it can help drive traffic, whether it's to an amusement park or Walmart. We have great relationships with the major retailers around the world, so it's really a communication exercise and we think we should be there, because we're a major player in the space."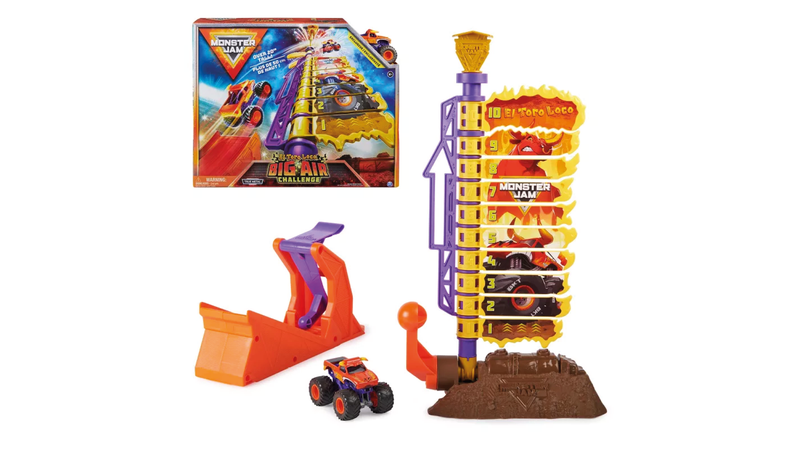 Monster Jam Big Air Challenge Playset, Spin Master, Feld Entertainment
Bialosky also emphasized how certain IP have properties within properties: for Monster Jam, there are individual trucks and drivers, and for Supercross, there are individual riders, giving licensees endless licensing opportunities.
"We have 100 different intellectual properties that our licensees can tap into," says Bialosky. "In the fashion area, that becomes part of role play. [Costumes allow you] to be a Monster Jam driver versus or a specific driver personality that drives for us. On the Supercross side, it's really about the riders first and foremost."
Feld already has some exciting brand expansions planned for the near future.
"A theme park expansion is in the cards in the very near future," says Bialosky. "We started with Thunder Alley with Monster Jam. We are in deep discussions with a global amusement park partner who wants a continuation of Monster Jam Thunder Alley and Ringling. We've created an interactive, immersive activation, just like Thunder Alley that allows fans to touch and feel the brand and interact. We also have Monster Jam animation coming out with a partner, Nelvana. We started with die-cast toys, apparel, footwear, headwear, video games, puzzles games and plush – the gamut on a true 365 lifestyle brand, for Monster Jam, and that's where we're going with Ringling." With brands like these, there's definitely a lot more to come.
Subscribe and receive the latest news from the industry.
Join 62,000+ members. Yes, it's completely free.
You May Also Like
Loading..