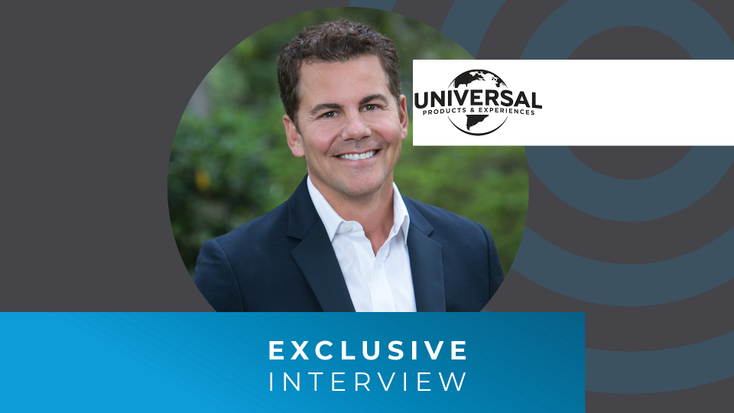 It may be almost three decades since the 1993 blockbuster "
," but NBCUniversal's dinosaur franchise remains as sharp-clawed as ever. This summer's "
Dominion" – the final installment in
and Amblin Entertainment's "Jurassic World" trilogy – brought the franchise's signature mix of action and storytelling to our screens once more, accompanied by the launch of the largest global licensing program in the history of the franchise.
Ahead of the upcoming 30th anniversary of "Jurassic Park" (2023), Vince Klaseus, president,
Universal Products and Experiences
(UP&E), NBCUniversal, talks about the success of the Jurassic World brand, and why the age of the dinosaur is far from over.   
License Global: How has the Jurassic World brand landscape made an impact on childhood memories, consumer products and the general brand landscape? 
Vince Klaseus:
The original film [1993's "Jurassic Park"] was something of a revelation in the way that it exploded into the public consciousness. It brought dinosaurs "to life" in a way that had never been done before. The storyline captured everyone's imagination – the
idea of being trapped on an island, with dinosaurs on the loose, is compelling. People really remember that magic and now new generations are experiencing it.  
Since the release of "Jurassic World" in 2015, which introduced the franchise to a new generation of fans, we've experienced an enormous surge in demand for the brand globally, and consequently, we've strategically developed our offerings across a host of areas such as gaming, animated content and live events, and achieved a greater 365 presence at retail. We continue to work closely with our toy key partners Mattel and LEGO, who consistently create fantastic toys that capture "Jurassic World's" "wow factor" and allow kids the world over to imagine their own "Jurassic World" storylines… 
What started with one movie is now so much more than a movie franchise – it's a whole world of imagination – a larger-than-life destination for exploration, discovery and epic adventure.  
How has the brand evolved over the years to become synonymous with the dinosaur phenomena that most children go through at some point in their development? 
Well, for one thing, the dinosaurs have got bigger and more spectacular. In "Jurassic World Dominion" there are more of them than ever before, which is thrilling to see on screen and in products. But it's not just about "bigger and better" – prior to 2015, the approach was very event-based, but over the years, our approach has shifted to building out an exciting eco-system for the brand – a believable yet awe-inspiring universe where dinosaurs and humans co-exist, and in which fans can truly immerse themselves.  
We've achieved this by offering almost every type of touchpoint imaginable for fans to engage with, from toys and apparel for all ages, to animated and gaming content across all platforms, immersive touring experiences and reinvigorated theme park attractions. By broadening the franchise with constantly evolving fresh content, new products and experiences that appeal to generations of fans, and adopting a 365 approach to licensing and retail, we've been able to cement "Jurassic World" as the definitive dinosaur brand. 
What lessons has UP&E learned from the evolution of 'Jurassic World' consumer products? 
It's important to keep innovating. We like to take a fan-focused approach and look at things through their eyes. How can we bring the excitement, thrills and wonder of "Jurassic World" into their homes? How can we fulfill their wishes, like being able to hold a baby dinosaur? It's resulted in some fantastic collaborations, like
WOW Stuff's RealFX Baby Blue interactive puppet
– which is incredibly life-like; and JAKKS Pacific's Air Titans "Jurassic World" Massive Attack T. Rex RC, which takes the popular inflatable costume to action and fun, putting it on wheels with a remote control! With the launch of "Dominion," we also asked our partners to push even further on how Jurassic World products are displayed at retail, enabling us to enter aisles we haven't been in before so we can continue to surprise and delight fans wherever they are.  
Another retail "extra" for fans is "Jurassic World: Beyond the Gates," an online monthly toy reveal series created by fans for the fans – in partnership with news site Jurassic Outpost and NAM retailer Target, which previews and reviews the latest collectibles from Mattel and other collectible partners. We've replicated the success of this series in Australia and New Zealand with retailer Big W.  
How is that being brought forward through new editions of 'Jurassic World' and its subsequent stories, shorts and spin-offs? 
Innovation is just as important when it comes to content and its delivery. That means using new platforms and connecting with fans where they are, which might be on streaming platforms or in the metaverse. You can watch content on the "Jurassic World" and "Jurassic World Kids" YouTube channels, enjoy spin-off stories like
"LEGO Jurassic World" animated specials
, build the ultimate dinosaur park in "Jurassic World Evolution 2" on PC or video game consoles, or play "Jurassic World Aftermath:
Part 2" on Oculus VR – they're all telling expanded stories, tailored to a particular audience and delivered in a format that suits them.   
We're also thrilled with the success of our DreamWorks animated series "Jurassic World: Camp Cretaceous" on Netflix, which has been a key driver in our performance during non-film years. LEGO and Mattel, our key toy partners, have both produced product lines based on the series, which has helped keep consumer demand high. 
Can you tell us about some of the recent licensing successes you've had for 'Dominion?' 
There have been so many this year! With "Jurassic World Dominion" we launched the largest global product program in the history of the franchise – more than 900 licensees. We're the No. 1 action figure property year-to-date, and the No. 2 entertainment property for the year. We've also achieved some "firsts" that we're extremely proud of, like the home décor range produced by Accompany, which supports women artisans in Nepal and India that's fair-trade and sustainable. We've also worked with new partners in new categories we haven't been in, such as Profusion Cosmetics (U.S.) and essence (EMEA) for beauty, Uncanny Brands for home appliances, Erin Condren for stationery and BarkBox for pet toys.  
In food and beverage, we partnered with General Mills for Trix Trax cereal and fruit snacks, and Lesser Evil for healthy snacking popcorn. There have been some fantastic apparel standouts, too –
Reebok's Jurassic Park collection
did brilliantly last year, and they've released a "Jurassic World Dominion" collection, which we're extremely excited about. And of course, I must mention Chubbies' mens' swimshorts, MeUndies loungewear and
, which features photo-realistic dinosaurs and looks amazing.   
Where do you feel the future of the 'Jurassic World' brand sits? 
"Jurassic Park" is where it all started, and it remains the cornerstone of the brand – and we'll be celebrating the film's 30th anniversary in a big way next year, capitalizing on the nostalgia and iconography that generations of fans love. Beyond that, fans can look forward to more – more toys and collectibles from Mattel, LEGO, TOMY and others, more on-trend apparel and lifestyle products, more digital and gaming content, more in-person experiences through touring shows, theme park attractions, etc. 
How is this anniversary a particularly special moment in the brand's history? 
It's a privilege to be celebrating 30 years. The fact that the brand has grown and grown – being part of pop culture, with generations of fans on a global scale – Jurassic World has really become a powerful brand. And there's so much more to come. For as long as kids and adults love dinosaurs, the Jurassic World franchise will continue to thrive.  
Universal Products & Experiences Group is now preparing for what will be a momentous year ahead for the Jurassic Park and Jurassic World brands. 
Universal is exhibiting at Brand Licensing Europe 2022. Find more info 
Read more about:
Subscribe and receive the latest news from the industry.
Join 62,000+ members. Yes, it's completely free.
You May Also Like
Loading..