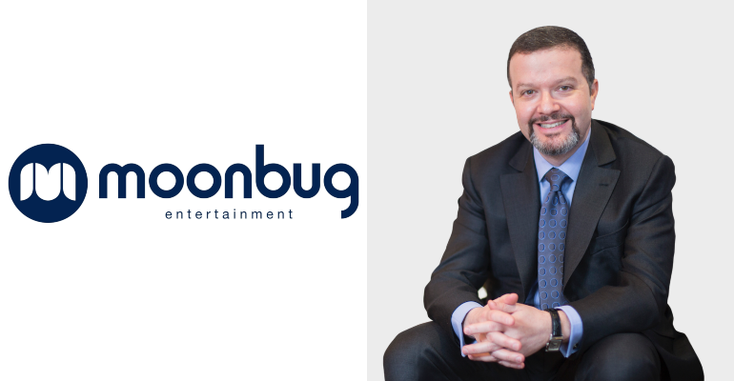 Moonbug's genesis was only 18 months ago, but it has already proven to be a powerhouse in its industry. The company recently announced toy licensees for two of its most popular properties: "Little Baby Bum" with MGA Entertainment and "Morphle" with Thinkway Toys.
As it continues to drive its licensing and merchandising, Moonbug has hired licensing industry veteran Simon Philips as senior in-house advisor. In his role, Philips will work to develop a consumer products program for its properties.
Philips's experience in the industry includes working for Disney, spearheading Marvel's consumer product line, releasing the first Olympics video game in 1990, and bringing Pokémon to the international market.
License Global
caught up with Philips along with Moonbug chief executive officer René Rechtman to discuss the budding partnerships and where they see Moonbug's licensing and merchandising program heading in the future.
License Global:
Tell us about your new role and the overall strategy for Moonbug.
Tell us about your new role and the overall strategy for Moonbug.
Philips:
When I left Disney, I left it with the intention of going out and looking at what I felt would be the next area of business to be disrupted in the licensing industry as I felt that it needed change. I was very fortunate, having done everything that I had done before, that I was afforded the luxury to take a look at what was going on and spend my time working with companies where I felt that we could make a material disruptive difference in the consumer products space.
Moonbug is becoming the biggest disruptive force within the consumer products space. After meeting René and John, the two founders, they believed that they had disrupted the licensing space as well and that the opportunities in the space were something that they really wanted to embrace and capture. I felt that Moonbug would be [at the forefront] of this space and I wanted to be a part of it.
I am what is called a 'Senior In-House Advisor' and in that capacity I'm working with the Moonbug team to help them put together what a licensing strategy looks like, working on the creation and implementation of that. I have to say from last year, when I started this journey with them, we brought on Little Tikes, part of MGA as the
master toy licensee, and we just announced the master toy licensee for "Morphle," Thinkway Toys. For a company that is only 18 months old to be able to say that it now has two of the largest, most respected global toy companies on board as licensees is a testament not just to how this industry is evolving, but how Moonbug is leading it. So, to be a part of that and to help shape that is what really attracted me to Moonbug.
LG:
You're focused on "Little Baby Bum" and "Morphle" as your first two properties to branch into the licensing and merchandising space. Where do you see these properties going, and when will you start to bring on others?
Philips:
There are currently a number of properties and franchises that Moonbug has. The two that we are focused on today are "Little Baby Bum" and "Morphle," and they are the two largest within the portfolio from Moonbug.
As we start to see the audience growing for other properties, we will start to bring on licensees to support those, but as it stands today, what we're focused on at Toy Fair, and what we'll focus on during licensing shows is "Little Baby Bum" and "Morphle."
Thinkway has just partnered with us on "Morphle" and I use 'partnering' in a very specific way. Traditional licensing has very much been "here's the style guide, we'll help you develop some toys, go off and merchandise around the story lines." At Moonbug, we approach it differently. Because we are creating content 365 days a year and we are engaging with the fans and seeing what works, we can actually partner with our licensees to make sure that the products they are developing reflect the consumption of the content. So, if the kids are watching a show and we see that there is a spike in viewership when we have a particular episode, we are able to relay that information to our licensees to enable them to come up with the product that is best representative of what the kids are watching.
More so, we are able to partner with our licensees to create content around certain moments in time, so that we can merchandise specific themes that coincide with the drop of the content. I think that ability to be so symbiotic with the product and the content is what will drive this phenomenal disruption that Moonbug is on the very forefront of.
Rechtman:
We are starting with "Little Baby Bum" and everything in that universe, and our plan is to take one property at a time, we are just doing "Morphle" now.
The "Morphle" and Thinkway partnership is just the beginning. We will be looking at the properties and their digital footprint and how many kids around the world are watching and engaging, and then we'll think it's ready. We don't try and go and do these partnerships before we think a property is ready.
We will continue like that every time we believe we have a property that's big enough to build a licensing and merchandising unit. In the future, we will probably announce a master license partner for all other categories on "Little Baby Bum" as our first step from doing more than a master toy license. Then we will eventually do the same for "Morphle." I would say most categories will be included. We expect the usual categories will be strong: beverages and food, bedding, all of these things we expect to be quite big when we talk about these kids properties.
Philips:
Over the next few months as we start to make the announcements of the licensees for both "Morphle" and "Little Baby Bum" we'll be expanding into the softlines category, into the home category, into publishing.
There is an infinite number of different product categories we can be in, but we want to be in the product categories that are the most relevant to the consumers of our content. What we will also be exploring over the coming months is how we will operate in a way that we are able to really talk to the parents of the viewers and understand the types of products that they want and make sure that we can facilitate for them the right kinds of products that their kids are after as well.
LG:
What is Moonbug looking for in potential licensees?
Philips:
It's speed. When you look at the landscape and how it's evolved over the past 10 years, five years even, it used to be in a very traditional sense that the animation would come out on television with 26 episodes, if you were lucky on season one. Everything would be a 'wait and see.' You'd take a look at how everything had done at the end of season one and then you would talk to your licensees. By the time season two started, maybe you'd be reeling in your licensees and by season three it would start, but by then, kids have lost interest in the year and a half, two years it takes.
Moonbug is further disrupting the space with 365-day-a-year content which means the kids are engaged instantly, and when they are engaged in the content, they want the product. They don't want to wait 12, 16, 18 months, they want product [quickly].
When looking at the master toy licensees we choose to partner with the companies who are phenomenally quick at what they do. It's companies that can react fast and react to trends. The same will go for companies we will work with in non-toy licensing. We are targeting companies who can embrace speed – quality and speed – so that we are able to get product into the market and into the hands of the fans in as close of a time as possible while they're watching and engaging in the content.
I'd also say a native digital understanding. The kids that are watching Moonbug content today are growing up with being digitally native and can want a product not just from a brick and mortar source but from a digital ecosystem. It's very important for us that we partner with licensees who have an understanding not just of a traditional retail space, but of the digital retail space as well. When we're looking at who are the right partners for us, we make sure that's very much at the front and center of the skillsets of the licensees.
LG:
What sets Moonbug apart in the licensing and merchandising space?
Rechtman:
I think what sets us apart not only in the licensing and merchandising area but in general is that we acquire based on data. We look at the most popular kids' IPs out there that they're engaging with on a daily basis, most often spending hours every day engaging with. Once we acquire these, we have our data team really analyze what works and doesn't work and then we improve it. We improve the quality of the narrative, the animation, and the music, we distribute, and then based on that we go into the licensing and merchandising.
It's not just a good book that kids are reading, it's content that is highly engaging that kids are looking at every single day.
That and we are producing so much content. We are producing more than 8,000 minutes of animation in one year. That is something that keeps the momentum going for the brands that we have acquired. We make them constantly relevant.
Philips:
When I got excited about Moonbug's way of doing business and the opportunity here, I did so because I saw what the future holds. What I would want retailers and licensees to understand is that somebody who's been in this industry for as long as I have – who has managed multi-billion dollar businesses – has now decided to focus his attention in this area with this company, and I do that because I believe without any hesitation that the opportunities for Moonbug and the licensees that we bring on is fantastic.
Read more about:
Subscribe and receive the latest news from the industry.
Join 62,000+ members. Yes, it's completely free.
You May Also Like
Loading..