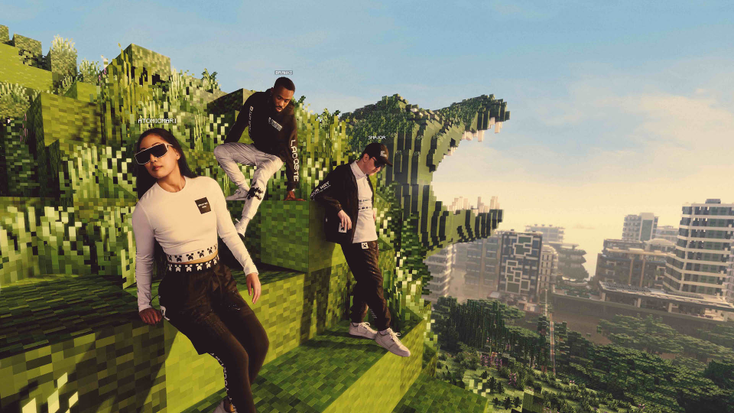 "Minecraft" x Lacoste Artwork
Minecraft
At A Glance
'Minecraft,' the freedom to create

What keeps a property fresh?

"Minecraft" Brand Expansion
"
" is the best-selling video game to date, selling more than 238 million copies across all platforms. It's played by millions of people all over the world – including Antarctica and Vatican City. From young children to older adults and everyone in between, "Minecraft" is a brand that is truly universal, something that drew Federico San Martin, global head, consumer products, Minecraft, to the task of expanding the brand's licensing program.
"'Minecraft' gives us freedom to create," says San Martin. "I love that it allows the community to craft together and to celebrate creativity. You can create anything you want in 'Minecraft.' 'Minecraft' is for everyone. The game play is very engaging, and it is easy to play. There are anecdotes that I've heard from people when I tell them that I work for 'Minecraft' of parents who play with their kids. I had the opportunity to experience that with my teenage kids where we were playing 'Minecraft' for a while. It's a beautiful brand because it really allows people to come together. We're truly a global video game. That allows us to have a bigger representation around the world, and it also is played across many platforms. When you have all the platforms, you're truly relevant, you're out there. It's very easy for people to engage with the brand. I think that's extremely important."
Because
the brand is so universal, it's also maintained its relevancy for nearly 15 years, even for those who have never played the game.
"'Minecraft' is pretty much everywhere," adds San Martin. "We have one trillion views on YouTube. That is incredible. One of the things that I experience is that a lot of people watch videos of 'Minecraft' on YouTube, and they spend more time watching those videos than playing. We have statistics on our consumer product audience [that indicates that] many of them are not actually playing the video game – they experience the brand through product [that they access] through YouTube and social media. It's incredible."
Federico San Martin, Microsoft "Minecraft."
What keeps a property fresh?
For "Minecraft," it's adding fresh elements and new options for game players and consumer product buyers alike. For example, Microsoft launched its latest game expansion of "Minecraft" called "Minecraft Legends" in April and updates the original game with new maps regularly.
""'Minecraft' does a lot of updates, and that keeps things fresh," says San Martin. "We keep the audience engaged, which is extremely important because you want to make sure that we're always there providing something new to the community. 'Legends' is an organic expansion of 'Minecraft' [that creates a] truly new game. It's 'Minecraft,' but it's a different type of play within 'Minecraft' – an expansion and extension of the brand."
The evergreen brand is exhibiting at
for the first time this year, and San Martin is excited to connect with licensees, discuss collaborations and plan "Minecraft's" 15th anniversary festivities.
"This is the first time that we're exhibiting at Licensing Expo with official dedicated space," says San Martin. "The focus of our meetings is to reconnect with our licensees. I love going to Licensing Expo because it gives you an opportunity to build and to continue building those relationships. I've been in the industry for longer than I want to admit, and I still run into people who [I've known since my] early 20s. It's always nice to reengage with licensees and with new potential licensees. At the same time, it gives an opportunity to meet potential new agents as we evaluate our expansion plans into new countries or regions. The 15th anniversary is the topic that we will be talking a lot about, and there is the movie coming up in 2025. We always welcome conversations with partners who can help us expand our business beyond our current focus areas. We're truly evaluating our international business and we're more than happy to talk to those potential agents to cover certain areas, but we must be very careful. We want to make sure that we solidify our business in the current territories that we have before we start expanding into new territories, but we're happy to entertain any conversations."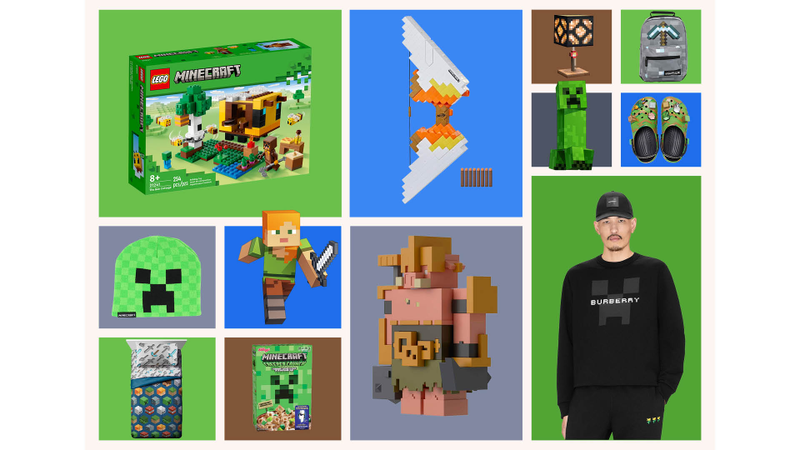 (From clockwise): "Minecraft" LEGO set, NERF x "Minecraft," "Minecraft" lamp, "Minecraft" backpack, "Minecraft" Creeper figure, "Minecraft" Crocs, "Minecraft" x Burberry, "Minecraft" figures, "Minecraft" x Kellogg's, "Minecraft" bedding, "Minecraft" beanie.
"Minecraft" Brand Expansion
Expansion is nothing new for the brand. "Minecraft" has partnered with huge IPs and licensees over the years, including
, "Star Wars,"
, "
" and more.
"'Minecraft' is an evergreen brand, with proven success as a franchise within pop culture," says San Martin. "As we partner with such great IPs, we stay true to the spirit of this beloved brand. We respect the brands while influencing them with our iconic 'Minecraft' blocky charm. We bring the best of two IPs into the world of 'Minecraft.' The licensee's target audience probably wouldn't think about going into 'Minecraft,' or a 'Minecraft' community wouldn't think about expanding into becoming fond of that brand. I see it as a win-win for us. That is why we do these types of partnerships and it all comes to life through our 'Minecraft' marketplace, where people get the characters, or the skins, or their realms or the worlds. We come together and we elevate both brands to make them extremely relevant within our community and within new communities that those licensees bring into our ecosystem."
"Minecraft" trench coat from Burberry.
Fashion is this year's Licensing Expo theme
, and these collaborations have been invaluable to the "Minecraft" team. San Martin says that fashion collabs aid in the self-expression of "Minecraft" players, giving them more of a connection to both the "Minecraft" brand and the licensee.
"It helps us excite and surprise our community," explains San Martin. "I think fashion brands are interested to partner with 'Minecraft' because we're so accessible. We have such a broad demographic and our game gives them such an opportunity to touch into a community that they couldn't with just their brand. Doing these fashion collaborations bridges the gap between the digital and the physical. We get to bring them into our digital world through an execution of physical product. With a Burberry T-shirt or Crocs shoes or a Lacoste hat, the consumers are ambassadors of the brand, and say, I play 'Minecraft' and this is how I portray myself.' That self-expression, creativity, customization, all of this is very similar to our play pattern. When you play 'Mine[1]craft,' it's all about customization, creativity, self-expression or whatever you want to build. There are a lot of similarities as you talk fashion and as you talk 'Minecraft,' so they come together in a perfect alignment. The results speak for themselves, like the PUMA collaboration or Burberry, Lacoste and Crocs [programs]. We're working on a few more for our 15th anniversary as well."
As for overall brand licensing strategy at Expo and beyond, San Martin stepped in two years ago and worked with his team to expand the "Minecraft" brand. Thus far, the brand's licensed product business has doubled, growing into a multitude of categories.
"This has been a true team effort," says San Martin. "The support I received from the studio [and wider organization] has been amazing. The first things that I did when I joined was take a little bit of time to assess the business and then clearly delineate U.S. versus international business. This helped us to be more focused and strategic as we evaluated partners and opportunities. That helped us to accelerate our growth. At the same time, we identified our white space – the categories that were out there that we were not capitalizing on.
"We [wrote a] strategy, and the strategy was based on revenue, on awareness and on our community's input. Before I started, we had certain partnerships, but the food and beverage category was not truly well developed. We're working on that. The health and beauty category was not well developed just yet. We're working on that. There are a lot of collectibles, consumer electronics, a lot of categories that we are developing and we will be developing very soon."
A sneak peak of those partnerships in the works include American Greetings, Bioworld, Crunchpak, Dynacraft, Bladez Toys, Procos, L Founders, Andromeda and Crayola.
"We are very excited and there are a lot of things cooking," adds San Martin. "The studio will be celebrating, and we in consumer products are already planning some brand collaborations. We're excited to talk to retail and we'll be having some commemorative product when it comes to some of the product executions. There's more to come. None of this would have been possible without the support of the team. The partnerships that we have with our agencies [including]
and
, and at the end of the day, the licensee – I know that without them we wouldn't be able to be where we are right now. We have worked together to create is a truly evergreen franchise. I think it's extremely important to be thankful to my team, the studio, the licensees and our agents, because thanks to all of them, we have what we call today, Minecraft Consumer products."
Federico San Martin, head, consumer products, "Minecraft," and Matias Infante, vice president, brand partnerships, collaborations and licensing, Crocs, will discuss their journeys in brand development, approach to licensing partnerships and the licensing program they launched together.
Watch:
Federico San Martin, head, consumer products, Minecraft, talks about the hit video game and its consumer product success at Licensing Expo.
Read more about:
Subscribe and receive the latest news from the industry.
Join 62,000+ members. Yes, it's completely free.
You May Also Like
Loading..