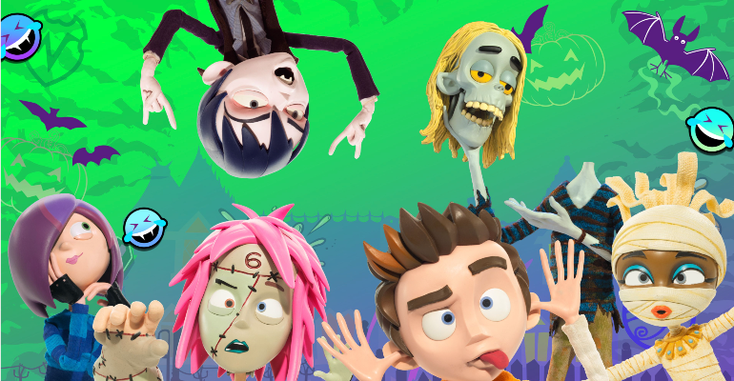 International rights owner, Coolabi Group and its stop-motion animation, "Scream Street," based on the book series of the same name by Tommy Donbavand, are celebrating the launch of season 2 on CBBC and BBC iPlayer, with a hybrid campaign of brand activations, promotional partnerships and brand extensions for the comedy this October. 
The campaign takes in a new Roblox game, new promotional partnership with Frankie & Benny's and Deliveroo, a partnership with entertainment company, Comedy Club 4 Kids, media partnerships with kids' titles MEGA Magazine and Girl Talk, the release of new "Spooktacular Joke Book" from Walker Books, a live experience at Alton Towers and the return of the "Halloween at Home" party pack available free to all families, via the CBBC and "Scream Street" websites. 
The first brand extension for "Scream Street" is on Roblox, which has a global reach of more than 115 million monthly players.  After successfully launching "Escape Scream Street" on Roblox last year, establishing
the "Scream Street" brand on the platform and engaging with the platform's vast audience, a new Roblox experience called "Scream Street Playground" launched on the platform Oct. 22. 
"Scream Street Playground" is a playground-like game which will allow players to visit various locations in the town with friends starting with Resus Negative's house. At launch, players can play two themed games – "Candy Smash" and "Masks" – with more mini games added over time as the town is expanded. 
A promotional partnership with family restaurant Frankie & Benny's has also been announced. The initiative, which launched earlier this month, will see "Scream Street" activity sheets distributed to families in all their restaurants in the U.K. It features a competition prize for a free family theme park visit, with prizes of "Scream Street" books for runners up. The partnership will also form part of Frankie & Benny's Halloween meal with Deliveroo, a "Scream Street"-themed food offering for the Halloween school holidays and will run until Nov.16. 
Coolabi Group, Comedy Club 4 Kids and MEGA Magazine have also co-produced a video series about stand-up comedy for kids on MEGA's official YouTube channel. The four-part series called "Screaming with Laughter," launched this week and features a rib-tickling crash course on how kids can kick-start their comedy careers. Episode topics include "How to Be A Fangtastic Comedian," "How To Write Spooktacular Jokes," "Doing A Dead Good Performance" and "Scary Stage Fright." 
Coolabi and Comedy Club 4 Kids brought their partnership to life with an in-person family series launch and kids' stand-up comedy event on Oct. 23. The event also marked the release of the "Scream Street's" new "Spooktacular Joke Book" from Walker Books, which came out earlier this month and features more than two-hundred jokes about vampires, zombies, witches and all of the scarily funny characters from "Scream Street." 
Continuing a successful partnership with Girl Talk, established in 2020, Coolabi Group has teamed up with the media title once again to co-produce content for the magazine's YouTube channel, Girl Talk World. This Halloween, 13-year-old chef Sienna Cecco, a specialist in Italian cuisine, will cook up a "Scream Street"-themed cook-along dish.  
In addition, the Scream Street costume characters will make an appearance at Alton Towers from now until Nov. 12 for daily in-park meet and greets and an interactive dance challenge experience, where visitors can learn the moves to the "Scream Street" theme tune.  
The celebrations continue with the return of the free downloadable "Scream Street Halloween at Home" party pack, which launched last year. The newly updated pack will be available to download on the "Scream Street" and CBBC website and is filled with activities, from "Scream Street" character masks and puzzles to cupcake toppers, decorative tent cards and monster-making crafts. 
"Scream Street" is on CBBC now. 
"We are completely delighted to be launching the much-anticipated new series of 'Scream Street' on CBBC and iPlayer this Halloween," says Michael Dee, director, content, Coolabi Group. "It's a fun and engaging brand, which is evidenced in the range of partnerships and promotions we have delivered to amplify the launch and bring Halloween fun to families across the U.K." 
Read more about:
Subscribe and receive the latest news from the industry.
Join 62,000+ members. Yes, it's completely free.
You May Also Like
Loading..