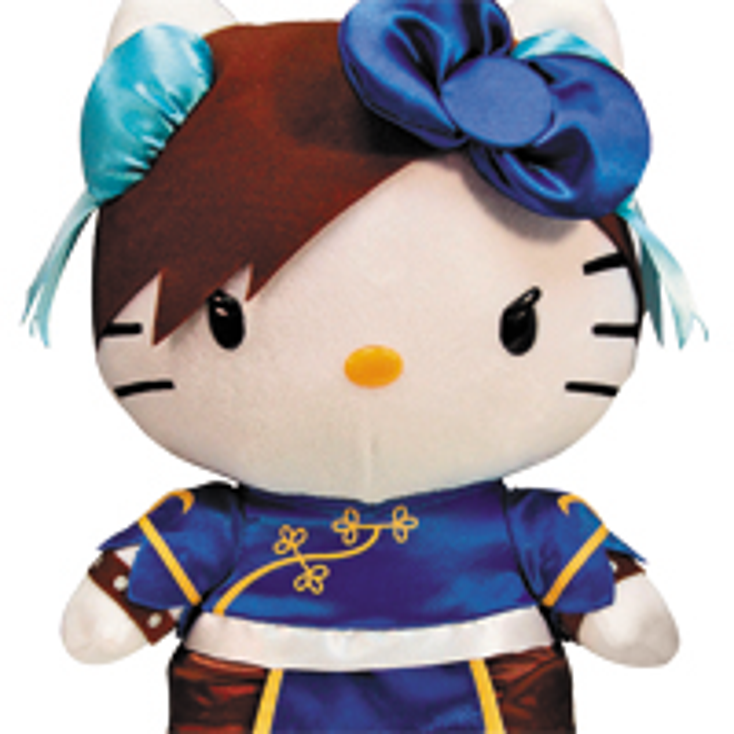 From Peanuts' golden Snoopy to Cartoon Network's ConQuest, San Diego Comic-Con, held July 18-21, serves as a testing ground for properties, a strong market for limited edition products and a place to experience entertaining activations.
San Diego's Comic-Con International has evolved over its 40-plus year history to become more than just a comic book inspired fan event. What started as a "minicon" headquartered in a small hotel ballroom with just 100 attendees in March of 1970 has now evolved into a four-day city-wide extravaganza, with participants exceeding 130,000.
It has also evolved beyond its initial comic-centric focus to encompass all things pop culture–from beloved television shows with a "geek" twist (think perennial favorites like "Star Trek" and "Battlestar Galactica," as well as new hits like "The Big Bang Theory," "The Walking Dead" and "Dexter"), to blockbuster movie franchises based in comic lore, nostalgic toy properties and more. Roaming the crammed halls of San Diego Convention
Center were attendees costumed as their favorite video game hero, comic legend or pop culture character, while the meeting rooms were teeming with celebrity panels unveiling crucial plot points, discussing roles and meeting with the fans who fund their careers face-to-face.
Comic-Con is now more than just a place to find out-of-print comics and to celebrate the art of the book, it's a place to collect exclusives and live out experiences. San Diego's Gaslamp district transforms itself over the week of Comic-Con into a geek wonderland, with property activations on virtually every street corner and in every business outlet. You can't pass a restaurant, art gallery or retail establishment that isn't wrapped in some pop culture logo or buzzing with some sort of activity. And thus, it's also a hotbed of licensed products–limited-edition collectibles that are meant for the die-hard fan–and a prime touchpoint for licensors and licensees to connect with customers.
"Comic-Con is a fantastic way for our established brands to get to our fanbase and to open a dialogue and see how passionate they are for our brands and characters," says Pete Yoder, vice president, U.S. consumer products, Cartoon Network Enterprises. "Comic-Con is also a great way to see what the trends are. The attendees are in a lot of ways the trendsetters. They are blogging and getting the word out."
The exclusives offered at Comic-Con, which you can argue are the "ultimate prize" of Comic-Con, are the reward for loyal customers, and often times are based off of fan favorite story lines or characters that are not necessarily primary themes appropriate for a wide product launch at mass.
"We offer a limited amount of exclusives as a way to give a shout out and recognize the fans that are at Comic-Con–almost like a badge of honor," continues Yoder. "For us at CNE, it ties to our overall strategy of letting these fans know that we are listening and that they are extremely important and valuable."
For CNE, much of the Comic-Con experience this year centered on its hit animated series "Adventure Time." For this, CNE organized a "ConQuest," which took attendees around to several points on and off the show floor where fans could both visit CNE consumer products and participate in a live scavenger hunt. Some of the exclusives and newly launched product fans found along the way included Abram's
Adventure Time Encyclopedia
; D3Publisher's first-ever console video game, "Adventure Time: Explore the Dungeon Because I DON'T KNOW!;" Entertainment Earth's tin tote gift set convention exclusive that contained a travel mug and four coasters in a collectible tin; Funko's collection of Adventure Time Pop! vinyl figures; Mimoco's full line of Adventure Time USB flash drives; Rubie's Costume Company's Adventure Time-themed costumes for fans of all ages; and Penguin Group's line of
Mad Libs Adventure Time
books, among many others.
Marvel also agrees that Comic-Con is a good indicator of the general market and a feasible test for new properties at retail.
"Comic-Con is certainly an early indicator for new properties," says Paul Gitter, senior vice president, consumer products, Marvel. "Many licensees and retailers are in attendance to see what the fans respond to. A strong showing for a new property or character may mean large merchandise programs and additional placements at retail, so Comic-Con is important to us."
For Marvel, its emphasis at the show centered on its upcoming films
Thor: The Dark World
and
Captain America 2: The Winter Soldier
, as well as its television series "Agents of S.H.I.E.L.D." The Marvel booth, the center of its activity, housed a limited edition merchandise shop, and its key licensees such as Hasbro, LEGO, Sideshow Collectibles, NECA, Funko and Kid Robot each had sizable product on offer as well, including exclusives. Merchandise included character themed tumblers, Marvel's Agents of S.H.I.E.L.D. t-shirts, special edition Avengers t-shirts, Spider-Man and Rocket Raccoon (from the forthcoming
Guardians of the Galaxy
film) iPhone cases and exclusives such as Hasbro's Marvel Legends special edition Thunderbolts collector pack, Huckleberry's Iron Man 3 Chara-Bricks vinyl, Funko's metallic Deadpool POP! bobblehead and Diamond Select's Marvel minimates Wolverine saga box set.
Disney's big news heading into Comic-Con was the renewal of its collaboration with Rovio Entertainment for the highly successful Angry Birds Star Wars franchise. "Angry Birds Star Wars II" will launch in app stores Sept. 19 and follows the story of the three prequel
Star Wars
films, including the introduction of never-before-seen Angry Birds Star Wars characters. In a cheeky twist, players may also choose to "join the Pork Side" and play as a villainous pig. In support of the new game, Hasbro unveiled its Telepods collectibles line, which brings an additional interactive component to the gameplay.
For Star Wars, Petco also previewed its extensive range of pet products that give even the furriest of fans access to "the Force." The range includes everything from pet beds and dog and cat toys to costumes and collars. The line will hit Petco stores Sept. 1.
Warner Bros. made an impression with attendees by sponsoring the show bag, complete with cape attachment, the better to house all of the exclusives from Warner Bros. Consumer Products in. Product at Comic-Con included DC Super Powers Riddler and Superman exclusives from [email protected], a The Big Bang Theory 8-inch figure from Bif Bang Pow!, a Man of Steel keepsake from Hallmark, Thundercats series four minimates from Icon Heroes, a Friday the 13th 7-inch figure from NECA, Super Alloy Batman by Jim Lee and Justice League figures from Play Imaginative, a Batman variant suit from Square Enix in addition to a host of Mattel, Mezco Toyz and Monogram product, among others. Rubie's Costume Co. also featured its official costumes and accessories inspired by the summer cinema hit,
Man of Steel
.
Warner Bros. also hosted Lawn Con outside of SDCC, which provided a family-friendly (and free) getaway for visitors that featured an assortment of characters and replicas from Warner Bros. Animation, DC Entertainment, WBCP and Warner Bros. Pictures.
CBS Consumer Products debuted a new twist on the Star Trek final frontier with the Star Trek Skele-Treks universe inspired by Mexican culture and traditions in conjunction with the Mexico-based Maya Studio and Spanish artist Javi Molner. CBSCP used Comic-Con to unveil the first products from the range, including a collection from NECA that includes apparel, accessories, figures, plush and more.
2013 is a big year for BBC's Doctor Who property, as it celebrates 50 years. In honor of the anniversary, the BBC America shop offered several character exclusives including the Doctor Who 10th Doctor tuxedo vinyl, a 50th anniversary sonic screwdriver universal remote control, a Doctor Who Ace figure, an anniversary ID holder, an anniversary t-shirt and more.
Saban also unleashed a host of exclusive merchandise, premium giveaways and a "powered up" presence at its partner booths in support of its Power Rangers property, which celebrates its 20th anniversary this year. Bandai America featured limited edition legacy products based on the original "Mighty Morphin Power Rangers" series along with a special tribute to the brand, Funko highlighted limited edition white Glow Rangers, while other licensees including Mega Brands, Papercutz, Acme Archives, The Bridge Direct, USAopoly and more featured exclusives and product as well.
Hasbro hit the Comic-Con show floor with product representation for its properties including My Little Pony, Nerf, G.I. Joe and Transformers. It also unveiled an expansion for its Kre-O construction brand to include Dungeons & Dragons, the fantasy entertainment brand from Wizards of the Coast. Available at the Hasbro booth were special edition Kre-O Dungeons & Dragons posters as well as early Kreon models, alongside its Kre-O Cityville Invasion, Kre-O Star Trek, Kre-O Transformers and Kre-O G.I. Joe lines.
Exclusives from Twentieth Century Fox were many and featured its hit properties The Simpsons, Family Guy, Alien, Futurama, Ice Age, The A-Team, American Horror Story and many more. Licensees such as Acme, Mattel, Funko, Kidrobot, Toynami, NECA, Super 7, Think Geek, IDW, Quantum Mechanix and Breygent Marketing each offered exclusives within their booths.
Konami's exclusives included Metal Gear Solid iPhone 5 cases and a t-shirt, Silent Hill Bubblehead nurse and Pyramid Thing figures from Toymunkey, a Metal Gear Rising: Revengence blue Raiden figure and more, alongside its hit Yu-Gi-Oh! trading card game and exclusive double game mat and token card.
Peanuts Worldwide unveiled its exclusive Schleich collectible gold Snoopy figure in conjunction with the announcement of its partnership with the toy maker for a range of plastic figures, play sets, vehicles and accessories.
Sanrio and Uglydoll paired up for a co-branded collaboration, which the companies officially debuted at Comic-Con. On the show floor, Uglydoll also offered limited edition plush by Gund, vinyl figures by Funko, t-shirts by Mighty Fine, iPhone cases by Uncommon and a collectible pin set by PinUSA.
Hello Kitty also made its first official appearance at Comic-Con in the Interactive Zone at Petco Park with the Hello Kitty Fashion Music Wonderland exhibit. The fan experience allowed fans a look at the Tokyo, Japan-inspired product range that places Hello Kitty at the center of Japanese pop culture. The retail shop offered a range of limited edition Japanimation-themed collectible Hello Kitty items, including comics, plush, stationery and more.
Lastly, but certainly not least, HBO unveiled exclusive new Game of Thrones merchandise from several of its licensees. Funko, perhaps in the most accurate portrayal yet, displayed a Comic-Con exclusive Pop! Ned Stark figurine, complete with a detachable head that pays homage to the series. Other product includes Dark Horse Game of Thrones figures, plush from Factory Entertainment and a pop-up guide to Westeros, as well as a 4D puzzle map of the fantasy world.
Subscribe and receive the latest news from the industry.
Join 62,000+ members. Yes, it's completely free.
You May Also Like
Loading..