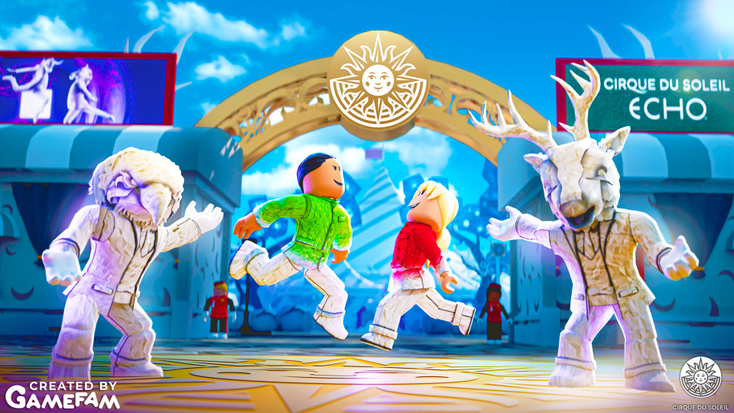 Cirque du Soleil entrance gate on 'Roblox'
Gamefam
Cirque du Soleil Entertainment Group
has announced expansion plans that will deliver a new immersive experience in a partnership with Cosm, and Cirque du Soleil's first immersive experience on "
," in collaboration with Gamefam.
Immersive technology, media and entertainment company, Cosm, will produce and present a new way to experience Cirque du Soleil at its venues, the first of which will open in Los Angeles in spring 2024.
Cosm's venues utilize compound curved LED technology to create a "shared reality" experience that bridges the virtual and physical worlds, all with corresponding sights and sounds.
"From our research we know our fans are seeking immersive, emotionally fulfilling experiences featuring creative storytelling through innovative formats that ignite the imagination and foster human connection," says Sébastien Ouimet, head, filmed and immersive entertainment, Cirque du Soleil Entertainment Group. "This partnership with Cosm will allow us to once again push production and
technology boundaries to seamlessly blend virtual and physical worlds and cultivate our connection with fans beyond the stage.''
The immersive experience supports Cirque du Soleil's goal to diversify its offerings beyond live shows by expanding its portfolio across gaming, premium content, filmed and immersive entertainment, as well as an increased emphasis on licensing and merchandising.
"Cirque du Soleil has established itself time and time again as a category-defining entertainment genre," says Neil Carty, vice president, head, Cosm Studios, Cosm. "Its combination of live theater, circus arts and immersive storytelling has captivated audiences around the world. We're excited for this partnership to bring an iconic Cirque performance to our venues in shared reality."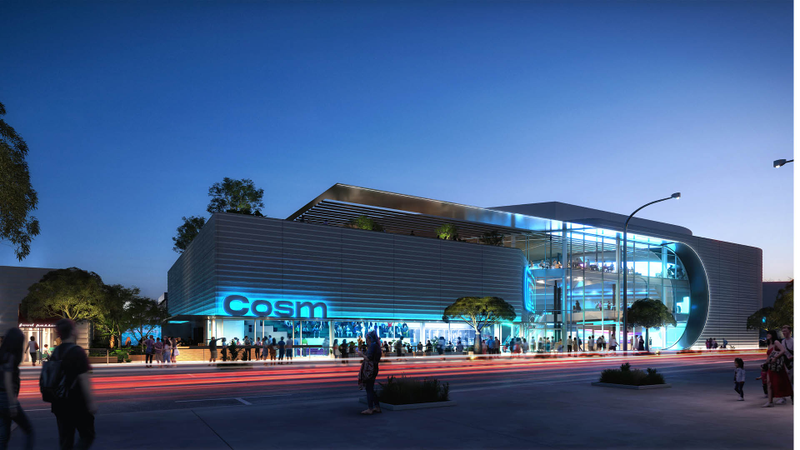 Cosm venue where Cirque du Soleil immersive experience will take place.
"Cirque du Soleil Tycoon" Immersive World on "Roblox"
Cirque du Soleil Entertainment Group has also announced it has joined forces with metaverse game developer, Gamefam, to create a Cirque du Soleil immersive experience on "Roblox." In "Cirque du Soleil Tycoon," users can build their own Cirque du Soleil universe filled with performers, artists, sell-out crowds and some of the most visually stunning performances in the metaverse.
Community members will have the chance to build and manage their own Big Top performance, try their skills in interactive challenges and mini-games, hire acrobats and set the stage to create their own custom Cirque du Soleil site. Inspired by Cirque du Soleil's touring show, "ECHO," which explores the relationship between humans and nature, the experience incorporates Cirque du Soleil details and brings existing and new fans together for a behind-the-scenes look at how Cirque du Soleil productions work. "Roblox" community members will also have access to unique virtual items, such as animal head masks inspired by ECHO costumes, allowing them to customize their avatar and express their creativity in Cirque du Soleil fashion.
"'Cirque du Soleil Tycoon' will channel the influence of global online platform, 'Roblox,' for immersive shared experiences and harness Cirque du Soleil's high-end entertainment expertise, creative DNA and multi-generational fanbase," says Ouimet. "To launch Cirque du Soleil's first-ever digital experience on a major immersive platform like 'Roblox' made a lot of sense for us – just like the story of 'ECHO,' which centers around connection, 'Roblox' is all about bringing people together, and in this case, also enabling us to offer a coveted behind-the-scenes experience to millions of fans at once, sans distance or other physical limitations."
"With the creation of Cirque du Soleil Tycoon, we underscore the increasing importance of widening our portfolio of brand experiences across 3D immersive and filmed entertainment, premium content, gaming and beyond," says Nickole Tara, chief growth officer, Cirque du Soleil Entertainment Group.
"It has been a privilege to bring one of the world's most admired and magical attractions to 'Roblox' and invite the community to experience Cirque du Soleil beyond the physical big top," says Ricardo Briceno, chief business officer, Gamefam. "'Cirque du Soleil Tycoon' serves as yet another great example of how beloved
and engage new fans right where they are spending time each and every day."
Read more about:
Subscribe and receive the latest news from the industry.
Join 62,000+ members. Yes, it's completely free.
You May Also Like
Loading..