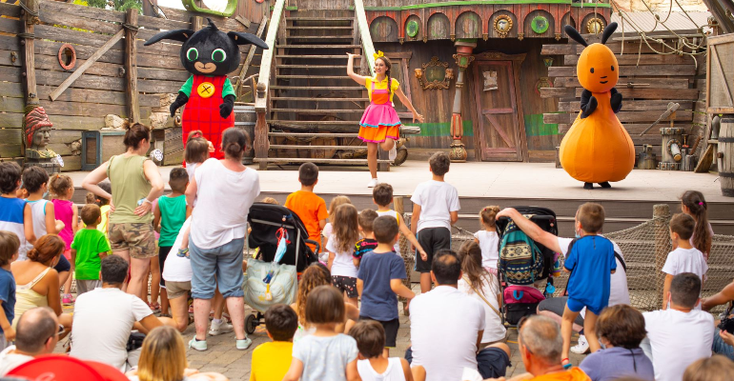 The world is opening up again and people are more than ready to get out into it. Many brands are geared up to welcome people into new, existing or updated location-based experiences all around the globe. 
"While COVID has not gone away, there is a sense of quiet optimism in the location-based experience industry and increased confidence among families as in-person events return to everyday life," says Kirsty Southgate, director of experiential and promotions, Acamar Films. "Now more than ever, it's clear people value physical experiences and days out with friends and family. With 'Bing,' we are seeing a high demand for events and experiences across our key territories with sellout theater shows and weekly meet and greets. We are working to make such events available to our audience so they can continue to create unforgettable moments with their loved ones. We are excited to see the LBE industry bounce back as these positive trends continue." 
Acamar Films teamed up with leading Dutch theater
production company, Trend Media, to bring "Bing" to life on stage with "Bing is Jaring" ("Bing's Birthday"), which had its soft launch performances in the Netherlands last October with more shows scheduled this spring.  
Italian theme park, Leolandia, currently has a popular Bing and Flop mini show and meet and greet and will open a "Bing"-themed attraction in 2024. 
Discovery and Korean interaction and experience design firm Radical recently announced a new indoor nature park, Discovery Naturescape, in Lakmon, Dongtan Lake Park, South Korea. The indoor attraction will bring to life earth's natural wonders – spanning deserts, forests, glaciers, canyons and volcanoes – through a series of immersive exhibitions and virtual installations. Opening for a limited-capacity preview this month, the expansive park marks a new concept in the domestic market.  
Dr. Seuss continues to delight attendees throughout North America. Dr. Seuss Enterprises launched The Dr. Seuss Experience with Kilburn Live in 2019. The immersive attraction brings Dr. Seuss books, quotes, characters and art to life in a new, interactive way that can be enjoyed by kids and adults alike. The exhibit kicked off in 2019 in Toronto, with additional experiences in Houston and Chicago in 2021, which were met with unprecedented success and near constant sellouts. The Dr. Seuss Experience's next opening date is March 24 in Denver. Dr. Seuss Enterprises also partnered with Kilburn and select malls throughout the country for a "Grinch's Grotto" experience in 2020. This was an imaginative take on holiday photo shoots that gave guests the ability to show off in a fun way a bit of their grumpiness during the holidays and take family photos with The Grinch.   
"The Very Hungry Caterpillar" will be part of an interactive Easter adventure this April. The new family adventure will feature Eric Carle's book brought to life with interactive installations. "The Very Hungry Caterpillar" experience takes place at Kew Gardens and Wakehurst, Kew's wild botanic garden in Sussex. Both installations open April 2 with the Kew Gardens installation running through April 18 and the event at Wakehurst running through April 24. 
Location-Based Experiences are the theme for this year's Licensing Expo, May 23-24 in Las Vegas. Register 
. 
Read more about:
Subscribe and receive the latest news from the industry.
Join 62,000+ members. Yes, it's completely free.
You May Also Like
Loading..