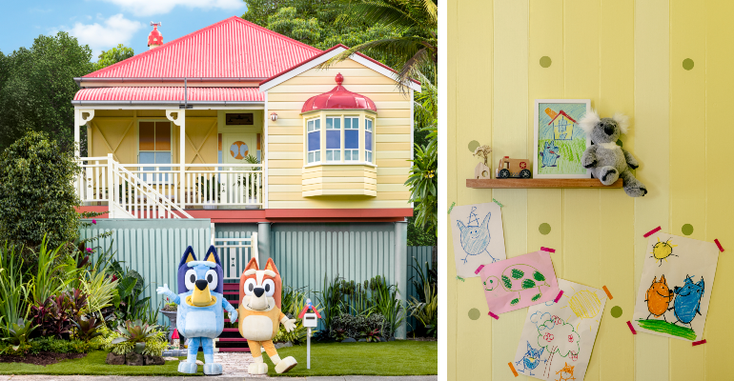 The Heeler family home from Australian kids' show, "Bluey," is being listed on Airbnb in Brisbane, Queensland. Airbnb has partnered with BBC Studios, co-commissioner and global distributor of "Bluey," on this experience.  
"The Heeler house is almost a character in its own right," says Madeleine Jelfs, "Bluey" senior marketing manager, BBC Studios Australia and New Zealand. "We've been amazed at the outpouring of love the fans have shown for this iconic setting, and for all the beautiful Queensland locations the crew have so lovingly included across the three series. Bringing Bluey's backdrop to life in such an ingenious and colorful way for our fans has been an absolute delight."  
The house has been entirely customized to bring the cartoon experience to life, featuring details "Bluey" fans will recognize from the Heeler family home in the show.   
From the moment guests step on to the front lawn, they'll be transported to Bluey's world as they spot touches like the red letterbox, bone-shaped
chimney and bay window.  
Kids can stay overnight in Bluey and Bingo's bedroom and parents can retreat to Bandit and Chilli's master bedroom. 
The backyard includes a BBQ, kid-sized trampoline, Grannies' car, custom toadstool seats and dog garden gnomes. Snacks can be found in the fully stocked fridge, including Bandit's duck cake.  
The weekend getaway includes:  
- Exclusive behind-the-scenes tour of the Ludo Studio, where Bluey is created 
- Chinese takeaway feast in the backyard  
- Afternoon decorating the Heelers' duck cake 
- Puppet-making craft session featuring Bluey's Bob Bilby character (a local Aussie marsupial) 
The two-night stay, sleeping two adults and two children, will take place from Feb. 18 to Feb. 20. All guests must be residents of Australia. 
For those who miss out on the stay or are located outside Australia, an online experience hosted by one of the "Bluey" composers, Jazz D'Arcy, part of the team behind the music in the series, along with Brisbane-based children's choreographer, Cherie Lange, will be available for kids and their parents; 10 spots will be available to book in each of three time zones (Australia, U.S. and U.K.). Hosted live from Bluey's house, the fully interactive online workshop features Jazz and Cherie recreating some of the songs and dance moves from the show. 
"Like many parents with young children, I've been captivated by the adventures of Bluey and her family, which bring so much joy and quintessential Aussie humor to audiences across the globe," says Susan Wheeldon, country manager, Australia and New Zealand, Airbnb. "We're delighted to add Bluey, Bingo, Chilli and Bandit to our growing community of Airbnb Hosts. And while we have some incredible homes on Airbnb, there will be nothing quite like waking up in the Heeler house and getting to live and breathe in Bluey's magical world for one wondrous weekend." 
Bookings are available on a first-come, first-served basis. "Bluey" fans can request to book a stay on Feb. 15 at 8 a.m. AEDT at Airbnb.com/bluey. To request to book, guests must have a verified Airbnb profile, a history of positive reviews and be aged 18+.  
Subscribe and receive the latest news from the industry.
Join 62,000+ members. Yes, it's completely free.
You May Also Like
Loading..