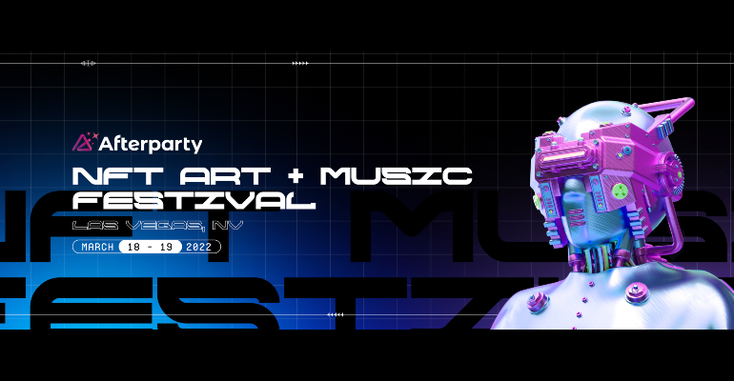 Afterparty, a technology company, has announced its NFT-gated art and music festival on March 18-19, at the Las Vegas immersive entertainment venue, AREA15. The Afterparty NFT Art and Musical Festival will include NFT artists, musicians, creators and collectors for a live experience focused on the NFT art movement. The event is produced in partnership with former Life is Beautiful partner, Ryan Doherty, and former Kaaboo senior executive, Chris Racan, with NFT artists, Nate Mohler and Alec Maassen, as creative directors. 
"Digital art is just the beginning of how profound NFTs will be for the creator economy," says David Fields, chief executive officer and founder, Afterparty. "Afterparty's NFTs serve as verifiable digital assets that give owners a membership to experience exclusive events and the vibrant community that is Afterparty – the festival brings all of this to life. We believe NFT art deserves its own celebration, to be front and center as the main event. Whether you're an emerging artist, Grammy-winning musician, new to crypto or a veteran collector, Afterparty welcomes you to one of the most creative, diverse and exciting experiences in the world." 
The
Afterparty All-Access NFT Collection gives NFT holders artist-level access to the festival. The collection's 1,500 NFTs are unique, exclusively minted in-real-life and live on the Ethereum blockchain forever. They also convey "membership" for the Afterparty universe, which includes collaborations and community events at the Hollywood Hills Afterparty House and pop-up experience events like Art Basel. 
Sia, jxdn, Nadya Tolokno and Paul Klein are among some of the first creators – dubbed the Afterparty "Utopians" – to live-mint the eponymous NFTs at the Afterparty House. 
"Being a part of Afterparty's NFT festival in Las Vegas underscores the need for audio and visual artists to take control of their own careers, outside of the conventional recording, streaming and art industry," says Nadya Tolokonnikova, founder of protest art collective Pussy Riot. 
Utopian NFT holders will be responsible for the festival guest list. Each owner can bring a "+1" and will have two "NFT Guest Passes" to use to invite friends or trade, ensuring the 6,000-person event is personal and all about community. Afterparty is also giving away a number of Utopians to its most active community members across its
and
. 
"There is an energy around NFT art that reminds me of the early excitement around music festivals in the U.S. in the early 2000s," says Doherty. "Afterparty is bringing together the best artists, musicians and creators in the world to present NFTs as the groundbreaking new art form they are." 
The festival is one of many token-gated experiences featured on the Afterparty roadmap. Utopian NFT owners can experience: 
Afterparty Super Bowl Weekend Event 

Gallery Showings at the Afterparty House 

Afterparty Pop-Up House at Art Basel 2022 
"Our events have already drawn the most diverse and dynamic group the NFT space has seen to-date, who have all expressed interest in holding one of our coveted NFTs and joining the movement," says Fields. "Afterparty has been formed by an activated, passionate community of creators, entrepreneurs and crypto luminaries alike who will make The Afterparty Festival an experience that is as compelling as it is innovative.
Read more about:
Subscribe and receive the latest news from the industry.
Join 62,000+ members. Yes, it's completely free.
You May Also Like
Loading..