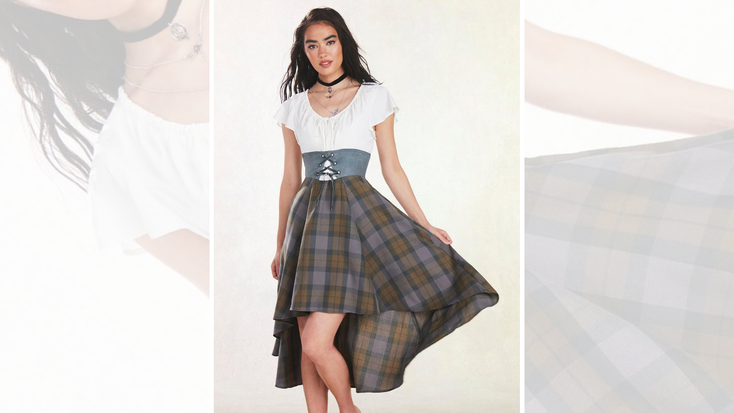 Her Universe "Outlander" dress.
Sony Pictures Consumer Products/Hot Topic
At A Glance
"Cobra Kai," a case study of multi-generational storytelling and fan dedication, inspired some of Sony's biggest collabs.

Fashion is a factor for Sony Pictures Entertainment IP like "Outlander" and "Cobra Kai."

The PlayStation classic, "The Last of Us," is in production for its own television series.
Following the success of "
: Afterlife" and Netflix's "Cobra Kai," Sony Pictures Entertainment has rallied fans worldwide across its latest titles, and there's much more to come. From the ongoing smash-hit adaptation of Garth Ennis and Darick Robertson's comic "The Boys" to the upcoming launch of PlayStation classic-turned-live-action series, "The Last of Us," each key moment in gaming, television, streaming and cinema has fueled the sweeping fan demand keeping
Sony Pictures Consumer Products
on its toes.
Speaking exclusively with Jamie Stevens, executive vice president, worldwide consumer products,
Entertainment, License Global takes a deep dive into how Sony's stories are breaking through platforms and product ranges to reach fans of all ages, everywhere.
"We've seen incredible growth and expansion within our licensing business over the past few years, which has centered on a strong slate of classic IPs such as 'Ghostbusters,' and new IPs with growing fan bases
like 'The Boys' and 'Cobra Kai,'" says Stevens. "Given the shift in consumer behavior resulting from the pandemic, we've continued to focus our efforts on expanding our brands through exciting partnerships and licensing programs that dip into an array of categories, spanning from toys and games, to fashion, beauty and so many more. The video game industry has been thriving, and we've seen a particular interest for interactive gaming content based on titles like 'Ghostbusters' and 'The Boys,' among others. We've collaborated with Epic Games on several
integrations, including 'Ghostbusters: Afterlife,' 'Cobra Kai' and 'Uncharted.' Our e-commerce business is also going strong, and we've given fans one-stop-shops where they can find exclusive products for 'Cobra Kai,' 'Karate Kid,' 'Ghostbusters,' 'Breaking Bad,' 'Better Call Saul' and 'Outlander.'"
The Student Becomes the Master
One key success for the Sony Pictures Entertainment team is "Cobra Kai," the modern-day story featuring "Karate Kid" characters as they mentor groups of new martial artists – an exemplary case study of multi-generational storytelling and fan dedication. This property has also inspired some of Sony's most impactful consumer collections and ranges to date.
"The 'Cobra Kai' fandom spans multiple generations, dating back to Daniel LaRusso's iconic "crane kick" in 1984, and we work tirelessly to identify strategic partners and deliver unique collaborations that keep our consumer products portfolio robust, interactive and engaging for fans of all ages," says Stevens. "Timed to the Season 4 release on New Year's Eve 2021, we launched multi-layered partnerships with iconic brands spanning categories including apparel, beauty, interactive gaming and more, to ensure fans could experience the
thrilling world of 'Cobra Kai,'
both on and off the screen, in unique ways. Our in-show integration partnership with Champion proved to be a huge success, with fans taking to social media to show their support for the product line. A 'Fortnite' integration offered fans the chance to take control of Johnny Lawrence and his Cobra Kai students – or Daniel and his students at Miyagi-Do Karate – which culminated in a virtual All Valley Cup Tournament for players across the globe. The fandom can expect to find tons of new offerings and products from Sony Pictures Consumer Products as we approach the launch of Season 5 Sept. 9."
Sony Pictures Consumer Products not only took a beloved brand, an iconic story and a reimagined narrative to fans new and old worldwide with "Cobra Kai," but it took the experience further by learning consumer trends to understand what fans would want from a show, its products and the specific community opportunities these stories create.
Learning from the Fans
"Personalization has been on trend, and fun to explore through consumer products," adds Stevens. "Within the 'Cobra Kai' line, we have a Shop Your Dojo collection of products that let viewers imagine whether they'd be part of Kreese's Cobra Kai, Daniel's Miyagi-Do or Johnny's Eagle Fang. We've seen a big increase in family viewing across our classic properties, and we've adopted that into our product strategy as well – for example, board games and experiences that let families enjoy our brands beyond the entertainment content have been hugely popular. The demand for games and other home activities is still at an all-time high, so our
board games have continued to resonate with fans. NFTs and Web3 are other areas that are on-trend; we've done several NFT programs with the films 'Ghostbusters: Afterlife' and
, and have additional programs in development."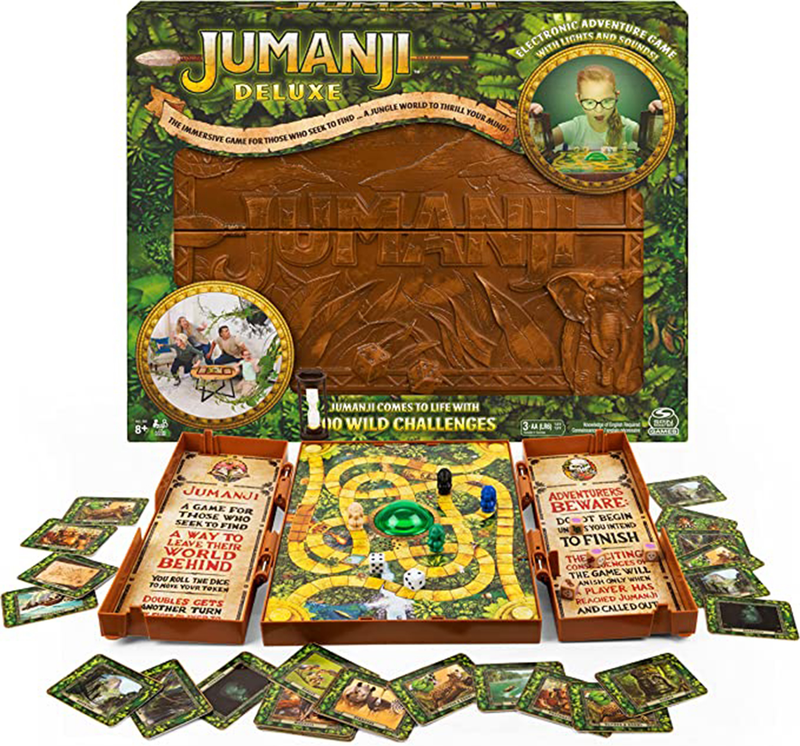 Fandom Meets Fashion
With so many categories in action, how does a licensing mainstay like fashion – the core theme of Brand Licensing Europe 2022 – work into the wider strategy of Sony Pictures Consumer Products?
"Fashion, beauty and apparel have become a large part of our consumer products portfolio over the years," says Stevens. "
, Torrid and
release 'Outlander'-themed collections every year; this is a particularly unique partnership because it aims to engage a younger audience that has discovered the show. Each piece is inspired by the clothing, tartans and jewelry worn by fan-favorite characters. In line with the premiere of 'Cobra Kai' Season 5, fans can expect to find a variety of new fashionable items inspired by the show, including authentic martial arts equipment from Century Martial Arts and exciting Halloween costumes and accessories from Disguise. Our capsule beauty collection with Pley Beauty, which was
includes eyeshadow pallets, eyeliners, lip tints, glosses and more, allowing 'Cobra Kai' fans to transform into the characters and scenes they love most."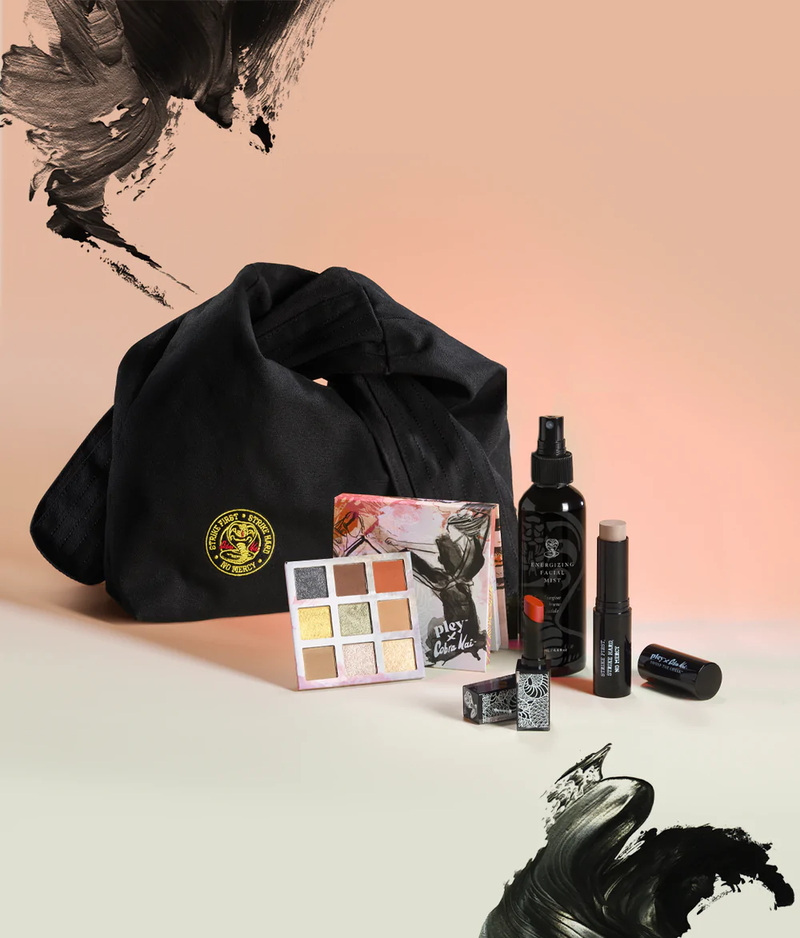 According to Stevens, the multigenerational connecting thread of fandom is seeking creative ways to express a connection with the intellectual properties, brands, stories and characters that resonate with them. Nowhere is this more emphasized in modern licensing than in fashion, apparel, footwear and style accessories, leading SPCP to work closely with best-in-class partners to seek the most creative ways to provide that connection.
What's Next for Sony Fans?
From gamers to movie and streaming audiences, the global fan base of both Sony Pictures Entertainment and
Sony Interactive Entertainment
has a lot to be excited about, including the adaptation of the PlayStation classic, "The Last of Us," which is currently in production for its own television series. Outside of entertainment properties, new launches are set to arrive from Sony Pictures Consumer Products that will no doubt drive a fan frenzy of its own upon release.
"Our PlayStation brand is evolving in new and exciting ways to provide gamers with the most extraordinary experiences possible," says Stevens. "This year, we're focused on releasing new entertainment content based on popular PlayStation Studios games including the recently released film based on 'Uncharted,' and an upcoming TV series based on 'The Last of Us.' To extend the fandom from digital to re-imagined physical play, we secured Spin Master as the global master toy license for the PlayStation brand and SIE-owned PlayStation titles including 'God of War,' 'Horizon Zero Dawn,' 'The Last of Us,' 'Uncharted' and more; they will develop products in the action figure, collectible, playset, plush, roleplay, vehicles, RC and games and puzzles categories."
Subscribe and receive the latest news from the industry.
Join 62,000+ members. Yes, it's completely free.
You May Also Like
Loading..